Sample Itinerary
Calm waters, warm breezes and panoramic beauty make this 120-mile–long chain of islands a boating paradise. If snorkeling and diving are the activities of choice, enjoy underwater caves and colorful coral reefs where you may even find turtles, eagle rays and sharks. Numerous marinas dot the shoreline offering boat access to the scalloped coast of bays, coves and protected harbors. Those who prefer to explore by land will find golf courses on Treasure Cay, charming colonial towns on Green Turtle Cay, and countless hotels, restaurants and bars throughout.
Page Position for itinerary
Day 1 - Abaco Beach Resort

Arrive at the Abaco Beach Resort and delight in the true essence of the Out Island spirit. Experience the relaxed hassle-free attitude that makes The Abacos so unique. Step aboard your power catamaran charter and let our team prepare you for your adventure. Before you head out, explore your floating resort and put your items away. Then off you go!

Day 2 - Great Guana Cay

Bask in the sun as you lay back along the 5½ mile stretch of beach that lines the Atlantic side of Great Guana Cay. Keep an eye out for a variety of rare native birds, including white-crownedpigeons and white-tailed tropic birds. You may even find a loggerhead, green, or hawksbill turtle crossing your path. Stop into the famous Nipper's for a weekly pig roast paired with rum cocktails, and Jimmy Buffet music.

Day 3 - Green Turtle Cay

Green Turtle Cay is overflowing with natural beauty. On this secluded island, you will find crystal clear turquoise waters, casuarina pine trees, and colorful ocean life. Slip on your mask and fins and jump in the water for exceptional reef snorkeling along Ocean Beach. Visit the historic Bluff House Resort and Marina for a cocktail at the Jolly Roger Bar. Put on your dancing shoes and enjoy the sounds of live music well into the night.

Day 4 - Treasure Cay

As home to one of National Geographic's Top Ten beaches, spend your day lounging in the sands of Treasure Cay. With its 3-mile stretch of white sand, there is plenty of room for activities.
Whether you enjoy sunbathing, swimming, or even something a little more adventurous like diving, the options are endless. Rent a windsurf board or hobie cat to try something new. Spend the day sport-fly or bone fishing as the marlin, tuna, yellowfin, snapper, barracuda, grouper, and wahoo are plentiful. Go inland for a game of tennis or round of golf at the Treasure Cay Golf Club. Afterwards sip on cocktails at the Tipsy Seagull.

Day 5 - Man-O-War Cay

Making your way to Man-O-War Cay, take in the sights of the picturesque village. As home to a very conservative population, life centers around the three churches that inhabit the Cay, building boats, and servicing yachts that have been visiting for years. Grab a bike or golf cart and visit the great local shops and restaurants. Make sure you stop by Miss Lola's golf cart and indulge in her famous cinnamon buns.

Day 6 - Little Harbour

Since the 1950s, Little Harbour has been home to a community of artists who are inspired by the bounding beauty that you will find here. As you shop the eclectic and creative finds, stop in to Pete's Pub for lunch, indulging in the fish burger and legendary rum punch. If you're feeling adventurous, hike to the cliffs on the western side, and you may even stumble upon pirate caves.

Day 7 - Hope Town

Enjoy your day in the charming settlement of Hope Town. Settled in 1785, rich heritage can found around every corner. Climb the historic lighthouse, visit the museum, or shop at one of the many eclectic hideouts. Relax on the beach as you soak in the sunset or mingle with locals over dinner.

Until Next Time!

It's been a wonderful week and now it's time to head back to the base at the Abaco Beach Resort. Enjoy all the amenities and activities the resort has to offer before you head to the airport – maybe one last Caribbean cocktail. Or, extend your stay with a night or two at the resort. The resort offers guests the opportunity and experience the relaxed hassle-free attitude that makes The Abacos so unique.
Page Position for form
Questions? We've Got Answers!
We are here to make planning the perfect Bahamas vacation as easy as possible.
Prepare for Your Vacation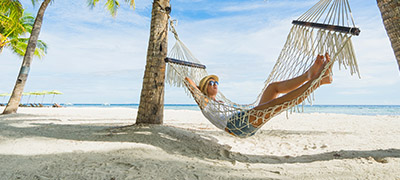 Arriving in the Bahamas
Get the details on flights, ferries, and taxis for a stress-free arrival.
Be in the Know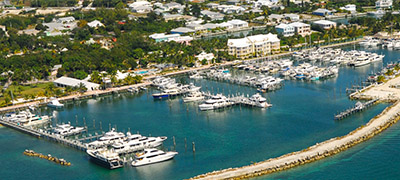 MarineMax Vacations Bahamas
Your vacation begins when we welcome you to our base on Great Abaco Island.
Explore the Base