Luxury Crewed Charter Experience
If you're ready to let someone else handle the navigating, cooking, and logistics while you enjoy the Caribbean, then a fully-crewed, all-inclusive yacht charter is perfect for you. All you have to do is relax and enjoy the pampering while your professional crew takes care of the details.
MarineMax Vacations now offers crewed charters aboard our luxury MarineMax 545 to deliver first-class service and simplicity at sea.
Complete Crew

For a complete carefree adventure, experience an all-inclusive charter that provides you with a professional captain and onboard chef. This includes all meals and snacks based on your menu selections and beverages such as spirits, beer, and wine. Additionally, this charter comes with fuel, snorkeling gear, stand-up paddleboards, kayaks, and more! All mooring ball fees, cruising taxes, and yacht insurance are also a part of the package.

Custom Crew Options

Custom crew options include hiring a professional captain and optional chef/deckhand to provide first-class service while you kick back and enjoy the company of family and friends while experiencing the best the BVI has to offer. Your captain will guide your yacht, assist with your itinerary, and with any spur-of-the-moment changes while ensuring your absolute comfort. You can also hire a chef/deckhand to prepare meals and assist the captain with first mate duties.
Meet the New Crew
We have recently announced that MarineMax Vacations will be offering crewed charters. We would now like to welcome to you our newest crews! Introducing Guy and Caroline with "Pick Me Too" and Paul and Daniela with "Go Team." Both crews are excited to deliver you first-class service on the MarineMax 545.
Page Position for pickmetoo
Pick Me Too — MarineMax 545
It's not often you come across a couple as "yachty" as Guy and Caroline Redmile. They met at sailing school as teens and have sailed together ever since. Years of competitive racing has enabled them to create systems for seamless charters under their collective belt—they know the BVI like the back of their hands, as well as tips and tricks to create a "vacation of a lifetime."
Captain: Guy Redmile

Guy has been around boats since his late teens—sailing, racing, building, and teaching. He is exceptional at fine-tuning a boat for optimum performance and is a strong technician, winning national regattas in 10 different classes over a number of years. Prior to their chartering career, Guy and Caroline owned and ran a large dynamic farm in Africa, growing multiple crops with a large workforce. The experience developed skills in project management, team management, engineering, mechanics, electrics, and business.

Chef/Mate: Caroline "Caz" Redmile

Caroline creates "exceptional culinary feasts," happily accommodating dietary requirements within her vast and well-loved charter menu. Caroline presents beautiful, fresh, delicious food that upgrades the whole charter experience. Caroline also loves the ocean and her impressive knowledge of marine life. Her knowledge and uncanny ability to spot camouflaged creatures hidden in reefs results in her dramatically enriching a dive experience with all sorts of interesting facts about critters most divers don't see.
Page Position for goteam
Go Team — MarineMax 545
Introducing the power team on the power catamaran! Ivan and Lisa will be your captain and chef for the vessel, Go Team. Ivan has extensive catamaran experience and Lisa can pull a menu together that can accommodate any dietary needs using of local and seasonal ingredients. Together, this team will deliver the vacation of a lifetime for your family and friends.
Captain: Ivan Boduljak

Ivan began his captain's career in the summer of 2017, working on power catamarans. He has also delivered boats all over the Mediterranean. His extensive experience makes him a great fit for MarineMax Vacations. Ivan is excited to work in the British Virgin Islands and onboard an Aquila Power Catamaran. He is a native of Croatia and is fluent in Croatian and English.

Chef/Mate: Lisa Verdu

Lisa started her yachting experience in the summer of 2020. She has worked on power catamarans all over the world, including French Polynesia, South Croatia, and the British Virgin Islands. Her extensive menus can accommodate any dietary restrictions. Lisa's cooking is inspired by French and Mediterranean cuisine with her own personal touch of creativity. She prepares her food with locally sourced, seasonal ingredients. Lisa speaks French, Croatian, and English. She is a native of France.
Page Position for grace
Grace — MarineMax 545
Meet the crew on the Aquila 54 vessel, Grace! Fabrizio and Janey have worked on boats all over the globe including the Mediterranean and the Caribbean. They both have extensive training in their fields, making your charter experience a once-in-a-lifetime vacation. Step aboard, relax, and enjoy the British Virgin Islands without a care in the world.
Captain: Fabrizio Fassbind

Fabrizio began his career as a captain in 2017, delivering boats in both the Mediterranean and the Caribbean. He has both catamaran and monohull experience. Fabrizio is also an avid sailor. His passion for sailing led him to teach. He is the founder of Zero to Hero Sailing School, where he teaches students the fundamentals of sailing. Most recently, he has been working on a vessel in The Bahamas. He is excited to be working again in the British Virgin Islands. Fabrizio is fluent in English, German, and Swiss German and is a Switzerland native.

Chef/Mate: Janey Bryant

Janey started her career in yachting in 2018 in the Mediterranean. She has also worked in the U.S. Virgin Islands as well as The Bahamas. Janey is a professionally trained chef, receiving her certification from Superyacht Culinary Academy in Cape Town, South Africa. Her food portfolio has a wide variety of flavors that can accommodate any guest. She enjoys planning offshore activities for guests and can whip up a Caribbean cocktail in a flash! When Janey is not working, she enjoys hiking, reading, diving, and going to the beach. She is a native of South Africa.
Page Position for form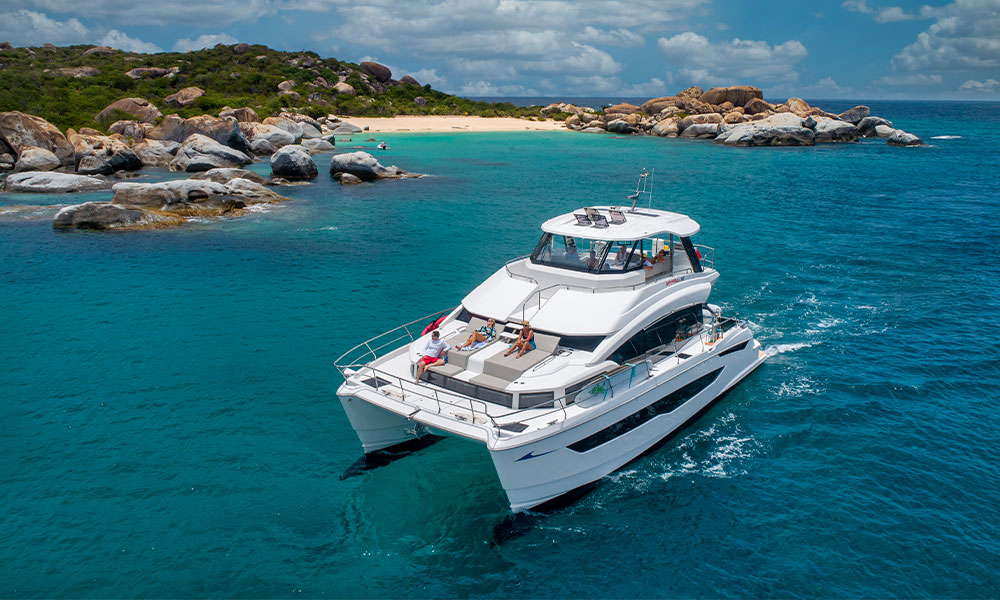 "Our best memories are from spending an extended amount of time with our children and their loved ones in beautiful locations while enjoying lots of water activities."