All-Inclusive Charter Vacation
If you're ready to let someone else handle the navigating, cooking, and logistics while you enjoy the Caribbean, then a fully-crewed, all-inclusive yacht charter is perfect for you. All you have to do is relax and enjoy the pampering while your professional crew takes care of the details.
Page Position for video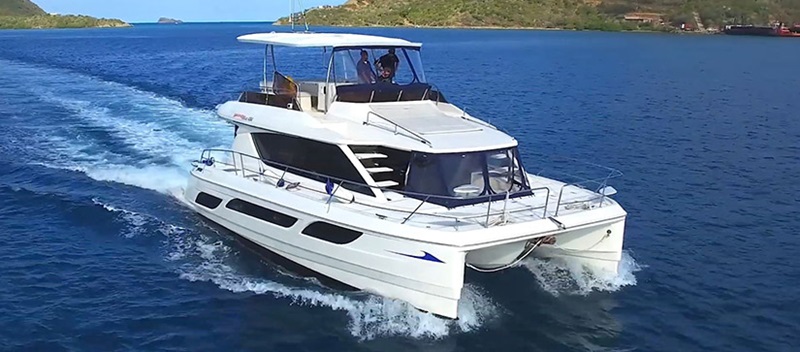 Play video for All Fun, No Stress
Take a peek at what an all-inclusive boating vacation in the Caribbean looks like. All you have to do is pack your bags, then head to paradise!
Page Position for form
"Our best memories are from spending an extended amount of time with our children and their loved ones in beautiful locations while enjoying lots of water activities."
When Everything's Included, Your Worries Float Away

For a complete carefree adventure, experience an all-inclusive charter that includes a professional captain and onboard chef. All meals and snacks are based on your menu selections, and beverages such as spirits, beer, and wine are incorporated as well. In addition, fuel, snorkeling gear, a stand-up paddleboard, and a kayak will also be a part of the package. This charter also includes all mooring ball fees, cruising taxes, and yacht insurance.

Get the Inside Tour

With more than sixty islands in the British Virgin Islands, how could you even begin to know the best snorkel spot, the beach with the softest sand, or how to find the coldest drink? That's where your charter crew can assist. Your captain can take you on a trip where you'll discover secret hideaways, secluded coves, beaches of untouched sand and undersea vistas not on the "tour" stops.

Meet Your Fleet

The MarineMax 545 is the newest addition to our fleet and sets a new standard. This model embodies the reliable features and construction methods you can find across the Aquila brand. This elegant cruising model offers on-board amenities enhanced with full-size refrigeration, induction cooktop, C-Zone AC/DC control screens, individual AC controls in each cabin, 6" thick queen and king size mattresses and more.

Meet Your Crew

Our Captains

With one of our captains on board for your charter, you can sit back, relax, and enjoy your vacation. You'll work with your captain to plan your itinerary for your charter vacation in the British Virgin Islands, and it will be tailored to your desires. Our experienced, knowledgeable captains are active listeners who are committed to making your vacation one you will never forget.

Our Chefs

Delight in a true vacation with a professional yacht chef on board your charter in the British Virgin Islands. With robust experience as a chef and first mate on all types of yachts, our culinary crew will work with you and your guests to plan and personalize a delicious and fabulous menu based on your preferences. With a few simple questions, your chef will amaze you with a culinary experience few enjoy on the water.