Get Paid to Vacation on Your Own Yacht
Cruising the beautiful blue waters of the Caribbean as a boat owner is the ultimate way to vacation. If you're ready for your very own boat, our Charter Yacht Ownership Program offers you two ways to get paid to vacation in the British Virgin Islands.

With the first, you have access to your boat for up to nine weeks each year without the hassle of managing operating expenses like insurance, dockage, or maintenance — all while receiving monthly income and potential tax savings.

With our Split Revenue Ownership model, MarineMax Vacations handles the reservations, marketing and customer relations for chartering your boat while you benefit from the revenue generated. There are some expenses you'll have to cover, but with this option, you can use the boat as often as you'd like.

Two options. Your choice. Either way, you essentially get paid to vacation!
Page Position for form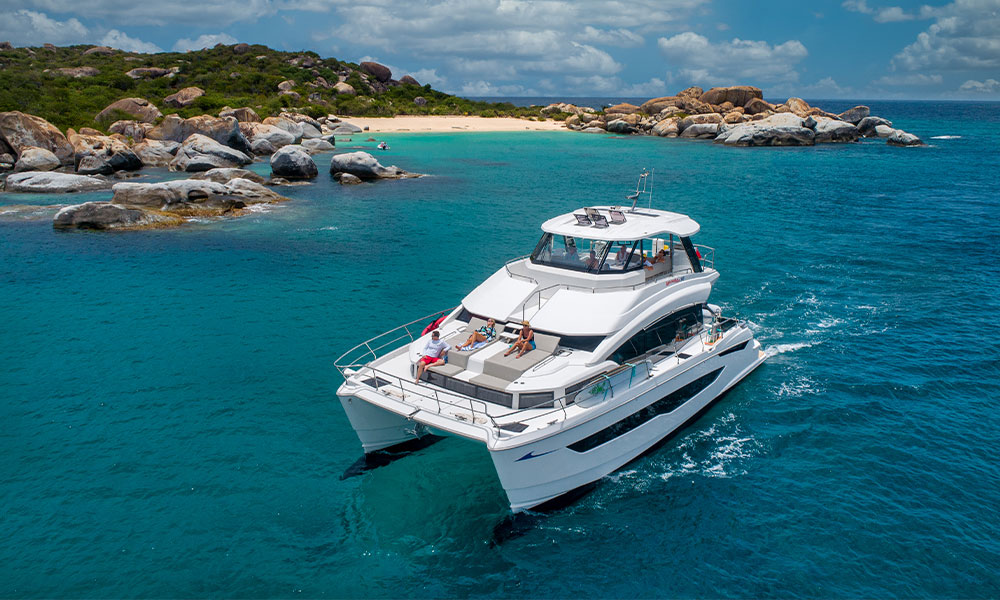 5 Reasons to Choose MarineMax Vacations
Expert planning team to help every step of the way so you can enjoy the trip of a lifetime
Our own custom amenity-packed power catamaran fleet in the British Virgin Islands with 3, 4, and 5 cabin options
Access to power catamarans in amazing destinations
Explore an extensive resource library of videos and articles to prepare for your trip
Our commitment is to exceed your expectations and provide an extraordinary experience
Page Position for video
Play video for Charter Yacht Ownership
Get Paid to Vacation
Cruising on your own power catamaran is the ultimate way to experience an island vacation and make memories that will last a lifetime. If you're ready for your very own boat our Charter Yacht Ownership Program offers you two ways to get paid to vacation. We can also assist in all aspects of a private yacht purchase.
Raul Bermudez, Vice President Charter Division

Raul joined the company at the inception of MarineMax Vacations and leads the Charter and Yacht sales effort for MarineMax with more than 20 years of experience in the yacht charter industry.

Raul was with TUI Marine, where he held several executive positions, including VP of charter sales and marketing. During his 12-year tenure, Raul worked with The Moorings, Sunsail, Footloose, Club Vass and LeBoat, over 1,400 yachts, 1,200 canal boats, 12 marinas and 90 locations in 29 countries and 5 currencies.

Raul helps customers make their dreams a reality

—

getting paid to vacation.

One Customer's Story

"Factoring in the cost of maintenance, dock fees and insurance and the advantages of tax write-offs, hassle-free ownership and basically unlimited access, the MarineMax Charter Yacht Ownership Program just made sense. Since purchasing our Aquila 484 named Villa our frequent adventures to BVI have proven to be just that, hassle-free fun." - Grazi Zazzara

Why This Family Loves Yacht Ownership

Our first chartering experience was with a MarineMax 382. After that, we also chartered a Moorings 484 and a Moorings 394 in the Caribbean and the Bahamas. During these vacations, we started talking about spending an extended period of time on a boat. Since we were both working at that time, owning a boat at a remote location was not a realistic option. So, we started thinking about the yacht chartering programs as a way of spending an extended time on a boat and figuring out if we liked that lifestyle.

Benefits

The Charter Yacht Ownership Program is a cost-effective way to own your own boat in the British Virgin Islands while avoiding the stress and expense of traditional ownership.

Fixed monthly income regardless of charter activity
Up to nine weeks of destination boating time each year
Zero operating expenses including charter management, docking, insurance, parts and service
Professional MarineMax yacht maintenance and personalized customer service
Trade-ins considered and in-house financing available
Brokerage support for selling your boat

About Aquila Power Catamarans

Once you've been on one of our award-winning Aquila Power Catamarans, it's easy to see how charter guests become owners. You'll take pride in owning a pure-bred power catamaran that is unmatched in performance and efficiency while also offering spacious and luxurious living and outstanding amenities. As you consider your purchase, choose from our fleet of customized and comfortable yachts:

MarineMax 443: 44-foot with three cabins and three heads, named AIM Media Editor's Choice Award for Best New Multihull 40'-49' upon her debut in 2014
MarineMax 484: 48-foot with four cabins and four heads, named one of The World's Top Boats by Power and Motoryacht magazine.
MarineMax 545: 54-foot with five cabins and five heads, the biggest yacht in the fleet accommodating up to five couples or ten people.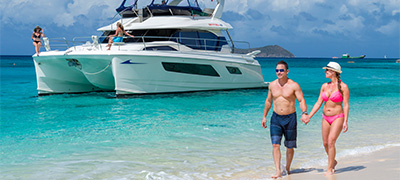 Request a Brochure
Explore the extraordinary charter options you have with MarineMax Vacations for your trip of a lifetime.
Get Your Brochure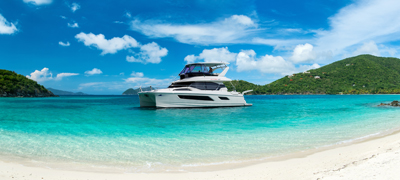 Our Experience and Commitment
Learn how we combine an extraordinary boating experience with customer service that exceeds expectations.
We're Dedicated to Serving You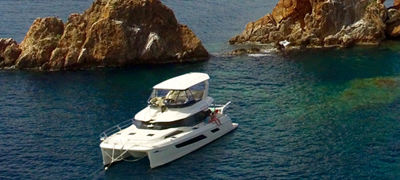 Imagine your Trip of a Lifetime
With more than 60 islands, the British Virgin Islands offers something for everyone. Review our sample itinerary to get a peek of what it's like.
Take a Peek
Page Position for FAQ
Everything You Want to Know About the MarineMax Charter Yacht Ownership Program
Enjoy an unforgettable vacation each year as a boat owner, for up to nine weeks each year, without the expense and hassle. With our Charter Ownership Program, you'll have zero operating expenses while receiving monthly income that exceeds your expectations.
Fill out the form to access MARINEMAX CHARTER YACHT OWNERSHIP PROGRAM FREQUENTLY ASKED QUESTIONS and begin enjoying the boating lifestyle today!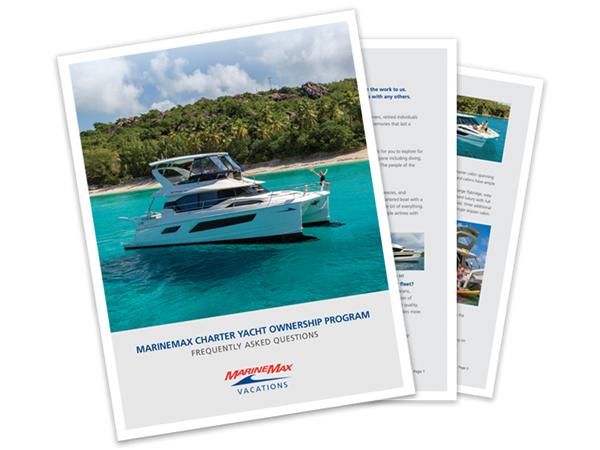 Learn All About Charter Yacht Ownership!
Get answers to questions like:
Who buys boats in the MarineMax charter program?
Why are the BVI's the place to buy a charter fleet yacht?
How much can I earn by renting my boat?
How much usage do I get as an owner?
Why should I go with MarineMax Vacations?
And more!