Why Our Customers Love Yacht Ownership
Don't just listen to us about how great the Charter Yacht Ownership Program is with
MarineMax Vacations
. Hear it directly from a yacht owner.
Our first chartering experience was with a MarineMax 382. After that, we also chartered a Moorings 484 and a Moorings 394 in the Caribbean and the Bahamas. During these vacations, we started talking about spending an extended period of time on a boat. Since we were both working at that time, owning a boat at a remote location was not a realistic option. So, we started thinking about the yacht chartering programs as a way of spending an extended time on a boat and figuring out if we liked that lifestyle. While we were exploring ownership possibilities with Moorings and Dream Yacht Charters, primary because of their numerous locations, we learned that MarineMax is premiering its 443 model with a forward cabin featuring a king size bed with full side access. After we saw it at the Annapolis Boat Show, we knew that it is the boat that we want to spend our vacations on for the next five years. Our previous positive experience of chartering with MarineMax made our decision much easier.

After two years in the program, we are convinced that it was the right decision for us. We love the fact that we can reserve our boat for up to six weeks in advance and then be able to make plans accordingly. With an additional three weeks that can be reserved on the short notice, we spent a total of eight weeks on our boat this year. That fulfilled our desire to spend an extended period of time on the boat without traditional ownership. At the same time, our boat is maintained year-round and waits for us just as we left it the next time we arrive. It is a great way to own a boat without having to change the oil or impellers. You arrive and leave with just your luggage like any other charterer.

Our best memories are from spending an extended amount of time with our children and their loved ones in beautiful locations while enjoying lots of water activities. Also, sitting on the flybridge at night, feeling the seabreeze and looking at the city lights in the distance is spectacular.

We had other boaters coming with dinghies to inquire about our boat and we proudly invite them in to showcase the great features of our boat. We always tell them our story and the benefits that we have from being in the charter yacht ownership program.

At the time when we explored the other charter ownership programs, one thing that we really liked about the MarineMax base at Hodges Creek was its size and the ability to communicate directly with the right staff. They are all very friendly, knowledgeable and ready to assist to their best abilities. We feel like at home and they respect us as someone who has a vested interest in their business.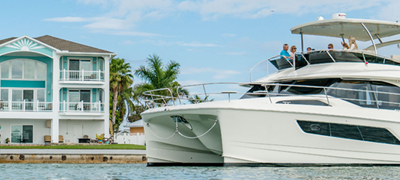 Get Paid to Vacation
With our Charter Ownership Program, you can own a boat in the Caribbean without the worry of cost and upkeep.
Find Out More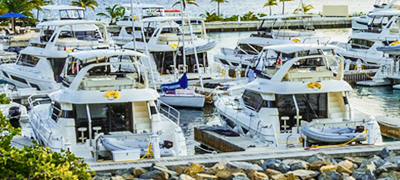 Our Fleet of Luxury Yachts
Meet our fleet of Aquila Power Catamarans designed to fit your boating lifestyle.
Meet the Fleet
Power Yacht Charters
Boating through the Caribbean on your own power yacht is the ultimate vacation. Now's the time to make it a reality.
Full Steam Ahead