Our Story
MarineMax Vacations formed in 2012 with an initial fleet of 13 sailboats in the British Virgin Islands. Today, we've been voted the number one charter company in the British Virgin Islands twice and our fleet has over fifty power catamarans. With more than 60 islands to discover, the British Virgin Islands is the world's best boating and MarineMax Vacations offers the best charter experience. Choose to captain your boat or let us take the wheel with a skipped charter or an all-inclusive charters with a captain and chef, for the ultimate in relaxation.
The Vacations Team: Creating Exceptional Experiences
This team's Number 1 goal is to ensure that your charter vacation is spectacular. Once you meet us, you'll quickly realize that with our passion for boating, industry expertise, and dedication to customers, we love building relationship with our customers that often lasts for years.
Dave Bigge, Vice President
Dave has 20 years of experience with MarineMax serving as Store Manager, Regional President and leader of the Vacations division.
With many years of family vacations in the British Virgin Islands and a reputation for organization and process, delivering on the brand promise of "excellence in charter boating vacations" is clearly his commitment as well.
Raul Bermudez, Vice President Charter Division
Raul joined the company at the inception of MarineMax Vacations and leads the Charter and Yacht sales effort for MarineMax with more than 15 years of experience in the yacht charter industry.

Raul was with TUI Marine where he held several executive positions including VP of charter sales and marketing. During his 12 year tenure, Raul worked with The Moorings, Sunsail, Footloose, Club Vass and LeBoat, over 1400 yachts, 1200 canal boats, 12 marinas and 90 locations in 29 countries and 5 currencies.

Raul helps customers make their dreams a reality - getting paid to vacation in the British Virgin Islands.
Michelle Bonasoro, Office Manager

As Office Manager, Michelle ensures all charter operation logistics and planning are service oriented and efficient for both our internal teams as well as guest service delivery. Michelle has extensive experience in the BVI charter market. Her clear communication style, integrity and knowledge of the product are an asset to our in house teams and charter guests.

Michelle's first trip to the British Virgin Islands was a High School graduation present with a lifelong friend aboard a bareboat catamaran. This is where Michelle fell in love with the BVI's and the charter yacht business. Her favorite activity in the BVI's is snorkeling at Monkey Point, the Indians and exploring through the Baths.
Amy Sterlicchi, Charter Sales Consultant

Amy is responsible for guiding guests through the planning process to create an unforgettable vacation. With her extensive background in the hospitality industry, she has a strong sense of guest relations and customer service. Amy's infectious energy, big smile and wealth of knowledge easily puts our guests at ease during the entire planning process of a fantastic getaway.

Amy has lived on three continents and traveled to more than 15 countries. She is a venerated traveler who knows what makes a travel experience smooth and memorable.
Kelly Wooley, Charter Sales Consultant

Kelly Wooley has been planning dream vacations for MarineMax clients for the past four years. Kelly has loved being on the water since her first sailing class during high school in Newport, Rhode Island. Kelly graduated with a degree in Political Science and a minor in Economics from the University of North Carolina at Wilmington, where she was secretary of the sailing club.
Through her knowledge of the charter experience and personal attention for our guests, she is a vital member of the team.
Mallorie Lewis, Charter Sales Consultant
Mallorie specializes in finding you the sailing charter vacation of your dreams. Let Mallorie know how many people, sailing cataramaran or monohull, destination(s) and the types of activities you enjoy. She'll find a recommended sailing company that meets your wishes with the right boat and the right price. With a worldwide fleet consisting of sailing boats from Leopard, Lagoon, Bavaria, Dufour, Fountaine Pajot, the options are endless.
Mallorie is a Florida native who has enjoyed boating and beaching her entire life. Being of Belgian decent, a first generation American within her family, she enjoys traveling. In addition to living in Belgium for four years, she has visited Portugal, Spain, France, Italy, Holland and vacationed in the Caribbean on several occasions, including bareboat charters in the BVI, Puerto Rico and the Bahamas.
Clarence Malone, Director of Operations, BVI Charter Base

Clarence comes to the team with more than 39 years of experience in the charter industry. Clarence oversees all aspects of charter operations at our Tortola base. Clarence's vast knowledge of charter operations and strong base management skills will continue to strengthen our Tortola Base Team.

Clarence is originally from the beautiful island of Tortola and graduated from the Chapman School of Seamanship in Stuart, Florida.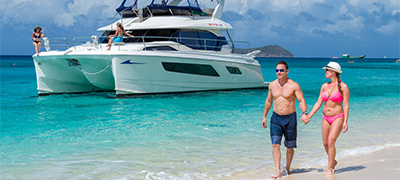 Request a Brochure
Explore the extraordinary charter options you have with MarineMax Vacations for your trip of a lifetime.
Get Your Brochure
Power Yacht Charters
Boating through the Caribbean on your own power yacht is the ultimate vacation. Now's the time to make it a reality.
Full Steam Ahead