Our Story
MarineMax Vacations formed in 2012 with an initial fleet of 13 sailboats in the British Virgin Islands. Today, we've been voted the number one charter company in the British Virgin Islands twice, and our fleet has over fifty power catamarans. With more than 60 islands to discover, the British Virgin Islands has the world's best boating, and MarineMax Vacations offers the best charter experience. Choose to captain your boat or let us take the wheel with a skippered charter or an all-inclusive charters with a captain and chef to experience ultimate relaxation.
The Vacations Team: Creating Exceptional Experiences
This team's Number one goal is to ensure that your charter vacation is spectacular. Once you meet us, you'll quickly realize that with our passion for boating, industry expertise, and dedication to customers, we love building relationship with our customers that often lasts for years.
Page Position for form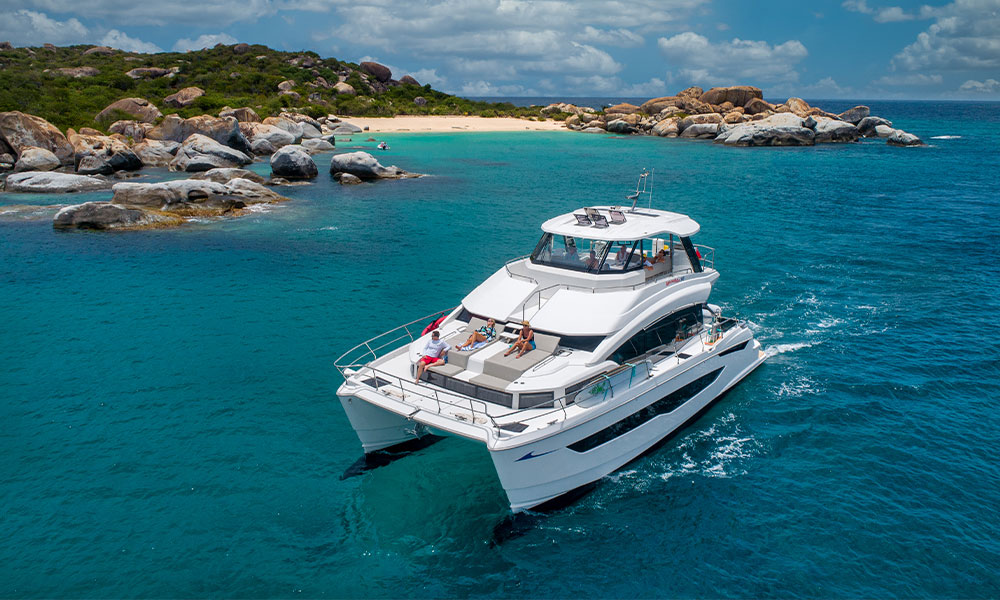 "Our best memories are from spending an extended amount of time with our children and their loved ones in beautiful locations while enjoying lots of water activities."
Page Position for dave
Dave has 20 years of experience with MarineMax serving as Store Manager, Regional President, and leader of the Vacations division.

With many years of family vacations in the British Virgin Islands and a reputation for organization and process, delivering on the brand promise of "excellence in charter boating vacations" is clearly his commitment as well.

Dave.bigge@marinemax.com | (727) 400-3500
Page Position for raul
Raul Bermudez, Vice President Charter Division

Raul joined the company at the inception of MarineMax Vacations and leads the Charter and Yacht sales effort for MarineMax with more than 15 years of experience in the yacht charter industry.

Raul was with TUI Marine where he held several executive positions including VP of charter sales and marketing. During his 12-year tenure, Raul worked with The Moorings, Sunsail, Footloose, Club Vass, and LeBoat, over 1400 yachts, 1200 canal boats, 12 marinas, and 90 locations in 29 countries and 5 currencies.

Raul helps customers make their dreams a reality - getting paid to vacation in the British Virgin Islands.

Raul.bermudez@marinemax.com | (727) 228-8106
Page Position for michelle
Michelle Bonasoro, Office Manager

As Office Manager, Michelle ensures all charter operation logistics and planning are service-oriented and efficient for both our internal teams as well as guest service delivery. Michelle has extensive experience in the BVI charter market. Her clear communication style, integrity, and knowledge of the product are an asset to our in-house teams and charter guests.

Michelle's first trip to the British Virgin Islands was a High School graduation present with a lifelong friend aboard a bareboat catamaran. This is where Michelle fell in love with the BVI's and the charter yacht business. Her favorite activity in the BVI's is snorkeling at Monkey Point, the Indians, and exploring through the Baths.

Michelle.bonasoro@marinemax.com | (727) 265-3739
Page Position for phillip
Phillip Underwood, Charter Fleet Manager

Phil has been with MarineMax for 20 years and counting. With an MBA from William Woods University, he specializes in inventory and logistics for the MarineMax Vacations team. From coordinating store management training and organizing vessel movements to managing technicians and assisting our base with difficult-to-find parts, he is the man we go to.

In addition, Phil is passionate about delivering our new and out of fleet owners with all the components they need to personalize their vessels and enhance their ownership experience.

Phil.underwood@marinemax.com | (573) 606-3050
Page Position for mallorie
Page Position for danielle
Danielle Gage, Charter Sales Consultant

Danielle is responsible for helping plan your dream vacation with MarineMax Vacations. With Danielle's exceptional customer service, she will be with you from start to finish. Her background is team management, sales, and department operations.

Danielle was born and raised in San Diego, CA. She has grown up in the boating world and spent most of her youth on Lake Havasu, Lake Martinez, and Lake Powell. Danielle married a US Marine in 1996 and spent the last 23 years traveling the world with her husband and three children. She currently owns a Sea Hunt Gamefish 30 with her husband and loves to spend time offshore fishing and scuba diving in the Gulf of Mexico.

Danielle's love for the water and boating has led her to the MarineMax family, where she is ready to assist you with you vacation planning.

Danielle.gage@marinemax.com | (727) 286-9448
Page Position for tammy
Tammy Worthing, Charter Sales Consultant

Tammy has been in the charter industry for over 10 years. Prior to joining MarineMax, she planned corporate charters in Seattle. From there, she and her husband cruised on their own sailboat, eventually landing in Clearwater, where she joined the Vacations team in 2012.

Tammy works tirelessly to offer the best possible service to her guests and is passionate about helping create unforgettable charter experiences. Her attention to detail, professionalism, and knowledge of the industry has made her a trusted charter broker.

She has chartered many times in the BVI and Pacific Northwest and has also enjoyed boating in Florida, The Bahamas, and Europe. Tammy is ready to share her knowledge of the beautiful islands and help you plan the trip of a lifetime.

Tammy.worthing@marinemax.com | (727) 223-7014
Page Position for clarence
Clarence Malone, Director of Operations, BVI Charter Base

Clarence comes to the team with more than 39 years of experience in the charter industry. Clarence oversees all aspects of charter operations at our Tortola base. Clarence's vast knowledge of charter operations and strong base management skills will continue to strengthen our Tortola Base Team.

Clarence is originally from the beautiful island of Tortola and graduated from the Chapman School of Seamanship in Stuart, Florida.

Clarence.Malone@marinemax.com | (727) 900-7306
Page Position for maggie
Maggie Privat, Charter Sales Consultant

Maggie was born and raised in France and has always been passionate about travel and people. Maggie has extensive travel experience visiting many countries, including Germany, Spain, Reunion Island, Martinique, Tunisia, Jamaica, Bahamas, and Canada. Maggie permanently moved to the states in 2001. Prior to joining MarineMax, Maggie worked for the world's largest canal boat charter operator for six years, and she also worked for a large worldwide sailboat charter company. Maggie is extremely detailed oriented and passionate about sharing her knowledge and helping you plan the perfect vacation.

Maggie.Privat@marinemax.com | (727) 386-7501
Page Position for video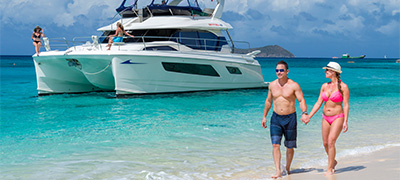 Request a Brochure
Explore the extraordinary charter options you have with MarineMax Vacations for your trip of a lifetime.
Get Your Brochure
BVI Destinations
Experience a personally planned charter vacation with boating options that range from an intimate trip for two to an adventure with family and friends.
Explore Our Favorite Spots
Power Yacht Charters
Boating through the Caribbean on your own power yacht is the ultimate vacation. Now's the time to make it a reality.
Full Steam Ahead