Trip of a Lifetime
When you dream of the perfect time away, does it include crystal clear water, warm sun, the soft rocking of waves as you relax on your yacht, and a selection of activities and destinations that you choose? The vacation of your dreams is right here - let's make it happen!
Page Position for video
Page Position for form
"Our best memories are from spending an extended amount of time with our children and their loved ones in beautiful locations while enjoying lots of water activities."
The World is Waiting

Experience a personally planned boating vacation almost anywhere in the world with boating options that range from an intimate trip for two to an adventure with family and friends.

British Virgin Islands

Explore more than 60 unique islands boasting vivid blue waters and easy navigation aboard your comfortable power catamaran.

Explore the BVI

Worldwide Destinations

Our planning experts specialize in constructing the charter vacation of your dreams. No matter the location, time of year, or number of people, they'll meet your wishes with the right boat and price.

Explore Our Destinations
Pictures Won't Do It Justice

When you travel with us, it will be hard to say goodbye to the breathtaking places that now hold a place in your heart. From The Baths in the British Virgin Islands to the Whitsunday Islands in Australia to the Kornati Islands of Croatia, you'll find the perfect location to embark on a nautical journey. The pictures and memories might not suffice for the feeling of relaxation, comfort and happiness that you experienced on your charter. It's a good thing you can book again!

We've Made It Easy for You. Enjoy!

We don't want you to stress from planning the "best vacation ever." Our team makes it easy for you to relax and enjoy your trip of a lifetime! Our charters are catered toward your lifestyle, and we want you to enjoy the things that interest you. We have created sample itineraries that cover the best spots at your destination and will work with you to plan the best trip for your party. Our MarineMax Vacations planning experts make your vacation a true vacation.

Your Floating Vacation Home

Welcome home! Not only is your destination going to be beautiful, your floating home is more than you could imagine. Our award-winning British Virgin Islands fleet offers luxurious and comfortable power catamarans: the MarineMax 443, MarineMax 484 or the MarineMax 545. Each of our boats offer different layouts, but they all share the same combination of comfort and style that makes it easy to set out on any one of them.

At our other destinations across the world, our professional vacation planners will work with you to identify the charter company that has the right boat at the right price for you. And, we'll handle all the details so you have peace of mind.
We Love Questions!
Ready to know more? Some of your questions may be answered here.
Get the Answers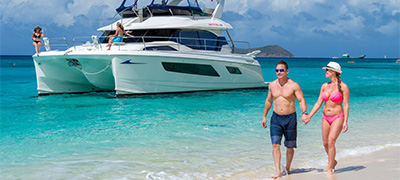 Request a Brochure
Explore the extraordinary charter options you have with MarineMax Vacations for your trip of a lifetime.
Get Your Brochure
Imagine your Trip of a Lifetime
With more than 60 islands, the British Virgin Islands offers something for everyone. Review our sample itinerary to get a peek of what it's like.
Take a Peek