Sharing Experiences: Customer Testimonials
We're not the only ones who are passionate about boating. Enjoy these highlights from our customers' MarineMax Vacations.
Page Position for form
"Our best memories are from spending an extended amount of time with our children and their loved ones in beautiful locations while enjoying lots of water activities."
Good Vibes

Staff…they were awesome. Hands down better staff over other charter companies where they had a "don't care attitude". The VP's were there when we landed. They spent time with us and were super nice and interested in our opinions.

We truly enjoyed the boat, the watermaker is really a key feature. That should be a marketing talking point in your brochure. When we told others we met about it, that was a driving factor for them to contact you regarding a charter, especially people with girls. The 434 also has a fantastic master suite. You have to draw straws for that one. The boat is well designed, as well as aesthetically pleasing compared to other charter companies, all fiberglass everything. I felt like I was on a boat I would buy. The beds were great also. The mattress upgrade is a real plus. I did not feel like I was on boat mattress. Again, way better than other charter companies. With more people in the future we will rent the 484. Great layout on the boat. We did a walk through of one, and we were impressed. The galley with two refrigerators is a real plus and the bow seating area really extends the salon area for a lot of people.

We already told people on our trip that we met how much we like your boats and service… We will not be returning to any other charter company. We understand why you won the best charter company in 2015. I think you should win again in 2016!

-Ginger

Fantastic Staff

We just got back from our BVI trip and couldn't have asked for anything to have gone better. The boat was great. All the people at the Marina were terrific. The provisioning went well. The weather cooperated for the most part, and all the places we stopped at were great.

Thanks for all your help. Looking forward to doing it again next year.

- George

Amazing First Trip

Sandi and I had a great charter, and given it was our first time, I am still amazed how well everything went. Please provide our sincere thanks to the entire MarineMax team. You guys knocked it out of the park! We can't wait for our next time.

- Andrew

Thanks For Everything

I just wanted to send you a short note to compliment everyone else that helped us at the base. As promised, they were extremely competent, professional, and very friendly. They did a great job of helping us get to know the boat and make us feel welcome. The boat was cleaned and prepped flawlessly.

Everyone on board agreed that this was by far our best trip ever to the BVI. The boat is nothing less than outstanding! We look forward to heading back soon with the kids.

Thanks for everything.

- Rick

Amazing Cane Garden Vacation

It was an amazing trip. The Baths was definitely my favorite but it was all so beautiful and amazing. We almost made it to Cane Garden Bay but couldn't because of weather. That will be for next time!

Have a great day!

- Maria

Best BVI Vacation

I hope you are doing well.

We had the best vacation on our MarineMax charter in the BVI! After having owned a boat in the BVI for 10 years, this was a new experience for us and we are very impressed!

The MarineMax team in Tortola was excellent and very professional. They have assembled a great group of folks. The few minor issues we had were taken care of very rapidly.

We were also thrilled with how well the boat was outfitted - watermaker,cold air conditioning, great appliances, utensils, stereo system, and WiFi - all were great.
We will be back and look forward to another great MarineMax experience in the next few months!

Thanks again for all your help in getting our vacation scheduled!

- Jane Moran

3rd Trip With MarineMax Vacations

This was our 3rd trip with MarineMax and as usual, everything was perfect. We chartered a larger power cat this time, the 48', and it was just beautiful! We arrived early on Saturday and MarineMax went the extra mile and had us ready to board within an hour of our arrival. All of our provisions were delivered and the MarineMax crew had them all put away for us. MarineMax is our preferred charter company, the customer service is second to none.

- Lee

Christmas Vacation

We just returned from a fabulous seven day vacation over Christmas aboard your 484 Power Cat "Gemini" out of the BVIs. The team was awesome and the on-the-water service we received was unparalleled in the charter business. Not only will we be coming back down next year, but have been telling all our friends (both boaters and non-boaters) that chartering through MarineMax Vacations is absolutely the way to go.

From our initial contact with you (Kelly), through provisioning, transportation to the boat and throughout the charter, each and every MarineMax person we encountered was at the top of their game.

The entire event, beginning to end, was fabulous. If you'd like us to send pictures to you, please let me know.

- Geoff M, Penny W, and family

Chater

I have recently returned from a bare boat charter with Marine Max in the BVI over the New Year's holiday. This is the second time we used your company, the latest being with our family of eight total on one of your 484's. I wanted to share with you the wonderful experience that we had. Your entire staff exceeded our expectations. Tammy was great and guided us through the planning. She was always courteous and got back to us with answers and suggestions to help us make our decisions. The operations staff were fantastic as well. The boat was in perfect condition and stocked as we arranged. We did experience a generator cooling failure. I called to report the issue and a tech was there in just over an hour and had has back in action, as was promised! We barely missed a beat!

Many thanks to you and your highly skilled and personable staff. Working together with them has been a pleasure and helped us create a memory that will last a life time. I would highly recommend this holiday to anyone that is thinking of it!

- Betty and Ken

Returning Charterer's First Experience With MarineMax Vacations

I'm sending this note today to let you know how pleased we were with your Hodges Creek MarineMax personnel and the overall booking process. We just completed our charter of a MarineMax 484.

Tammy Worthing in Florida was extremely helpful and is a pleasure to work with. She was able to answer any and all questions we had prior to arriving in the BVI. A definite asset to your sales team.

Having four trips with the Moorings prior to our MarineMax charter, there were distinct weaknesses with that entire organization. The team was as strong as it gets. They were not only knowledgeable about the vessel and its operations, they were professional, friendly and prompt.

I am in the Oil & Gas service industry and the team understands the meaning of 'Customer Service.' As an aside, the MarineMax 484 is the perfect power cat. Thank you for making it available for charter. We had a wonderful vacation and a large portion of that is attributed to the MarineMax folks. We will be back.

- BF

Our Vacations with Friends

We have returned from our trip with our friends to the BVI last week and we had a great time. Want to thank you for putting together a great trip for us. The boat was terrific.

- Dave,

Our February 38' Power Cruise

We want to express our extreme satisfaction to MarineMax. We manned the 38' Power Cat. Tammy at MarineMax was very helpful with reservations. MarineMax Hodges Bay - Tristin, Joss and Ed and Sigmund - were very accommodating.

We will book another vacation with MarineMax!

- Kathy, Dan, Rhonda, Tony,

I had an email to you guys on my to do list for today...

I have done some extensive travel over the years…Galapagos Islands, Africa, Arctic, Amazon River, Belize, Egypt…and this was one of the most fun things I've ever done in my life!!! The boat was perfect, and I can't say enough about the team of people helping…Anne, Raul, Milton, Jocelyn, Edward, Allie (spelling), Allie's brother…what a great team…with one objective, and that was to make sure we had a great time!!!!! My friends ask about the trip, and 20 minutes later they're trying to slip away as I tell them how much fun we had…good news is, they all want information on how to book one for themselves!

Thanks to you guys for putting it all together…can't wait to do it again!!!!!

- Michael W

MarineMax 484

I can't even begin to describe how pleased we are with the 484 and it exceeded our wildest expectations! The boat was spotless and ready to go on time. Edward and his crew did a wonderful job preparing the boat and reviewing all the specifics. We actually only ran about 20 minutes across from the marina to Coopers Island for out first stop. I am on the bridge and it is beautiful here. My experience with MarineMax has been First Class from our very first contact! Your company has awesome people and a great product. Our ten day adventure starts today!

- Mark

Mark's Testimonials

We had ourselves one awesome time in St. Thomas and the BVI's. The boat was great. The surroundings were unbelievably beautiful. The MarineMax staff (Bentley and Milton) and the mechanics and everyone at the BVI location, were perfectly great.

Here are some pics – from above and from under water. We stayed two nights at Cooper, 2 nights at the Bight, one in Virgin Gorda, and generally dove every place we wanted, including some places multiple times. Most of the best diving is easily reached from those areas. Never put the anchor down, stayed on mooring balls and that is the way to go. I noticed boats that anchored would swing 360 degrees at night and that can be problematic if you have close neighbors. Never even went ashore for dinner, grilled lobsters or hamburgers or steaks on the boat every night. I could do that for a month, at least. Or a year, or maybe even from now on.

SEE THE PICTURES HERE.

- Mark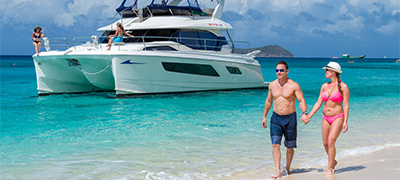 Request a Brochure
Explore the extraordinary charter options you have with MarineMax Vacations for your trip of a lifetime.
Get Your Brochure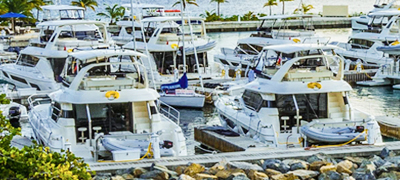 Our Fleet of Luxury Yachts
Meet our fleet of Aquila Power Catamarans designed to fit your boating lifestyle as well as the other sailing and power options we can arrange for you.
Meet the Fleet