Keeping Cool in the Dog Days of Summer
Don't lose your cool this summer! Check out these 8 fun and different ways to beat the heat (when you're not drinking water and going for a swim). Make the end of summer memorable without getting burnt out by the sun.
1. Hop on a Paddle Board and Explore

Venture away from your boat and feel the breeze, cool water, and fresh air aboard a stand-up paddle board. It also makes for a great place to view a sunset!

2. Hang Out in the Shade

On a hot summer day when the sun just won't quit, it helps to have some shade on your boat. Whether it's a hard top or a bimini top, escaping from the sun's rays is always a huge relief.

3. Prepare Your Food Beforehand

It can get hot in the galley when cooking up some food for your crew! An easy way to avoid this is to prepare your food ahead of time and bring it onboard in storage containers. Then you can eat whenever you want, without having to work up a sweat in the process!

4. Ice Cold Drinks

There's nothing quite like sipping a refreshing drink while on your boat - and it tastes even better as a way to cool you off! Looking for a new drink recipe to try? We've got some delicious suggestions for the next time you're going out on the water.

5. Don't Forget Drinking Water for Your Pet

It's important for everyone onboard to stay hydrated - even our four-legged first mates! Make sure to bring a bowl and some fresh water so your pets can have as much fun as you do.

6. Add a Slide to Your Boat

Slide your way into refreshment - directly from your boat! There are tons of great boat slides that can be put to use on your vessel as a way to entertain the whole family for hours.

7. Float On

Sometimes you just want to hang out a few feet from your boat with your feet dangling into the cool water. One way to achieve this moment of bliss is with an inflatable raft - perhaps with a drink in hand!

8. Keep it Moving

Let the power of the boat do the work for you! Go for a cruise and let the breezy air cool you down as you take in the sights and smells of the water around you. Before you know it, you'll be feeling refreshed and ready for your next adventure.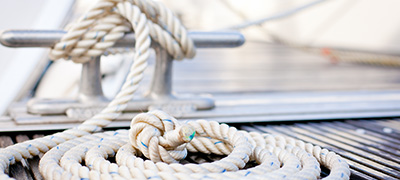 Brush Up Your Boating Skills
Our goal is to make sure you and your family feel confident and comfortable operating your boat. Our videos featuring experts will help.
Get the Tips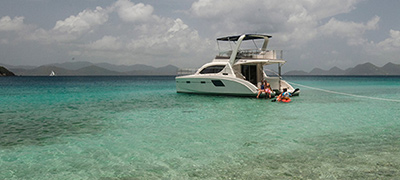 Adventures
Getaways!®, MarineMax Vacations in the British Virgin Islands and Private Yacht Charters are another way we are able to help our customers enjoy the boating lifestyle and enhance their passion for the water.
Take an Adventure
Getting Started is Easy!
Staying safe on the water starts here. Enjoy the journey as you explore different types of boats, activities, and much more.
Discover the world of boating