Comprehensive Boat Maintenance and Much More
Boating season is our favorite time of year, and we're sure it is for you too! That's why we'd hate for you to be left on land. Schedule your boat's pre-season check up with our expert and certified service team, and make sure you're both ready to launch into summer.
Get Your Boat in Top Shape for Spring

Maintenance is critical to the life of your boat, especially preparing for the changing seasons. Our service team will winterize your boat for the colder weather as well as perform spring recommissioning services. Be ready to get out on the water when the warm weather arrives! Scheduling fills up quickly, so contact your local store to make an appointment today!
Page Position for loc1
You May Also Like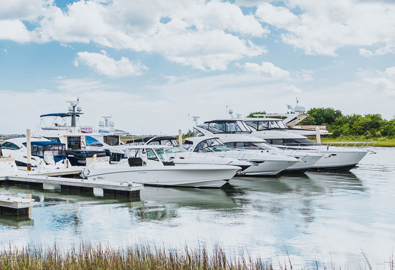 Marinas & Storage
We're all about creating opportunities for enjoying this amazing lifestyle. Many MarineMax store locations offer exceptional marina service and storage facilities.
Find Marinas
Boat Parts & Boat Accessories - We Have It All
MarineMax has a full inventory of parts and accessories to repair and maintain your boat. Visit us in-store or online to learn about our wide selection.
Search Parts & Accessories
We Repower Boat Engines with Ease
Boats are designed to take a beating. A boat's engine is not. If you love your boat but the engine's a goner, repowering is an affordable option.
Explore Repower