Service & Maintenance
Routine maintenance is a requirement for factory warranties and key to making sure your boat is always ready. Protect your investment by letting our factory-trained technicians service your boat.
Get Your Boat in Top Shape for Spring

Fall maintenance is critical to the life of your boat. MarineMax has service specials to perform routine maintenance and storage for the season, and when things start to warm up, our Spring Recommissioning service can get you on the water faster. Winterize your boat with us this fall and be ready to go for spring! Scheduling fills up quickly, so contact your local store to make an appointment today!
Keep Your Engine Runnin'

We understand your boat is a connection to friends and family. When maintenance is needed our team of factory-trained certified technicians are ready. These experts will exceed your expectations for repairs, restoration, maintenance and customer service. Our fully licensed and insured facilities feature modern equipment and technology, always using genuine OEM parts.

Ready for a MaxMakeover

A little wear & tear on your dream boat? Make it look like new again with our exclusive MaxMakeovers. We can replace, repair or upgrade anything. Imagine like-new electronics and entertainment systems, repaired and polished fiberglass, and upgraded and repaired interiors. We'll even fix Eisenglass, vinyl, fabric and provide custom detailing making your dream boat look and feel new.

Protect Your Investment

Our certified technicians are expertly trained to service and protect your boat. Annual service is key to keeping your boat ready to go when you are. In our northern markets are services teams are ready to winterize your boat as well as complete spring recommissioning. In warmer areas where winterization, is not required, regular service is just as important to keep your boat in top shape. Just call your local store or click the link below and complete a quick form.

Are You Loaded With Questions?

No problem. We've got answers to make service and maintenance a breeze. Just call your local store or complete this handy-dandy form and we'll reach out real quick.
Page Position for loc1
You May Also Like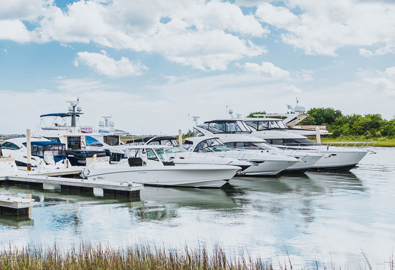 Marinas & Storage
We're all about creating opportunities for enjoying this amazing lifestyle. Many MarineMax store locations offer exceptional marina service and storage facilities.
Find Marinas
Parts & Accessories
MarineMax has a full inventory of parts and accessories to repair and maintain your boat. Visit us in-store or online to learn about our wide selection.
Search Parts & Accessories
Easy Engine Repower
Boats are designed to take a beating. A boat's engine is not. If you love your boat but the engine's a goner, repowering is an affordable option.
Explore Repower