We Love Boating With Our Pets!
MarineMax knows that one of the most important guests on your boat is your pet, which is why we love seeing what your furry first mates are up to! Each summer we ask boaters to submit a photo that captured their pet's best day on the water to enter to win a MarineMax Pets on Board prize pack! Find more information for the Pets on Board Photo Contest below and keep sharing your boating pics with your pet using #MMXPets. We love seeing them!
Page Position for details
Here's How It Works:

Upload a picture that captures your pet's best day on your boat to Instagram
Include the hashtag "#MMXPets"
Include a description of the picture - Where was it taken? What makes it special to you?
We will share our favorites, too, and keep on the lookout because we may just pick yours to receive a pet-friendly prize pack from MarineMax! See official rules here.
Page Position for pet-safety
10 Tips for Boating with Pets
Follow these tips when boating with your pet for a safe and happy adventure on board.
View Now
Dog Lifejackets
The right size and fit can be crucial when keeping your furry first mate safe.
Find Out More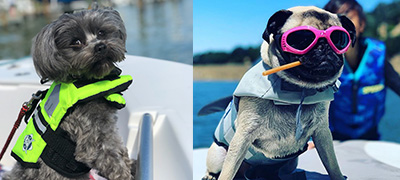 Pet Safety
Keep your furry friend safe when you're boating.
Learn More
Page Position for shared
Now that you know how to keep your pet safe on board, it is time to get out on the water and show off your pets! See some of our other #mmxpets below!