Your Private Charter Yacht - The Ultimate in Luxury Experiences
Imagine your own floating resort at virtually any international port-of-call. We represent private owners who allow their yachts to be chartered on a very private, limited and exclusive basis. Our Private Yacht Charters will set you free from the Mediterranean to the Pacific Islands.
Why Charter a Private Yacht?

A private yacht charter is all about you… and your guests if you choose. It is the most personalized vacation, tailored to your every want and design. Choose your guests, locations, activities, menus and everything else. It is only limited by your imagination and dreams. Our charter experts will be available to assist you every step of the way.

Chartering a Private Yacht is Easy

Are you ready for a vacation with fantastic dreams and fulfilled fantasies? It's as easy as starting a dialogue with a MarineMax charter agent. Create a lifetime of memories with the most exclusive and personalized travel experience you'll ever experience.

The World is Your Destination

Whether you are dreaming of the pristine waters of the Caribbean, the nightlife along the Côte d'Azur, the isolated islands and lagoons of the Bahamas, the historical coastline of New England, Mexico, the Pacific Northwest, or anyplace else that your imagination might conceive, there is a yacht awaiting your beckoned call. Our yacht experts will create a private yacht charter itinerary with all your dream destinations.


Worldwide Charter Search Whets the Appetite

Ready to dream bigger? It's your choice. Dine at an exclusive restaurant in Monaco one night and sip Champagne as you cruise the Italian coastline the next day. Take your family on an adventurous vacation in the Bahamas to snorkel, ride jet skis and explore islands. Access the most beautiful and remote parts of the word. The possibilities are endless.

We're Ready to Help Plan Your Ideal Charter

Talk to one of the charter experts at MarineMax Private Yacht Charters who will guide you through the process and present you with options based on your particular vacation preferences. Our experts look forward to matching you up with the perfect yacht and crew to ensure an unforgettable vacation experience. Simply call (877) 216-5589 or link to a form below.
You May Also Like
Yacht Charter Management Opportunities
Yacht owners at MarineMax can opt to place their vessel in a charter fleet during periods they won't use it. For many this is an excellent method for offsetting operating expenses.
Explore Charter Management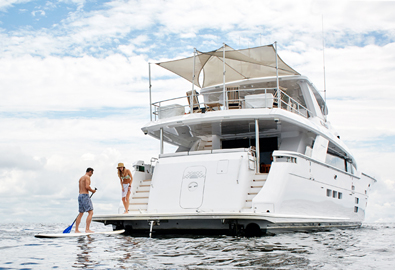 Private Yacht Ownership Benefits
Yacht ownership at MarineMax comes with superb owner benefits. Enjoy exclusive owner rendezvous trips and parties, confidence-building boating classes, and more.
Discover Private Ownership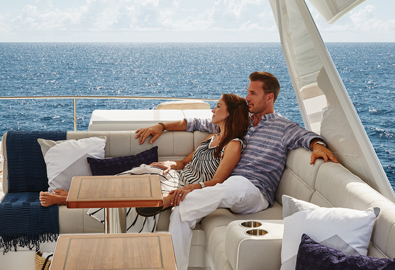 Yacht Brokerage
When you list your boat with MarineMax Yacht Brokerage Services, we utilize comprehensive marketing tools to connect buyers and sellers.
Find Yacht Brokerage