Wave Tamer in Paradise
For the Usiaks, the Aquila 28 Molokai Power Catamaran has meant more days on the water in the Florida Keys spent in comfort.
By Alan Jones
When Wayne and Shannan Usiak thought about where they wanted to build a retirement house, they assumed it would be in Mexico, where they had been visiting and fishing for 25 years. Being relatively close to Albuquerque, where Wayne had founded BDA Architecture, P.C. in 1986, it made sense. But when he received a commission to design and build Marathon Veterinary Hospital in the Florida Keys, he and Shannan fell in love with the area and eventually built a house there in 2017.
"Our first boat in the Keys was a 22-foot Cobia center console monohull," recalls Wayne. "But it didn't take long to realize it wasn't enough boat for us." So, the Usiaks searched for something more seaworthy and bought a Twin Vee 240 CC catamaran. "I hate big waves," says Shannan. "And while the cat handled the chop better, I still stayed home when the seas were 2 feet or more."
Wayne did some research and liked what he heard about the Aquila 28 Molokai, originally designed to handle the rough water surrounding Hawaii. He noticed it was a brand MarineMax carried, which had a location in Key Largo at the exclusive Ocean Reef Club in the northern Keys, and made inquiries. "Wayne contacted me about a year ago, expressing an interest in the 28 Molokai," says MarineMax sales consultant Craig Stephens, "but at the time, inventory was very low, so I told him I would stay in touch and let him know when an opportunity to test one cropped up. Later in the year, I noticed Aquila had scheduled a photo shoot here, and I arranged for a sea trial."
"At first, I was a little skeptical about buying from MarineMax," says Wayne. "During my research, I discovered they were the largest boat dealership in the world, and I figured I would be just another number. But when I went to test it, I was quickly proven wrong." When the Usiaks arrived, they found Craig had literally rolled the red carpet out, and the boat was ready to go. "We were immediately impressed by the 28 Molokai," says Wayne. "It checked off every box we had, and it felt more substantial than our previous boat. It has an abundance of storage, comfortable seating, and didn't display any of the handling quirks like the Twin Vee's tendency to lean to the outside in turns.
Although the 28 Molokai, powered by twin 200hp Mercury Verado® outboards, was spoken for when it came to Key Largo, it suddenly became available, and after a few days of negotiating, Wayne was ready to pick it up and take it home to Marathon. "After the sale, I got to see how MarineMax treats its customers," says Wayne. "They helped me adjust the bunks on my lift to fit the boat, and Carlos Lopez helped me find insurance when my original company let me down. On delivery day, General Manager Ken Reda was in the area and picked me up, which saved Shannan a two-hour drive." Wayne also found the boat fully equipped with yacht-style fenders, life jackets, cleaning supplies, a first aid kit, an emergency kit, life jackets, six dock lines, and even a full tank of gas. "On the day I picked it up," says Wayne, "they were also delivering a $3 million Scout 530, and they made me feel just as important as that owner. The MarineMax customer experience at Ocean Reef was beyond anything I've had in my previous five boats or my 50 cars, for that matter." "We love it in the Keys," says Shannan. "It's like living on a Caribbean island but with all the amenities of home. I like to fish, but I'm more into the boating aspect, while Wayne is really passionate about fishing." In Mexico, they would troll for tuna, dolphin, sailfish, and marlin, and that knowledge

has translated well in the Keys. "Lately, I've started to do more bottom fishing for snapper and grouper," says Wayne.

The Usiaks love hosting friends, and the ones from Buffalo, where Wayne was originally from, especially love the tropical atmosphere. Their son Kyle is a flight instructor at the University of North Dakota, and their daughter Holly is a hospital system strategy planner in Indiana, and both can't wait to head down and see the new boat when it gets cold up north. The Usiaks used to stick to the waters around Marathon, but the Aquila 28 Molokai Power Catamaran has given them the confidence to venture farther while being accompanied by Patrick, the Parson Russell Terrier. "We now plan to expand our cruising grounds to include Key West and Islamorada," says Wayne.

"Our Aquila is outfitted with everything a day boater/fisherman could want," says Wayne. "l told my wife it's my last boat…but she doesn't believe me!"
Want to Learn More About Aquila?
View Our Marinas
With vast storage, convenient locations, and incredible benefits, our marinas are the perfect place for your boat to call home.
Where's My Marina?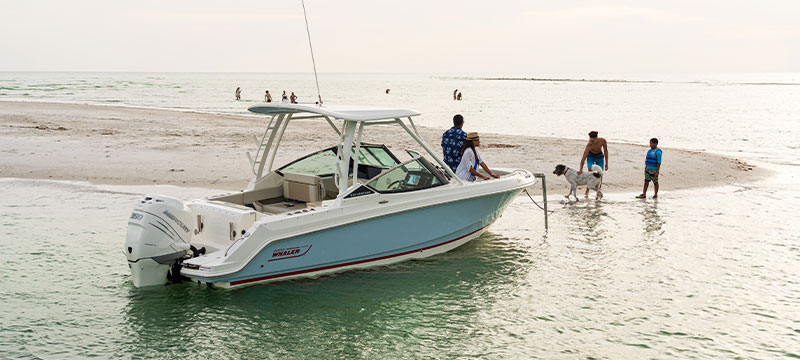 Find Your Perfect Boat Today
Start your search for the boat that has it all for your lifestyle! Explore premium new, used, and brokerage boats.
Search Boats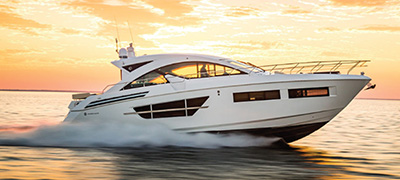 Innovative, Hand-Crafted Yachts
Cruisers Yachts pride comes with continuous innovation, hand-craft, and American-made yachts.
Learn More