Sea Ray Boats
Owning a Sea Ray is more than owning a boat - it's embracing a lifestyle. Time spent aboard a Sea Ray can feel like a dream, where the combination of premium details and advanced technology amounts to pure bliss. Sea Ray believes that richer moments on the water lead to a richer life. They have a strong ideology made up of five basic tenets that guide everything that they do. Every Sea Ray boat and every Sea Ray experience must abide by those principles. Meticulous Craftsmanship. Inspired Design. Effortless Performance. Unrivaled Support. Elevated Experiences. From the iconic Sundancer, to the luxurious SLX, to the magnetic SDX and the thrilling SPX, you'll never have a shortage of exceptional moments on the water.
Page Position for promo
Page Position for models
Models
MarineMax is proud to offer Sea Ray boats. Our team has the experience and expertise to guide you into the perfect Sea Ray for your life on the water.
Page Position for series
Page Position for sdx
SDX Series

The SDX series adds a whole new thrill to the deck boat experience, enhancing every social connection. The deep and roomy bow creates a relaxing and engaging space for friends and family. Your crew's must-haves can be tucked safely away in the expanded storage of the SDX series. And when the water calls, jump on in, with the huge swim platform welcoming everyone back aboard. This durable runabout isn't just easy to maintain; it's easy to love.
Page Position for slx
SLX Series

Comfort and style are woven into every surface and every line of the SLX series. For a boat to be excellent, it must delight on all levels, through technological advances that instill confidence and pride, as well as design choices that ensure contentment and relaxation. The SLX series calibrates performance, convenience, innovation, and ease for maximum impact, producing a luxury sport boating experience unlike any other.
Page Position for spx
SPX Series

Sea Ray's all-new SPX family of sporty and affordable runabout make it exciting and fun to connect with the outdoors - and to do so with the greatest of ease. Available at 19', 21', or 23' long with either outboard or sterndrive power, these aggressive little sportsters are easy to customize to your preferred uses with options packages. Amazingly affordable, incredibly easy to tow and run, and a real kick, SPX is your family's perfect ticket to long days on the water.
Page Position for sundancer
Sundancer® Series

Blend the values of a cruiser and a sport boat/bow rider into one. Sundancer's are designed to exemplify ultimate drivability with a distinctive profile that doesn't just enhance looks, it enhances your ride. With the Sea Ray luxury sport cruiser lineup, you will take to the water decked out with every convenience of home to maximize your time underway. Enter the most iconic model of the Sea Ray brands and start an escape that will forever alter your weekend landscape and redefine the way you interact with water.
Page Position for faq
Frequently Asked Questions About Sea Ray Boats
Sea Ray boats range from 19 to 40 feet.
Each Sea Ray model has unique features that come standard. You can also upgrade your Sea Ray with a variety of options. From interactive helm displays, convertible seating, storage, swim platforms, and Mercury engine power, it's all about what you want to make your boating days exceptional.
Visit your local MarineMax store! Our service team consists of factory-certified technicians who understand that not only do you want to keep your boat running smoothly, but that your boat is also an investment. Our top-notch team and facilities will keep your boat in top shape. 
We recommend visiting your local MarineMax dealer for winterization. Different engines and models have different service requirements for winterization procedures. Your boat is a significant investment and we feel it's best to leave this to the professionals. 
Yes. Built with exceptional quality and premium materials, Sea Ray boats are well designed to keep you safe on the water. It's important that you take care of your Sea Ray with regular service and maintenance, which MarineMax can help you with.
It would depend on the type of fishing you would want to do. For throwing a line in for fun to see what you can get with your family - absolutely! If you're a more serious angler, you may want to consider a different type of boat that will give you the space around the entire vessel. Sea Ray boats are ideal for those that want to spend the day on the lake, gulf or ocean playing watersports, then be able to leisurely spend time with family. Overnight or even longer trips are made possible with Sea Ray cabin cruisers. Docking up to your favorite restaturant is always a bonus, too!
Sea Ray recently launched the SLX 260 Surf. This model creates preferred wake for deal wakesurfing and other water sports. Powered by a Mercury® MerCruiser® 6.2L MPI ECT engine with a forward-facing Bravo Four S® drive, integrated SmartCraft® technology and Digital Throttle & Shift (DTS) controls. In tandem, the electric surf tabs and ballast tanks control the height of the wave and produce a long or short pocket to carve and do other tricks.The standard electrically actuated watersports tower with an integrated Bimini top and surf tow points allows you to pull wakesurfers with ease. The helm features a sophisticated custom user interface to control the surf settings, accommodating specific watersports and riders' preferences with the simple touch of a button.
Sea Ray discontinued the yacht and sport yacht models in 2018 to focus on revitalizing the 19 to 40 foot category. The largest Sea Ray models comfortably sleep four adults in a spacious cabin. You may still find pre-owned yachts from Sea Ray that come available given their superior quality and meticulous craftmanship.
Page Position for social
Page Position for tours
Page Position for form
Want to know more about Sea Ray? Let us help!
Page Position for mibs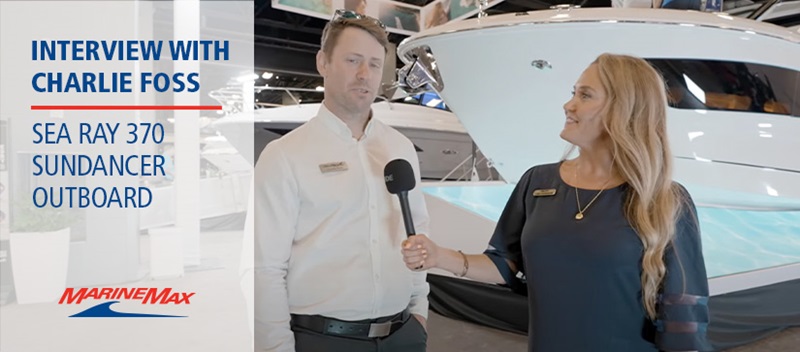 Play video for Interview with Charlie Foss
Charlie Foss, VP of Design for Brunswick Boat Group, talks to us about the Sea Ray 370 Sundancer Outboard with dual Mercury 600hp V12s. Hear about Sea Ray's new design language and key features, including the panoramic hardtop, convertible transom seating, futuristic helm station, luxurious cabin for 4 and authentic materials used in construction.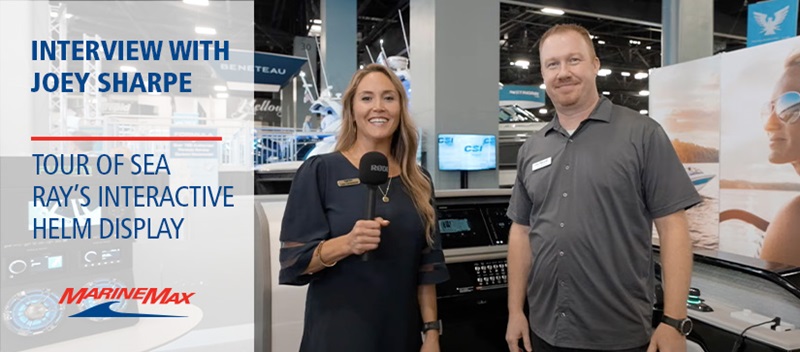 Play video for Interview with Joey Sharpe
Sea Ray is a brand that's dedicated to continuous technological advances, and Joey Sharpe, Sea Ray's Senior Brand Product Manager, gives us a tour of the interactive helm display at the Discover Boating Miami International Boat Show. Today's boats are easy to drive with joystick control, they're a snap to navigate with powerful GPS-enabled multifunction displays, (MFDs) they're steadier due to gyro-stabilization and they run smoother with innovative hull designs.
Page Position for videos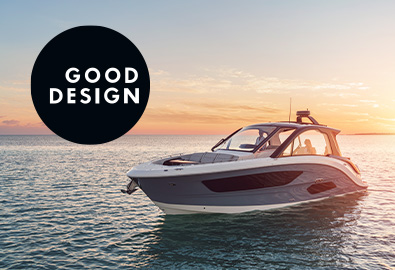 Good Design Award Winner
Sea Ray was recently awarded a GOOD DESIGN® Award for the new Sundancer 370 Outboard. Each year, the Chicago Athenaeum presents the GOOD DESIGN® Awards to the most innovative and cutting-edge industrial, product and graphic designs from around the world.
Read More
Safety Awards Winner
Sea Ray® has been honored with Top Marine Manufacturer Award for the third consecutive year during the 2021 National Boating Industry Safety Awards!
Learn More
Page Position for findsearay