Aquila Power Catamarans
With over 40 years of manufacturing experience and the collaboration of multiple award-winning firms and designers, Aquila Power Catamarans is the world leader in producing high-quality, innovative filled, and exceptionally performing power catamarans. No other vessels on the planet offer more features, reliability, durability, and value than our world-class lineup delivers, from the offshore Aquila 28 Molokai up to the flagship Aquila 70 Luxury Power Catamaran.
Aquila's rapid growth and global success have challenged our international design and engineering teams to rise to elevated expectations. Every model embodies the reliable features and construction methods used in the hundreds of Aquilas cruising the world today. Check out Aquila's boats and yachts below to start your journey.
Page Position for models
Models
MarineMax is proud to offer Aquila Power Catamarans. Our team has the experience and expertise to guide you into the perfect Aquila for your life on the water.
Page Position for savings
Page Position for boattest
Page Position for series
View the Aquila Model Line
Page Position for innovation
Innovation

Innovation comes from a willingness to question, to dream and to create. Aquila holds innovation as one of its highest standards. Fresh products, features, designs and style are all challenged to deliver the world's best power catamarans. To date Aquila has continued to deliver on this standard time and time again.
Page Position for performance
Performance

Performance is defined as how well it works. This broader definition ensures that every aspect of an Aquila power catamaran will deliver top performance for its intended use.
Page Position for quality
Quality

Although painstaking and labor-intensive, the team at Aquila thinks long-term and invests time and materials to ensure it. Quality starts with design. The world-class design and engineering team assembled by Aquila includes naval architects, engineers, production management, and inspired designers from around the globe. Members of the renowned J&J Design group have played a key role in developing the brand.
Page Position for faqs
Frequently Asked Questions About Aquila Power Catamarans
Sino Eagle Group manufactures Aquila Power Catamarans at their expansive facility in East Asia, featuring cutting-edge equipment and methodologies. Boasting over four decades of manufacturing experience, Aquila stands as a world-class leader in crafting the finest power catamarans, setting the benchmark for unparalleled features, reliability, durability, and performance when compared to other competing models.
Aquila Power Catamarans excel in rough water conditions thanks to their stable and balanced design. The twin-hull configuration enhances stability, reducing wave impact and improving handling, making them a top choice for boaters seeking comfort and safety in challenging seas.

What truly sets Aquila apart is their stringent adherence to the demanding standards of CE Certification. Their power catamarans are meticulously crafted to meet the rigorous criteria set by CE Certification, known as one of the most rigorous certifications to attain, specifically addressing rough water certification.

Furthermore, all Aquila's are manufactured in an environmentally conscious facility using proprietary resin infusion techniques, resulting in catamarans that are exceptionally stronger and lighter to deliver outstanding performance, efficiency, and an enjoyable experience, even in rough seas.
The speed range of Aquila Power Catamarans can vary depending on the specific model and its engine configurations. Aquilas are known for their efficiency and performance, and they are designed to achieve relatively high speeds compared to traditional monohull boats.

It's essential to note that the actual speed capabilities may vary based on factors such as the specific model, engine options, load onboard, sea conditions, and other variables. For the most current and accurate information on the speed range of Aquila Power Catamarans, please consult with a MarineMax sales consultant.
Page Position for form
Want to know more about Aquila? Let us help!
Page Position for videos
Play video for This Cat Can Fish
Aquila 47 Molokai Power Catamaran
The Aquila 47 Molokai is the first serious fishing catamaran with real overnight accommodations.
Aquila 42 Yacht - The Perfect Entertainer
With spacious staterooms, comfortable flybridge seating, and ample space for relaxing and entertaining throughout, the Aquila 42 Yacht Power Catamaran is the definition of effortless luxury and endless fun.
Page Position for video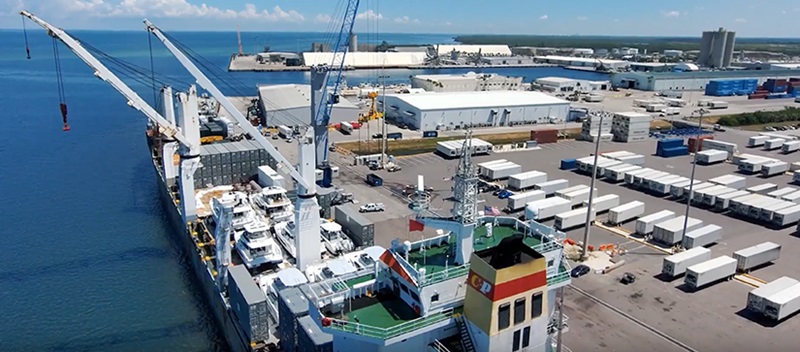 Play video for Witness the Expert Offload of Aquila Power Catamarans
Seamless Arrival
A brand-new batch of Aquila Power Catamarans has come ashore in Port Manatee, Florida. Included in this shipment is hull number one of the Aquila 47 Molokai, an absolute game-changer in the world of offshore fishing.
Explore the Lineup
With one of the most talented teams in the industry providing combined knowledge and extensive experience, Aquila has established a new expectation for power catamaran innovation.
The Building of an Aquila
Take a look inside Sino Eagle's world class factory where the range of Aquila Yachts are built.