You Have Questions, We Have Answers
From boat recommendations to questions about passports, currency, crews, customs and charts, we are here to make planning the perfect BVI vacation as easy as possible. If you need more information about the topics listed here – or anything else – please contact us. We are here to help you plan every aspect of your island adventure, from start to finish.
Which boat is best for me?

That really is up to you! First, it depends on if you are interested in sailboats or power cats. Our exceptional sailboat fleet is comprised of sail catamarans and monohulls including Lagoon, Nautitech, Fountaine Pajot, Bavaria, Jeanneau, Beneteau and Dufour sailboats ranging from 30' - 56'.

For the ultimate experience aboard our power catamarans, the MarineMax 362 comfortably accommodates two couples. For a spacious three cabin layout, you can't beat the MarineMax 443, with a forward master cabin spanning her beam and a full king size walk around berth and en suite head. Port and starboard cabins have ample space and private en-suite heads. The MarineMax 484 provides outstanding and spacious living comforts for four couples, or even 10 guests. The salon is large and converts to double berths if needed. Four equal size double cabins all include private en suite heads, walk around berth access and plenty of storage. Both aft cabins can be converted to twin berths if desired.

Do I need a license to captain my yacht?

No, there is no license required and depending on your boating experience, you may already be qualified to skipper one of our yachts. Let's take a look at your boating résumé to review your experience and verify that you are approved to captain your charter.

Where will I dock each night?

You can choose to pick up a mooring ball at a destination of your choice, anchor in a harbor or even visit ports to find docks and yacht clubs like Scrub Island.

What's the weather like in the BVI?

It's a tropical paradise complete with an ideal tropical climate complete with trade winds and plenty of sunshine. Daytime temperatures average 79 – 85 degrees, and nighttime temperatures are typically 75 – 80 degrees. There can be some quick local rain showers, but they usually last no more than 30 minutes. Overall, think of it as, well, outstanding. See here for more details.

What are the wind conditions?

They are ideal! Winds average 10 – 20 knots providing exciting sailing conditions and cool night ventilation.

Can I get a captain and a cook?

You can decide to have a captain and a cook on board for your vacation. We are happy to arrange this for you, just keep in mind that they will require a cabin. We can hire a captain, hire a crew, or plan an all-inclusive vacation for you. You can contact us for specific daily rates for your dream vacation.

What are my travel options?

VIA St. Thomas

For those traveling through St. Thomas, you will need to travel via ferry to the island of Tortola. There is a public ferry, or private ferry companies such as Dolphin Water Taxi that can get you and your guest to Tortola. If your travel plans call for an overnight stay in St. Thomas, we can help make arrangements for you at one of the local hotels.

VIA San Juan, Puerto Rico to Tortola's Beef Island Airport

If your flight plans take you through San Juan, you will need to take a smaller aircraft to Tortola's Beef Island Airport.

For groups of 6 to 8 people, there is always the option of chartering a private plane to Tortola. It's not much more expensive, and can be a fun way to fly on your last leg of the arrival trip.

Will I need a Passport?

Yes, you will need a passport to travel to the British Virgin Islands.

Will I need to go through Customs?

Yes, you will need to clear customs when entering the BVI and then again on your journey back to your country of origin. This typically takes approximately 45 minutes.

What is the currency?

The British Virgin Islands uses US Currency.

How much luggage can I bring?

The phrase "less is more" applies here. We recommend that you bring smaller, soft sided luggage as it will need to be stored in your cabin. It's good to take the advice of some previous guests who quickly learned that a charter vacation in paradise is best with light packing. And less baggage on the airlines is good, too.

What should I pack?

Bathing suits, shorts and your favorite casual beach attire is best. Rubber soled shoes such as boat shoes, sandals and tennis shoes are also recommended, especially for our sailors. Some guests have been happy to have aquatic shoes when beachcombing the islands. Most importantly, don't forget to pack the sunscreen, wide-brimmed hats, and even a windbreaker comes in handy in the breezy evenings.

Do I have to start on any particular day of the week?

No, you do not have to start on a certain day of the week. It's your vacation; let's plan it around your schedule.

Are taxi and/or ferry fees included?

All transfer charges are additional fees that are not included with your charter. Once we have your travel information, we are able to help you make these arrangements at a lower partner negotiated rate.

Where can we stay if our flight arrives the day before our charter begins?

Great question and there are a couple of options for you to choose from.

First, we can work to arrange a sleep aboard for you. The best advantage of this option is that you will be able to leave the dock and get out on the water earlier the next day since charters with a sleep aboard usually leave the marina around 11:00.

Another advantage to a sleep aboard is that you can load all of your gear, including any provisioning you want to include that evening and have an opportunity to become familiar with your boat prior to orientation.

Sleep aboards can be booked for a portion of your daily charter rate. Please ask us if this option is available for your boat when booking.

The second option for an early arrival would be to make arrangements at a local hotel, we will also work to arrange for you. Some of our guests prefer this arrangement if they are less familiar with chartering and boating in general.

Can I charter by myself?

No, sorry. Regardless of your experience, for safety reasons, at least two people are required on board.

What is a Chart Briefing?

It's just one of the ways we welcome you and help you become familiar with your boat and the islands. We will show you around your boat, brief you on how things work, as well as make water navigation suggestions based on your individual vacation itinerary and desires. Safety first, so those procedures will also be part of the chart briefing. Our goal is to make you absolutely comfortable and confident with the boat and the islands before departing from the Marina. Please talk with your personal MarineMax Vacations planning expert for your chart briefing time, which is based on your arrival plans.

What time will I leave the dock?

This varies depending upon your arrival time. After your arrival at the marina, you can plan a minimum of two hours for orientation and chart briefing. Boarding time is at noon or 6:00 p.m.

What are our dining options?

There are a couple of ways you can plan to dine. Provisioning is available and can be catered to your specific tastes. There are different plans to select from and we are happy to help you with that as part of your vacation planning before your departure. The great thing about provisioning is that when you arrive on the island, your boat is stocked and ready for you to climb aboard without any hassle of shopping for your grocery items.

For dining out, you will find that most overnight mooring destinations have restaurants and bars where you can enjoy dinner out with the local fares.

Will I get sea sickness?

We sure hope not. While the islands that make up the British Virgin Islands provide calm waters with ideal sailing conditions, if you are susceptible to motion sickness, then we do recommend you pack over the counter medication – some guests like a pill form, others prefer the wristband treatments. Sometimes, after the first day, guests who are susceptible have begun to feel some motion sickness. But with the OTC, they have been able to enjoy their entire paradise vacation.

Is smoking allowed on the boats?

Due to our fire safety restrictions, there is no smoking allowed inside or below deck on any of our charter boats.

What additional expenses are there during my BVI charter vacation?

Overnight moorings. Overnight moorings average $25-$30 per night (cash only) and are available on a first come, first serve basis. Once you hook-up to an available mooring, someone will approach your yacht in a dinghy to collect payment and give you a receipt, or sometimes you will be instructed to pay a specific restaurant ashore.

Dining ashore. While provisioning on your boat is most popular, guests do typically dine ashore for about half of their dinner meals and occasionally breakfast or lunch. Most restaurants accept Visa and MasterCard. American Express is less widely accepted, so you may want to verify before you get to the table. Keep in mind that the average cost for a moderate dinner is about $20 per person.

Ice & Water. A bag of Ice ranges in cost from $3.00 - $5.00. While every boat in our fleet includes watermakers where you will not need to purchase fresh water, if you should find yourself in need, it is about $0.14 - $0.20 per gallon.

Fuel. The cost of fuel is not included in the base charter fee and ranges from about $4.00 - $5.00 per gallon.

Departure Tax. The British Virgin Islands collects a $20 departure tax at the airport just before you enter the gate area. If you leave the island by ferry, note that the departure tax is $20 per person and paid as you board.

Is a dinghy included?

Yes, the dinghy with outboard is included on all of our boats.

Is snorkeling gear included?

A set of snorkeling gear including mask, snorkel & fins is provided for each vacationer free of charge.

What are my scuba diving options?

Certified divers can rent scuba gear and tanks to take on board their yacht, noting that our boats are not equipped with compressors or dive tank racks, but racks can be rented. Another option in the BVI is rendezvous diving whereas the dive company will pick you up from your yacht with your necessary gear. You would dive from their yacht, which is typically closer to the dive sites because some mooring balls are designated for dive boats only. We can help you arrange this excursion before you arrive in Tortola.

Will I have cell phone service?

While your carrier may have cell service while on the waters, we strongly urge you to contact them for any additional international or roaming fees you may incur. These charges can add up quickly, even just by turning your phone on and data is automatically received. In other words, be sure your international calling plan is in place beforehand if you plan on using your phone.

Is there Internet service available?

Yes, our boats do offer wireless internet aboard at a cost of $99 per week. Although it's nice to stay in touch, sometimes it's so much better to completely disconnect and enjoy the paradise. If you must stay in touch, with our wifi dedicated to the boats, you can simply skype with loved ones back home as needed.

Can I use my iPod or MP3 player?

Yes, you can. Just be sure you bring any auxiliary cables you may need with you. Our yachts do include the ability to listen through our onboard sound systems.

Is a fishing license required?

Yes, a fishing license is required for anyone 18 years or older. You can apply for a license at the Government Office on Tortola, Monday - Friday 9:00 AM - 3:00 PM, or we can help you obtain that licensing before you depart.

Can I use a hair dryer on board?

Well, yes, you can, but why? Hair dryers and yachts really don't go well together. If you do need to use one on board, bring a very low wattage travel hair dryer.

Are pets allowed?

No, we are sorry, but pets are not allowed on any charters.

What type of equipment will I find on board?

We are proud to be pushing the limit on upgrades and equipment in all of our power catamarans. Equipment includes GPS satellite navigation systems, autopilots, CD/radio sound system with cockpit speakers, generators, watermakers, air conditioning, electric barbeque grills, flat screen TV's, and Ray Marine touchscreen electronics. Galley equipment also includes blenders, coffee pots and microwaves.

Our sail fleet is quite varied to meet a large range of sailing enthusiasts. For specific information on equipment aboard our sailboats, please see the boat details here.

Can I afford a yachting vacation?

Absolutely, you can. The "per person" cost of a yachting vacation is usually at or below the cost of a resort vacation or ocean cruise, without the crowds! It's an all-inclusive luxury vacation without the crowds or hassle.
Page Position for form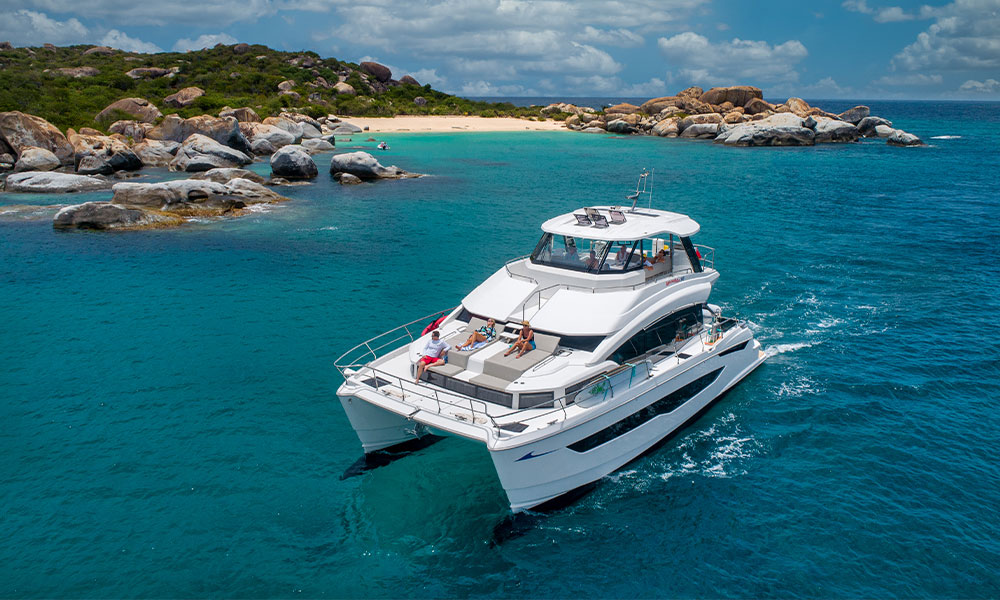 5 Reasons to Choose MarineMax Vacations
Expert planning team to help every step of the way so you can enjoy the trip of a lifetime
Our own custom amenity-packed power catamaran fleet in the British Virgin Islands with 3, 4, and 5 cabin options
Access to power catamarans in amazing destinations
Explore an extensive resource library of videos and articles to prepare for your trip
Our commitment is to exceed your expectations and provide an extraordinary experience