The Azimut Flybridge Collection
Elegance, space, agility, and light flooding through large windows. The yachts of the
Azimut
Flybridge Collection break down all visual barriers, allowing you to truly contemplate the sea, right before your eyes. Explore each model in the collection below and schedule your tour today.
50 Flybridge

The desire for balance between the elegance of the external lines and the need to build structures suitable for extending total comfort to the owner and his guests, has produced the Azimut 50. This yacht offers both the harmony of contemporary lines, in keeping with the Azimut family-focused designs, as well as the the most highly advanced technological solutions.

55 Flybridge

Not only do opposites attract, but every now and then, in the right hands, they can also come together to create an extraordinary level of harmony. The Azimut 55 is the epitome of such a union. Arising from the desire to take a sporting style exterior with strong sleek lines and combine it with a calm, cocooning interior, the result is a perfect fusion of dynamism and serenity.

60 Flybridge

60 raises the bar for excellence to the next level and is set to become a new icon in its category. Style, design and innovation come together in an incredibly appealing cocktail that is bound to chart a new course through the waters of the international yacht market.

66 Flybridge

The Azimut 66 Flybridge may readjust your priorities for your next boat. The space inside the four-stateroom yacht reveals as much about her as the feeling one has while driving her from the flybridge helm: She's a combination of her different elements. The possibilities to be enjoyed are limited only by the vision of the beholder.

72 Flybridge

The brand new concept of the Azimut 72 Flybridge uses new, highly technical construction methods with extensive presence of carbon fiber. This model amazes with her proportions: sleek exteriors, spaces perfectly harmonized with spacious interiors.

80 Flybridge

The future of boat design has arrived. A new approach to space layout, furnishing design, and interior lighting. Azimut 80 combines the allure of minimalism with the utmost in comfort. Large open spaces, the joy of living and entertaining.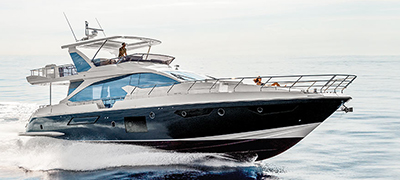 Built on a History of Excellence
Azimut sets the standard for new and used luxury vessels. Italian ingenuity and painstaking attention to detail go into every yacht.
Get on the Water
Discover New Places
Some last a day, others a weekend or longer. Either way, our Getaways!® will have you enjoying the boating lifestyle in no time.
It's time for fun
MarineMax Yacht Centers
In addition to being the world's largest stocking yacht dealer, MarineMax Yacht Centers offer priority service access to our factory certified technicians, 100-ton travel lifts, and an extensive range of parts.
View Yacht Centers