Cruise the Crystal Clear Waters of St. Lucia and the Grenadines
With robust rainforests, glistening waterfalls, and beaches that stretch as far as the eye can see, it is no surprise that this is one of the world's best yachting locations. Whether you enjoy golfing, shopping, the arts, or just relaxing on the beach, the Grenadines has something for everyone.
Page Position for form
"Our best memories are from spending an extended amount of time with our children and their loved ones in beautiful locations while enjoying lots of water activities."
Page Position for itinerary
Day 1 - St. Lucia to Bequia

Soak in the atmosphere of St. Lucia at either Jade Mountain or Anse Castanet resort, both with stunning views of the Piton peaks. Once aboard your well-appointed yacht, cruise over to Bequia, anchor in Admiralty Bay, and browse the boutiques along the shoreline of Port Elizabeth.

Day 2 - Bequia to Mustique

Shop a little more in Bequia for one-of-a-kind souvenirs before you cruise to the privately owned, 1400-acre island of Mustique. Enjoy a horseback ride on a beautiful sandy beach, visit Basil's Bar for their signature Whammy cocktail, and be on the lookout for celebrity guests such as Mick Jagger, Paul McCartney, and numerous royals.

Day 3 - Mustique to Canouan

Head out bright and early to the tiny island of Canouan to play a round of golf at the famous Jim Fazio-designed course, known as the best in the Caribbean. Or perhaps you'd rather slip into serenity at the Pure Harmony Escape Spa. Toast to another perfect day as you relax over dinner prepared by your on-board chef.

Day 4 - Canouan to Tobago Cays

This compilation of cays and islets is an undisturbed wildlife habitat with calm waters that are perfect for snorkeling and diving. Swim among the vibrant coral reefs, tropical fish, large sea turtles, and other wildlife before anchoring at Union Island to browse the local boutiques in Clifton Bay.

Day 5 - Tobago Cays

Start your day up close and personal with the green turtles at Baradal Island turtle sanctuary. More wildlife awaits as you walk along serene beaches populated by friendly iguanas. End the day shopping for souvenirs at Clifton Bay or relaxing at the exclusive Palm Island spa.

Day 6 - Tobago Cays to Carriacou

Today's destination is the Grenadine's largest island, Carriacou, which means "land surrounded by reefs." It's also known as the island with only one gas station, but 200+ rum shops! Stop at Sandy Island for a quick dip or snorkel in sparkling waters and then continue to Tyrell Bay to enjoy numerous restaurants and live music.

Day 7 - Carriacou to Grenada

Make the most of your last day in Grenada with a visit to the Isle of Spice. Tour the vast rainforest with its old plantations and glistening waterfalls, indulge at the chocolate factory, and then select a few spices in St. George's before returning home.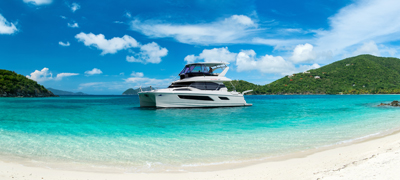 Our Experience and Commitment
Learn how we combine an extraordinary boating experience with customer service that exceeds expectations.
We're Dedicated to Serving You
Our Fleet of Luxury Yachts
Meet our fleet of Aquila Power Catamarans designed to fit your boating lifestyle as well as the other sailing and power options we can arrange for you.
Meet the Fleet
We Love Questions!
Ready to know more? Some of your questions may be answered here.
Get the Answers