Spectacular Scenery and Clear Waters Along the Croatian Coast
The Adriatic Sea sparkles beneath your yacht as you cruise between historic towns and idyllic islands enjoying culture, cuisine and natural beauty. You'll find Croatia's northern coast is compact and easy to explore with gentle seas and short distances between numerous fabulous destinations.
Page Position for form
"Our best memories are from spending an extended amount of time with our children and their loved ones in beautiful locations while enjoying lots of water activities."
Page Position for itinerary
Day 1 - Split

Board your yacht in Croatia's second largest city, Split, an exuberant city that balances modernity and traditional culture. Visit the imposing Roman ruins of Diocletian's Palace before exploring the labyrinthine of streets teeming with bars, shops and restaurants. After dinner on the waterfront, end the day in the privacy of a quiet bay.

Day 2 - Skradin

After breakfast aboard your yacht, depart for Skradin, a small town located on the river Krka just a few hours away. Stop and enjoy a swim in one of the gorgeous bays along the way before anchoring near Skradin to explore the beautiful scenery, wildlife and waterfalls of Krka National Park.

Day 3 - Kornati Archipelago

Often cited as a "nautical paradise," the Kornati Islands features 147 unforgettable islands within 22 miles, the highest concentration in the Mediterranean. As you dive and snorkel among the reefs and inlets, thousands of unique fish swim by in crystal clear water. Spend the evening relaxing onboard, perhaps with a bottle of superb Croatian wine.

Day 4 - Kornati Archipelago to Mali Lošinj

Today's stop is Mali Lošinj, an island known for its wellness programs, secluded beaches and tranquil fishing villages. Considered one of Croatia's best-kept secrets, Mali Lošinj features historic churches, art and other cultural attractions as well as delicious traditional cuisine that you'll savor as the sun sets over the harbor.

Day 5 - Mali Lošinj to Veli Brijun and Rovinj

Your visit to Brijuni National Park and its 14 islands begins at the main island, Veli Brijun, where the natural beauty of this uninhibited island reveals itself via train. From there, you're off to Rovinj, a beautiful harbor town on a hilly peninsula with steep pedestrian streets that feature art galleries and festive restaurants serving traditional Istrian specialties such as truffles and local wines.

Day 6 - Rovinj to Pula

End your voyage at the largest city on the Istrian Peninsula, Pula, a busy working port that has managed to maintain its small-town culture and friendliness. Spend the morning wandering through the abundance of ancient Roman landmarks before departing from your charter with an unforgettable assortment of wonderful memories.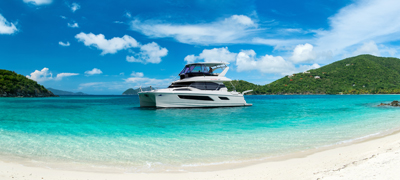 Our Experience and Commitment
Learn how we combine an extraordinary boating experience with customer service that exceeds expectations.
We're Dedicated to Serving You
Our Fleet of Luxury Yachts
Meet our fleet of Aquila Power Catamarans designed to fit your boating lifestyle as well as the other sailing and power options we can arrange for you.
Meet the Fleet
We Love Questions!
Ready to know more? Some of your questions may be answered here.
Get the Answers