Explore Antiquities, Culture and Cuisine in the Greek Islands
Step through the window of time as your luxury yacht charter cruises to sun-bleached ruins, amazingly vast and varied landscapes, and the enduring beauty of the Cyclades and Dodecanese Islands.
Page Position for form
"Our best memories are from spending an extended amount of time with our children and their loved ones in beautiful locations while enjoying lots of water activities."
Page Position for itinerary
Day 1 - Athens to Poros

From the port of Piraeus, you'll board your yacht and immediately begin relaxing on the cool clear waters of the Saronic Gulf. Spend the afternoon exploring the Sanctuary of Poseidon or perhaps you'd rather swim and soak in the waters off Poros or simply take a walk in the lush pine forest. Dinner awaits at one of the lovely waterfront restaurants.

Day 2 - Hydra

After arriving in Hydra, you'll enjoy sightseeing in peace and serenity, thanks to the ban on motorized vehicles. Visit the myriad boutiques, galleries, shops, and garden tavernas scattered throughout the town's exquisitely preserved stone architecture before returning to the yacht for an overnight to Delos.

Day 3 - Delos to Mykonos

Spend the morning traversing the ruins of Delos, a UNESCO World Heritage Site and one of the most important ancient archaeological sites in Greece. Since overnight stays aren't allowed, you'll cruise to Mykonos to anchor off the beach and take advantage of the water toys provided with your luxury yacht. End the day with dinner in Mykonos' town aka Hora and visit the famous – or possibly infamous – bars and clubs for a night of merriment.

Day 4 - Mykonos

There's more to see in Mykonos as you navigate the maze of streets lined with traditional whitewashed cubist dwellings and a chichi café-bar-boutique scene. Have lunch at one of the hip new restaurants or beach bars that seem to pop up everywhere and then hit the silver-sand beaches for an afternoon with the "beautiful people." Tonight's crossing will take you to Santorini.

Day 5 - Santorini

Enjoy the sunrise as you enter the vast caldera left by one of the biggest volcanic eruptions in history. Spend the afternoon swimming and cooling off in the indigo waters of the Aegean before witnessing a sunset that will leave you breathless as it produces a spectacular light show of reds and orange along the soaring cliffs. Relax and rest aboard while navigating overnight to Symi.

Day 6 - Symi

Begin the day exploring the picturesque town of Panormitis that features the Archangel Michael of Panormitis Monastery overlooking the bay. You'll then sail to the island capital of Gialos with its neoclassical architecture style that reflects the influence of Italians rulers. Your day wraps up with dinner at a classic Greek taverna while you watch the fishing boats return home.

Day 7 - Symi to Rhodes

Whether it's history, culture, sun worshiping, or marvelous cuisine, there is something for everyone in Rhodes. If you desire history, the walled Old Town offers a maze of cobbled streets leading through a mélange of medieval, Ottoman and Italianate facades. Then there's the swimming at secluded beaches or diving in crystal-clear coves as well as the buzzing nightlife at fabulous restaurants and bars. Spend the last night at sea navigating to Turkey.

Day 8 - Fethiye, Turkey

Welcome to Turkey! As a vibrant, prosperous town, Fethiye is a wonderful base for visiting Turkey's seaside hot-spots and other interesting sites before saying goodbye to the beauty of the Greek Islands and Aegean Sea.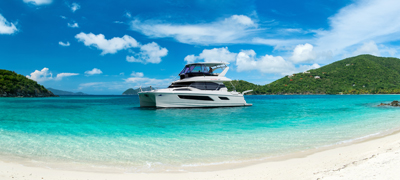 Our Experience and Commitment
Learn how we combine an extraordinary boating experience with customer service that exceeds expectations.
We're Dedicated to Serving You
Our Fleet of Luxury Yachts
Meet our fleet of Aquila Power Catamarans designed to fit your boating lifestyle as well as the other sailing and power options we can arrange for you.
Meet the Fleet
We Love Questions!
Ready to know more? Some of your questions may be answered here.
Get the Answers