Why You Should Go to the BVI in 2018
The British Virgin Islands are back and all that's missing is YOU! And, here's why we think you should go to the British Virgin Islands in 2018.
Should I Go?
The first question many people have is "Should I go to the islands when there's still so much work to be done? Won't I be a burden?" Many are concerned about the devastation caused by the hurricanes and the process of rebuilding on the islands. The answer to this is: YES! YOU ABSOLUTELY SHOULD COME! Your presence as a tourist will not only help bolster moral, but your hard earned dollars spent at our grocery stores, shops and restaurants will directly help our economy. The beautiful pictures that you share with family and friends will help spread the word that we are not a post-apocalyptic mess, but a beautiful place that feels even more quaint and authentic than it did before. You will still have the vacation of a lifetime, we promise you that! I have heard from SO many boaters that - despite the aftermath of the storms - they had the vacation of a lifetime.
Something for Everyone
In the BVI you'll find over 60 islands to explore. Well-know hot spots like The Baths, Jost Van Dyke, Anegada, The Caves, Norman Island, Leverick Bay (the list goes on!) are up, running and still beautiful. The British Virgin Islands still offer amazing snorkeling, crystal clear water, and warm winds. Aboard a MarineMax Vacations charter you can cruise the islands, relax, take a dip, enjoy drinks and food on shore at restaurants and bar and more! There's something for everyone. And, you might even find that in 2018, it's a little easier to get around and get to a mooring ball. We expect 2019 to be a busy year, and 2018 is the chance to take the islands at just a little slower speed.
Memorable Moments
A charter yacht vacation in the British Virgin Islands is not only a bucket list item for many - the trip of a lifetime - it's a places where memories are created that will never be forgotten. Whether you are going with friends, family, a mixture of the two or even as a work retreat, it provides the time to laugh, tell stories and enjoy your time together. You'll try new things, explore the islands, bask in the warm sun.
"Our best memories are from spending an extended amount of time with our children and their loved ones in beautiful locations while enjoying lots of water activities."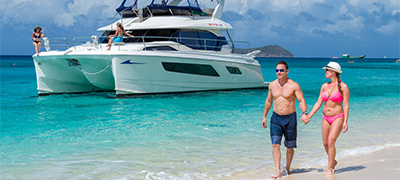 Request a Brochure
Explore the extraordinary charter options you have with MarineMax Vacations for your trip of a lifetime.
Get Your Brochure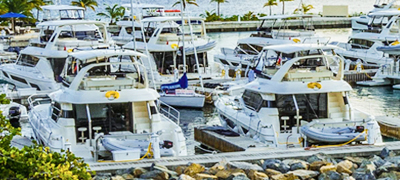 Our Fleet of Luxury Yachts
Meet our fleet of Aquila Power Catamarans designed to fit your boating lifestyle as well as the other sailing and power options we can arrange for you.
Meet the Fleet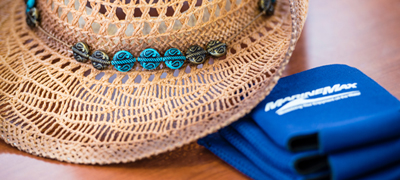 The British Virgin Islands Beckon
Everything you need to know about your island vacation.
Get the Answers