Voyage to Join the Fleet
Have you ever wondered how our fleet power catamarans arrive in the British Virgin Islands? Well, many come on their own hull from Florida. Our captains have shared their story from one of their trips. We hope you enjoy Part 1 and don't forget to watch for Part 2 and 3 to come out!
Sitting in the Atlanta International Airport waiting to depart for an adventure of a lifetime, Captain David Ludwig reflected on several things. Leaving his fiancé Shina, less than two weeks before Christmas made him a bit melancholy. However, knowing that they would be checking out their eventual marriage venue in Puerto Rico on Christmas day, cheered him considerably. Although technically a business trip, leaving freezing Atlanta to deliver an Aquila 44 from St. Petersburg to the beautiful water surrounding Tortola was something he may well have put on his bucket list. David's work for the next two weeks was to meet up with Captain Larry Braun and deliver the Aquila 44 for service in the MarineMax Vacations fleet as a
MarineMax 443
available for charter. Tough life but everyone has to have a job.
Captain Larry is a veteran of the Caribbean with numerous forays as far south as the Windward Islands including Barbados and Grenada. He is one of MarineMax's go-to, long distance captains. He has delivered over a dozen Aquila Power Catamarans to the MarineMax fleet. This would be his first delivery with Captain David. Captain David is an experienced delivery captain and has been with MarineMax since 2006. However, most of his experience has been lake deliveries and leading MarineMax Get
aways!®
hosted for customers to take their boats to unique places - many to the Bahamas. This trip would be David's first truly long-distance run with one leg of 390 miles alone. Captain Larry was pleased to have Captain David aboard because this voyage can be quite grueling and "not for the faint of heart."
David arrived at Tampa International airport and Ubered to St. Petersburg arriving at 11:00 p.m. When he had left the temperature was 36 degrees and the water temperature in Lake Lanier was 54 degrees. At St. Petersburg it was 61 degrees and the Gulf waters were a balmy 74 degrees.
Larry arrived the next day with 200 gallons of fuel in four 55-gallon drums as David was finishing scrubbing the boat. The extra fuel would be needed for some of the longer passages. Captain David was looking forward to learning from Captain Larry and gaining practical knowledge from the more experienced captain.
Heading out to the Gulf of Mexico at high-noon with a full tide, Captain David felt like he was in a Spaghetti Western. They soon found themselves dodging crab pots running at just over 15-knots approximately three nautical miles offshore. Larry talked about his youth sailing to Egmont Key, camping over weekends sailing back to reality on Sunday.
They anchored on the lea side of Captiva Island in time for dinner and a night on the hook.
Page Position for part-two
In the morning after coffee, David turned on the engine's battery switches. As the bilge blowers automatically turned on, David reflected on what a nice feature that was, no chance of starting the engines before the bilge was vented.
The plan was to fuel at Fort Myers yacht basin in the morning and cross Florida by way of the Okeechobee Canal. Captain Larry planned the route to Tortola based on fuel availability. After leaving Fort Myers they would refuel in Stuart, Florida; Nassau, Bahamas; Turks and Caicos Islands; Puerto Real, Puerto Rico; and then on to the
MarineMax Vacations Base on Tortola
in the British Virgin Islands.
The locks on the Okeechobee Canal reminded David of his youth back in Missouri watching tow boats going through the locks while hearing stories of Tom Sawyer and Huckleberry Finn. He wondered what those two would think about taking on Captain Jack Sparrow in the Caribbean. He figured they would love it. David and Larry crossed Florida with a friendly fleet of fishing vessels on their way from Louisiana to Sebastian Inlet on the east coast of Florida.
After passing through the last lock, a drop of 14-feet, they passed by the MarineMax Stuart store where they saw Bob Dinan, the service manager with his team working hard out in the yard. David and Bob had worked together at MarineMax's Bald Ridge Marina in Georgia before Bob took the job in Stuart. Now he sees him each time they take a
MarineMax Getaway!
to the Bahamas. They stage the fleet at the MarineMax Stuart facility before embarking on the crossing.
Before leaving the U.S. Larry and David refueled, taking on fresh water and supplies at Sunrise Marina. Like every leg start, they conducted a day check of engine and transmission fluids, spraying down metal components with anti-corrosion spray which helps protect them from the ill effects of salt water.
Heading southeast at 14 knots they encountered sportfishing boats, cruise ships, and freighters. The view from the flybridge on the Aquila 44 provides a virtual 360 degrees of unobstructed vision. At nightfall they pulled back to 8 knots and began working in shifts. Around 10:30 p.m. on David's shift, they enjoyed fireworks from Castaway Island where Disney filmed many scenes from Pirates of the Caribbean.
Having taken on the watch at 3:00am., Larry pulled into Nassau at 7:30 a.m.
Page Position for part-three
David and Larry said their greetings, fueled up, and head back out into a beautiful, sunny, and calm day.
Their next stop was Turks and Caicos islands. It took a day for David to get his sea legs. They needed to transfer fuel along the way and the Aquila 44 proved to be a stable platform for the operation.
Pulling into the port of entry at South Side Marina and Bob's Bar, the captains took an 8 hour break. David was amazed by the island beauty of the Turks and Caicos.
Continuing the watch shifts they made their way to the sheer cliffs and lush verdant coast of the Dominican Republic. The 6 to 8 foot seas proved to be challenging. However, the Aquila 44 handled it with aplomb. Larry and David were even able to transfer fuel from the barrel on deck.
At midnight on the seventh day afloat, Larry and David dropped anchor off of Tortola. In the morning they waited, alongside a large sailboat flying the English Union Jack, to clear customs. After declaring, they made way to the
MarineMax Vacations Charter Base
. The Aquila 44 proved to be an ideal long-distance, open ocean, cruising yacht with solid performance. Captain Larry's experience has been passed on to Captain David in the same manner captains have been passing on the knowledge for centuries, by doing.
On his Christmas day flight to Puerto Rico to join his fiancé, David reflected on what a great opportunity MarineMax had given him. The experience of moving such a superb boat such a great distance and learning from his new friend Captain Larry is invaluable. Best of all, David reflected, it is his job.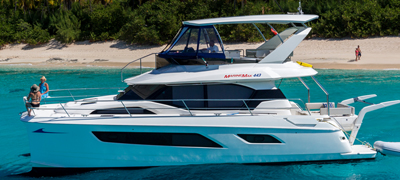 Award-Winning Style – MarineMax 443
Spacious gathering areas, upgraded amenities, and an oversized flybridge are just the beginning on this award-winning 44' yacht.
Explore the 443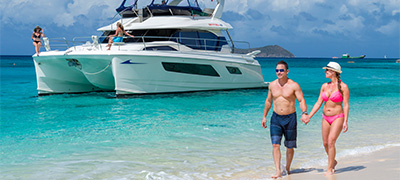 Request a Brochure
Explore the extraordinary charter options you have with MarineMax Vacations for your trip of a lifetime.
Get Your Brochure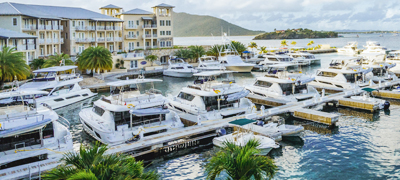 Preparing for Departure
Your vacation begins when we welcome you to our base on beautiful Tortola.
Explore Home Base