Christmas In July: A BVI Tradition
While July might, in theory, kick off the summer "low season" in the British Virgin Islands, it's still a great time to visit. For one, the threat of hurricanes is relatively low (though July *is* technically hurricane season, so be mindful). The islands also get a flurry of family visitors and boaters who take advantage of low rates and summer vacation when their kids are out of school. The anchorages are not crowded, the breeze is still kicking and - for many - there's no greater time to visit. If you partake in the massive "Christmas in July" event that happens on North Sound every year, it might just be your favorite month to visit.
Written By Guest Writer: Brittany Meyers who lives aboard her sailboat in Tortola, BVI with her husband and three little girls. She is passionate about all things "tropical" and blogs about her adventures in paradise and parenting over at www.windtraveler.net.
But before I get to Christmas in July - first, a little history... Us BVI residents often refer to the Puerto Ricans who look to the BVI as their second home and call them the "Puerto Rican Navy". The name is a bit tongue and cheek; they descend on the BVI every weekend in their power boats en masse, blast their music, drink their rum and have a whole lot of fun (okay, sometimes obnoxiously so, but hey? We're all islanders right? It's what we do). Historically us locals might roll our eyes or let out a little sigh as they descend upon a beach, revving their engines and turning their speakers so loud that we can't hear ourselves think…but regardless, the relationship between locals and Puerto Ricans has always been a good one. The Puerto Rican people know how to have fun, and that's not a bad cross to bear.

As it turns out, they also know how to be heroes.

There is no single community that did more for the British Virgin Islands in the immediate days after the storm than Puerto Rico. Because so many Puerto Ricans have a genuine love and affinity for the BVI, they wanted to help. And help they did. They filled their boats with supplies and brought them over, they evacuated our friends and family members, and once on their soil - they treated everyone from the BVI with such kindness and respect in the aftermath of the storm, that it will not ever be forgotten. "The people of Puerto Rico were the most generous and kind when we were evacuated there. It was a shining light in a very dark time, and I will never forget it. They will always have a place in my heart." one of my friends reminisced. And that's just one of thousands of similar stories. In the devastating wake of Hurricane Irma, the people of Puerto Rico selflessly and tirelessly worked for these islands, only to get clobbered themselves a few weeks later by Hurricane Maria. The bond of that memory and the collaborative suffering will live on in our history forever. The people of Puerto Rico showed UP for us.

When July rolled around, they were sure to show up again for a very special "Christmas in July" event. Attracting up to 2000 people and 500 boats, large and small, it's a weekend of fun, rum and music in Savannah Bay, Virgin Gorda. All are welcome to join the shenanigans and the event caters to all ages from the young to the old. Created in 2007 by marketing entrepreneur and event planner Marcos Rivera and friend Wally Castro, owner of Wally Castro Marine, every year the turnout is amazing, and loud, heart pumping, hip shaking, rum-swilling fun is had.

2018 was a special edition of the party as those of us who call this place home are SO grateful to our Puerto Rican Navy, so much so that MarineMax Vacations' home base of Nanny Cay held a Puerto Rican Navy Appreciation Party on July 21, to say a gracious and heartfelt "thank you" for all they did for us. Any Puerto Rican boats staying at the marina were given wristbands upon arrival and ate for free. There was music, a cash bar and no shortage of fun. The main event on North Sound was held the following day, on Sunday July 22, and the place was bumping!

If you find yourself here in our beautiful BVI one day in the future, and at either of these places on these dates, you might just want to participate. Not only will you get to be witness to one of the biggest events in the BVI, but you'll get to meet some truly incredible people who have made a huge and everlasting impact on the hearts of all of us who live here. They might just make an impact on you too!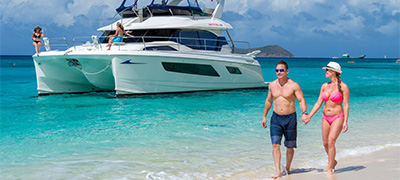 Request a Brochure
Explore the extraordinary charter options you have with MarineMax Vacations for your trip of a lifetime.
Get Your Brochure
The British Virgin Islands Beckon
Everything you need to know about your island vacation.
Get the Answers
Power Yacht Charters
Boating through the Caribbean on your own power yacht is the ultimate vacation. Now's the time to make it a reality.
Full Steam Ahead