Join Us on a British Virgin Islands Adventure
MarineMax Vacations Travel Planner, Danielle Gage, is taking us on another charter adventure—this time through the British Virgin Islands. Follow along with us online or through our social channels, today through Saturday, to experience the trip of a lifetime!
Day 1

Hi, it's Danielle again here, your vacation charter consultant. I'm super excited to share my week with you in the BVI's! I got to meet the Gilligan Island crew while they checked in on their 44' Aquila Power Catamaran. On our 1st night, we spent time at Norman Island in Benures Bay. Nice quiet cove to get settled into.

Day 2

Danielle checking in! I spent two days at some of my favorite spots in the BVI, starting with Willy T's for food and drinks. You have to try their fried chicken. Don't forget to take a plunge off the top deck and check-in for a tattoo!

In the morning, we headed towards the Northern Sound to check some locations. Some stops included Cooper Island and The Baths. Next stop was Levericks Bay, topped off the fuel and pick up some provisions. Grabbed a pizza to go. It looks like Saba Rock Resort will be opening in the fall! We spent the night at Scrub Island Resort, Spa & Marina, Autograph Collection. Be sure to call ahead for a slip or grab a mooring ball. It's high on my list of recommendations.

Day 3

Danielle checking back in from the BVI's. For my experienced boaters, Anegada is a must. It's about a two-hour run. When you grab your mooring ball at Anegada, watch for Sam from Potters. He will sing you a song and help make your dinner reservations for a yummy lobster dinner.

After dinner, hang out for the dance party. Go ahead and try to beat Sam at Limbo. We rented the Mokes to drive around the island. Stop at Cow Wreck, where the beach never ends. Head to see the flamingos, then to Big Bamboo for a light lunch and swim. I could have spent one more night. So much to see and visit.

Day 4

We headed to Jost Van Dyke. They are known for Soggy Dollar Bar, Pain Killers, and Foxy's Tamarind Bar, where the nightlife is on point. Watch out for those painkillers. They will sneak up on you. You can even order them to take back to your boat.

I took advantage of the floating spa. Highly recommend. We decided to grill chicken the one night we had dinner on the boat. Lots of great restaurants to enjoy if you don't want to cook dinner on the boat.

Day 5

Danielle is checking in one last time from the BVI's. As our last two days come to an end, it has been a fantastic trip. We headed to Little Jost Van Dyke. Stopped at Foxy's Taboo, went for a hike to The Bubbly Pool. From there, we went to Sandy Spit Island. There are no services on Sandy Spit, but it's a slice of heaven.

We spent our last day/night at Cane Garden Bay. My husband, Capt Paul, loves this spot. Plenty of lounge chairs to enjoy the beach. We finished the night at Metts for dinner and some drinks. We left around 7:30 am to head back to Nanny Cay to turn the boat in. Plan on an hour to get back. It's so hard to leave Paradise.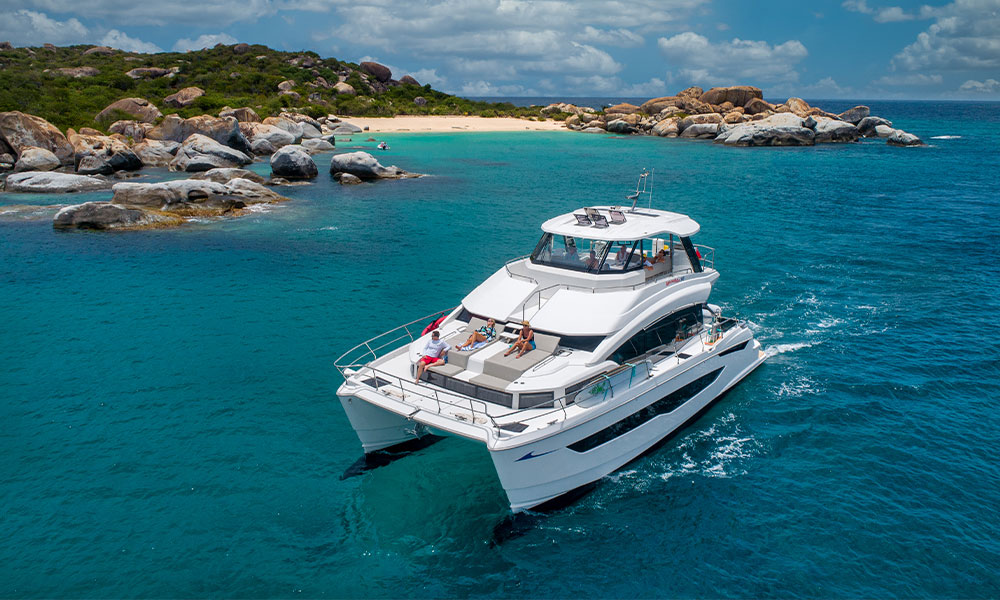 "Our best memories are from spending an extended amount of time with our children and their loved ones in beautiful locations while enjoying lots of water activities."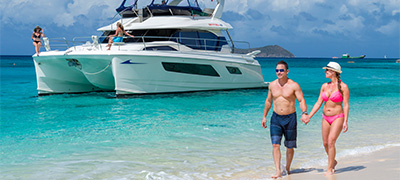 Request a Brochure
Explore the extraordinary charter options you have with MarineMax Vacations for your trip of a lifetime.
Get Your Brochure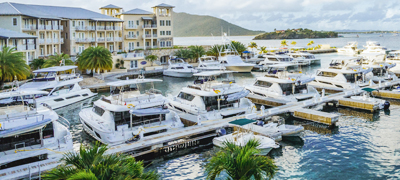 Preparing for Departure
Your vacation begins when we welcome you to our base on beautiful Tortola.
Explore Home Base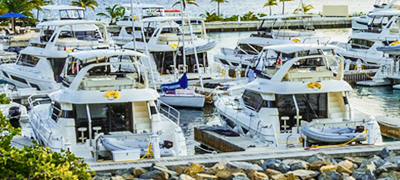 Our Fleet of Luxury Yachts
Meet our fleet of Aquila Power Catamarans designed to fit your boating lifestyle.
Meet the Fleet