Building a Dream
Creating a Custom Harris Sunliner 230 from the Ground Up
By Sue Rodman
When Eric and Kristine Wilsusen upgraded to a 2022 Harris Sunliner 230, they engaged daughters Karly (23) and Kate (21) to help them customize the craft to be uniquely their own.
"Karly is an interior designer, and with the help of her sister and mother, they completely redesigned the boat," said Eric. "We looked at magazines and brochures, but you can't really get the details in photos, so our MarineMax sales consultant David Lewis took the four of us to see about 10 different boats with various packages. We must have changed the spec sheet at least five times. David was very patient."
The Wilsusen's custom-built craft features a sterling gray exterior with a sparkling champagne accent, a silver fence, rub rail, and matching black bimini and mooring cover. They chose a gray woven teak flooring that Karley specified to match the French gray durable pillow-top vinyl upholstery interior. The flooring is an upgrade the family couldn't live without. "Our old boat had carpet that was hard to keep clean; with this, we just sweep it and go—and it looks great."
David was the main reason the couple went to MarineMax for their upgrade. Eric and Dave had grown up together in New Jersey, and Eric trusted him implicitly. "I was pretty set on the Harris brand, and I knew David would treat me right," said Eric. "I'm not a big haggler, and with David, I didn't need to be. He guided me through the whole process, even talking me out of going with a bigger boat, and he was right."
Looks aside, Eric was excited to upgrade to a tritoon with a level 2 performance package. The package adds a full-length center tube for buoyancy and lifting strakes for reduced drag and splash, providing a quieter ride. In addition, the fuel tank increases to 37 gallons. It also keeps the boat stable when the 150-horsepower Mercury engine is at full throttle. That stability and ride, coupled with the included ski tow bar, make the boat perfect for tubing with their nephews Sean (16) and Ryan (17).
The helm is the heartbeat of any boat, and Eric loves the comfort of his UltraLux, high-backed captain's chair. From here, he can push a button for the power bimini, an upgrade he said is well worth the money. "It makes it so much easier and faster to navigate Lake Hopatcong's low bridges."
For Kristine, the best part of the boating lifestyle is sharing it with friends. "Sundays are our boat days," said Kristine. "Being on the water helps us de-stress, and sharing that joy with others is priceless."
The Harris Sunliner 230 has ample capacity for up to 14 people. The bow offers a separate cozy conversation area, but most of the action on the Wilsusen's boat happens at the stern. The family extended the swim platform, which has become a favorite spot for their 15-year-old yellow lab, Bella.

The Wilsusen daughters love to sunbathe on the convertible loungers, which can seat both ways or fully recline. They plug their iPhones into the JL Audio head unit stereo system with Bluetooth technology and six Clarion speakers— two of which are located on the back lounger.

The back speakers face out so when the crew anchors for a swim in Byram Cove, they can listen to music. With controls right next to the speakers, adjusting the volume
or changing the station can be done without going to the console.

The Sunliner's RGB LED lighting system adds to the aesthetic. With a touch of a button, the girls can illuminate cup holders and seat bases along with areas underdeck and underwater in every color using a multi-zone controller that allows them to customize the color selection, cycling, and more!

Sometimes the couple will cruise mid-week with friends to the Windless restaurant and anchor up with wine and cheese for the Wednesday night Music Under the Stars Concert Series at the Windlass.

Best friends Anthony and Linda Padula are usually with the Wilsusens on these excursions. In fact, once Anthony saw the new Sunliner, he immediately went to MarineMax to talk to David Lewis and buy his own. Anthony made one request: "Whatever horsepower Eric has on his boat, double it for mine."
Want to Learn More About MarineMax?
View Our Marinas
With vast storage, convenient locations, and incredible benefits, our marinas are the perfect place for your boat to call home.
Where's My Marina?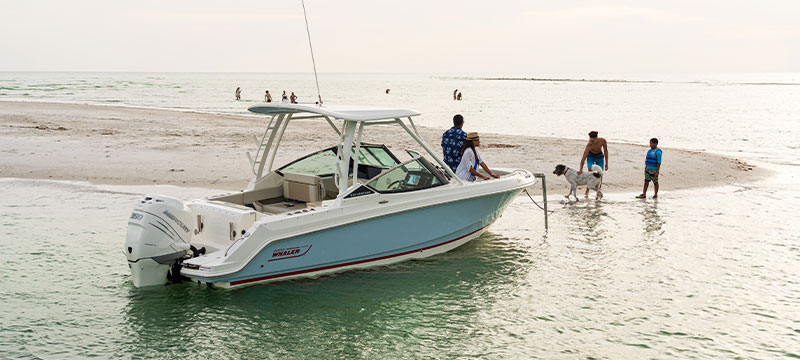 Find Your Perfect Boat Today
Start your search for the boat that has it all for your lifestyle! Explore premium new, used, and brokerage boats.
Search Boats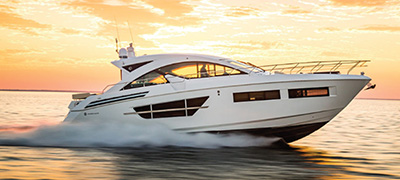 Innovative, Hand-Crafted Yachts
Cruisers Yachts pride comes with continuous innovation, hand-craft, and American-made yachts.
Learn More