Swiss Army Knife of Boats
By Sue Rodman
When Daniel Petersen, an airline pilot with American Airlines flies over the turquoise blue–green surf of the Caribbean, he longs to be out on the water. It was that desire, and impeding retirement that pushed him and wife Josette to move from Nebraska to Naples, Florida and purchase a boat.

"As an airline pilot, safety is always the first priority," said Petersen. "In researching boats one brand suggested in a specific situation the first thing to do was hand out life vests. I cut that one from the list pretty quickly."

In the end, with the guidance of MarineMax sales consultant Diamond Neeley, Petersen purchased a Boston Whaler 320 Vantage, christened Latitude Adjustment.

"The Boston Whaler was far superior to the other boats I considered. There is no way you'd leave that boat unless it was on fire," Petersen mused. "Plus, the insurance on the Whaler was much less for the same value."

Safety is important, but it wasn't the only reason Petersen chose the Boston Whaler. From the first sea trial with Neeley, he was impressed with the ride of the whaler, the human ergonomics of the boat and the systems integration.

The Whaler has twin Mercury Verado 300 V8 engines that power Petersen's favorite feature – joystick piloting. The engines and joystick combination offer incredible power and precision giving the captain complete control of the boat including sideways maneuvering. A feature that makes docking super simple.

As a pilot, navigational equipment intrigues him. The Latitude Adjustment has two 12 inch Raymarine Axiom displays along with Mercury's integrated SmartCraft VesselView. Petersen wouldn't do without the addition of Quantum Two doppler radar and the Sirius XMWeather. The radar allows him to avoid the shrimp boats and other marine traffic on the ocean, and both features give him piece of mind out on the water.

According to Petersen, the Skyhook and autopilot are two must-have features as well. The Skyhook GPS position lock is great when waiting for a fuel dock, or positioning to enjoy the sunset on the bow. The autopilot cuts down on fatigue during long trips with the ability to set an entire route, as well as the flexibility to make modifications.

Recently, the couple took an overnight trip from Naples to the Dry Tortugas with their son Joshua. There is a spacious well-equipped cabin on the port side, making it comfortable for overnight accommodations. The comfort extends to the enclosed head area with natural light and a pull out faucet that can double as a rain shower.

The family toured Fort Jefferson, took out paddleboards to explore the shallow waters and spent time fishing. Back on the boat, they are able to get out of the Florida sun under the Whaler's spacious hardtop that can extend to shade convertible bench seating that accommodates 3-4 adults comfortably with opposing seats perfect for conversation. A stowable table accommodates late afternoon hors d'oeurves.

The Latitude Adjustment has definitely been an incentive for the kids to visit.

"My four-year-old grandson Benjamin is chomping at the bit to get out on the boat. He's been drawing pictures and sending them to us," laughed Petersen. "And we can't wait to have our other three children Wyatt, Reagan and Jordan out too."

Petersen and his wife also enjoy taking the boat for day trips. They like getting away from the crowds, watching the birds or seeing an occasional sea turtle in the water. Josette enjoys shelling on the beaches, and is the first one to say 'slow down' so they can wet a line to catch some snook or tarpin on the way back to the dock.

The dive door on the Boston Whaler makes it easy to step on and off the boat and includes a handle so there is something to grab onto. It's also an easy way to bring a big catch into the two fish boxes located under the deck.

Although Petersen had experience boating on freshwater lakes with single engine boats, the saltwater experience with twin engines was new. That's where MarineMax training came in.

"I believe in training," said Petersen. "Captains John Dean and Bob Sorenson went through all the systems stern to stern, and worked with me to practice docking, anchoring and beaching. The experience was absolutely invaluable. My wife is signed up to take the Women on Water class too."

The Petersen's have just begun their boating adventure. They have yet to host friends, waiting until they are comfortable with it inside and out. And they are excited to see MarineMax Getaways resume. The couple plans to join the annual Bimini trip, and can't wait to meet other Whaler captains through those events.

"The Boston Whaler is a perfect fit for our boating lifestyle," concluded Petersen. We like to cruise; fish; entertain friends and family; go on overnight excursions. It's a Swiss army knife of boats."
Request More Information about Boston Whaler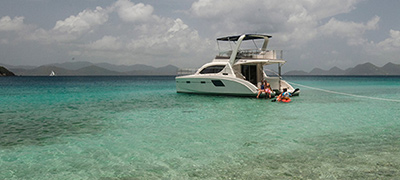 Adventures
Getaways!®, MarineMax Vacations in the British Virgin Islands and Private Yacht Charters are another way we are able to help our customers enjoy the boating lifestyle and enhance their passion for the water.
Take an Adventure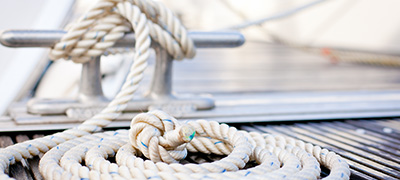 Brush Up Your Boating Skills
Our goal is to make sure you and your family feel confident and comfortable operating your boat. Our videos featuring experts will help.
Get the Tips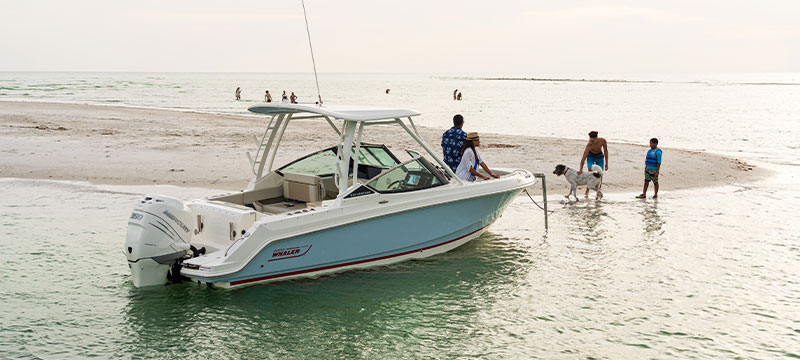 Find Your Perfect Boat Today
Start your search for the boat that has it all for your lifestyle! Explore premium new, used, and brokerage boats.
Search Boats