To Take the Helm or Not?
You've decided to take to the sea but now the question is do you want to captain your yacht charter or not? When booking a charter, you have the option to choose between bareboat, skippered or crewed. Below we will explain the benefits of each, so you can choose the charter option that best suites your desires.
Page Position for form
"Our best memories are from spending an extended amount of time with our children and their loved ones in beautiful locations while enjoying lots of water activities."
What Is a Bareboat Yacht Charter?

With a bareboat charter, you're the captain of your yacht or boat. You'll take the helm and guide your yacht through the waters to your destinations. In order to quality to captain your charter, you'll simply need to share your boating experience. No license is required. It only takes a few moments to complete our online boating resume to find out if you qualify to captain.

What Is a Skippered Yacht Charter?

If you do not have experience driving a larger boat, you can still charter and enjoy the freedom of the seas! Simply choose a skippered charter. This means we'll provide the captain to handle the navigating and logistics. Typically the captain stays on the boat with you and your crew so he or she is there at any time a need arises while on the sea. The captain will work with you to plan the itinerary and activities that you and your guests desired, and then take the helm. Even experienced boaters may select this option so they can kick back and relax.

What Is a Crewed Yacht Charter

For the ultimate in relaxation and comfort, a crewed yacht charter might be just right for you. A crewed yacht charter includes a professional captain and onboard chef. Again you'll plan your itinerary with your captain like you would on a skippered charter, but now you'll also let the chef know your culinary preferences, and he or she will craft a menu to please you and your guests. You'll be amazed by a culinary experience few enjoy on a water. Your captain and chef further elevate the charter experience with in-depth local knowledge so you can explore not on the "tour" stops and are ready to assist and answer your questions. When you're ready to let your worries float away, a crewed yacht charter is a recommended.
BVI Destinations
Experience a personally planned charter vacation with boating options that range from an intimate trip for two to an adventure with family and friends.
Explore Our Favorite Spots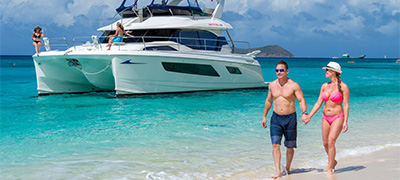 Request a Brochure
Explore the extraordinary charter options you have with MarineMax Vacations for your trip of a lifetime.
Get Your Brochure
We Love Questions!
Ready to know more? Some of your questions may be answered here.
Get the Answers