Top 5 Places to Paddle Board
A fun way to get around the British Virgin Islands is by paddleboard! Once your MarineMax Vacations vessel is anchored or tied to a mooring ball, just grab a paddle, put your board in the water, and you are ready to go. Paddleboards are available to add to your trip with MarineMax Vacations. Just ask your MarineMax Vacations planning expert. With calm breezes and crystal-clear waters, this mode of transportation can take you where no boat can.
Norman Island
Experience "island time" paddling on the clear waters as fish of all colors swim beneath you. Only a short distance away you can explore The Caves or paddle your way to Pirate's Bight for afternoon cocktails. The Caves are known for their shallow caves and believed by many to have once housed treasure.
The Baths
Located on Virgin Gorda, these rock formations are truly a sight to behold. Explore the hidden crevices and creatures amongst these boulders, just be aware and extra cautious of snorkelers in the busy season. Once you've worn yourself out exploring don't forget to make your way to the Top of the Baths Restaurant for a delicious snack and amazing view.
Cooper Island
Cooper Island is a beautiful gem in the British Virgin Islands. It offers superb snorkeling in addition to paddling. The white sandy beach and turquoise water offer a stunning background as you explore. Re-opening soon will be the Cooper Island Beach Club - another great spot for lunch or a snack. Many also visit Cooper Island in hopes of seeing a sea turtle as they are known to frequent there.
Little Jost Van Dyke
On a calm day, this spot is incredible to explore the mangroves. Located on the east end of Jost Van Dyke, discover the magic of nature among the roots of these majestic trees. You are sure to find something exceptional. Be careful of Caribbean currents while exploring this beautiful spot.
Cane Garden Bay
Paddle along the shore to take in all the sights and sounds of paradise where waves gently rock, a breeze crosses the water, and coconut trees as far as the eye can see. Lush mountains in the distance provide incredible vistas as you paddle the day away. Cane Garden Bay is located on the Tortola's north shore.
Keep Exploring
With over 60 islands to explore in the British Virgin Islands, there's never a lack of destination for paddling. Ask your MarineMax Vacations planning expert for more recommendations and our favorite spots! Start planning your charter vacation to the British Virgin Islands today.
The British Virgin Islands Beckon
Everything you need to know about your island vacation.
Get the Answers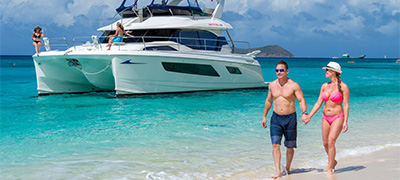 Request a Brochure
Explore the extraordinary charter options you have with MarineMax Vacations for your trip of a lifetime.
Get Your Brochure
Our Experience and Commitment
Learn how we combine an extraordinary boating experience with customer service that exceeds expectations.
We're Dedicated to Serving You