Kid-Friendly Hot Spots in the BVI
Here are some of our favorite "kid-friendly" hot spots to be sure to hit while you are here in the British Virgin Islands that will give you a great taste of the "barefoot childhood" kind of life.
Written By Guest Writer: Brittany Meyers who lives aboard her sailboat in Tortola, BVI with her husband and three little girls. She is passionate about all things "tropical" and blogs about her adventures in paradise and parenting over at www.windtraveler.net.
One of the main reasons my husband and I settled here in the beautiful British Virgin Islands is the fact that we can give our kids what we call a "1970's childhood" here. Not only is this a very safe and family-friendly archipelago, but the fact that kids can run barefoot and free outside almost all hours of the day without having to be helicoptered over by parents means this place is a pretty fantastic place to grow up. Kids get a lot of freedom to explore, their independence soars, and they are out in nature, climbing trees, jumping over rocks, and soaking in the vitamin D on a daily basis - all wonderful things for a child's development.

A vacation here can very much give you a glimpse into this more laid-back, carefree lifestyle and if you are considering bringing your kids on your island-hopping vacation, we say: DO IT! You will make memories that will last a lifetime and, who knows? You might just catch island-fever like we did! That said, here are some of our favorite "kid-friendly" hot spots to be sure to hit while you are here in the British Virgin Islands that will give you a great taste of the "barefoot childhood" kind of life:

Cane Garden Bay: Most people have heard of the infamous Cane Garden Bay. The beach itself is absolutely beautiful with views that slay at all points during the day (though sunset is particularly killer!). We take our kids to this beach weekly as the gentle surf is perfect for littles and the beach perfect for strolling or lounging. Be sure to dig near the tide line for tiny coquinas (little clam shells) that bury in the sand; this is the only beach in the BVI where we have found them! Our girls collect dozens of them in buckets before setting them free. We like to park in front of Myett's where the staff loves to spoil our girls with cherries from the bar and where the adults can enjoy cold cocktails while watching the kids play. Live music is here most weekends and our kids love to dance after a full-day of swimming. We usually stay for a simple dinner (the chicken tenders are great!) and head home after watching the magnificent Cane Garden Bay "sunset show" (no tickets required!) Be sure to bring hats and sunscreen however, as Hurricane Irma took away most of the natural shade that this beach once had. NOTE: Be sure to watch weather. When a North Swell is rolling this beach is un-swimmable and can be unsafe.

Norman Island: One of our favorite no-brainer places to take the girls on the weekend is Pirates Bight at Norman Island. The beach is beautiful, the bay is always calm and - if your kids are a bit older - the snorkeling is great around The Indians and The Caves. This is a great place to break out the paddleboard and paddle ashore. The kids will have a blast getting rides around on it! We dump out our sand toys here, park our buns in the comfy beach chairs under a nice big umbrella and have a blast. The menu at Pirates Bight isn't always kid-friendly so we always order drinks from the bar and pack sandwiches for the kids to eat.

The Baths: If you are looking for the ultimate natural playground for your littles, look no further. The Baths are not only a natural phenomenon - they happen to be one of the very BEST jungle gyms for kids. From winding pathways, to ladders that lead to piratey coves and caves galore, this is a place that will inspire the inner adventurer in any child. We usually explore the caves and enjoy a drink and light lunch at the restaurant atop the baths. There's also a great swimming beach here to cool off after your finish hiking and exploring. The only stipulation that should be noted is the fact that this place is "swim in only" from the moorings, so be sure you bring flotation devices to make this easier. My husband and I swam in with our 4 year old and 2 year old twins with noodles and life jackets and we were fine. But, it is something to consider depending on your family's comfort level in the water.

Leverick Bay: Leverick Bay Resort & Marina on Virgin Gorda is a must-not-miss stop on a Monday, Tuesday or Wednesday for the Michael Beans Pirate Show! Kids of all ages love this Happy ARGH! sing along and Mr. Beans never disappoints (be sure to check the web for show times and dates when you arrive in case they change). His show is interactive, involves home-made shakers for the kids, a conch blowing contest and pirate jokes galore. If you are particulARGHly festive, dress up in pirate garb yourself! Both kids and adults always have a great time here. Aside from the show, the restaurant boasts a lovely pool - "the cove" - and as long as you order food and drink, you are free to swim. On Fridays there is also the famous beach barbecue featuring our local stilt dancing Moko Jumbies. There's always something fun going on here!

Anegada: Just a little off the beaten path, Anegada is a real gem among our islands. Play at the beautiful Cow Wreck Beach where several restaurants and beach bars await you, or simply spend the day at the beautiful Anegada Beach Club, and enjoy one of the many activities they offer. This little island is a great place to rent a car and explore as well. When ours were little we hitched a ride in the back of a pick up, which our eldest STILL remembers. Be sure to sample the famous Anegada lobster here. The kids will have a blast playing at the docks and watching the lobster traps get unloaded. This little island was hit relatively gently by Hurricane Irma so it's beauty is untarnished, and it's a wonderful place to spend an overnight or two.

Cooper Island: This might be our favorite island to visit when we get the chance. We absolutely love Cooper Island Beach Club and were so happy it has re-opened this April! The beach is serene and beautiful; the Beach Club itself boasts a great restaurant, coffee shop, rum bar and it's newly launched mirco-brewery. All these things might not sound kid-friendly, but park your family on the beach and take turns watching the kids play in the surf as the adults indulge in all the goodness. This is another great snorkel location for the older kids and younger children will love hunting for hermit crabs and lizards around the premises.

Nanny Cay Marina: I could not mention kid-friendly destinations here in the BVI without mentioning my home marina of Nanny Cay (which also happens to the be the base for MarineMax!) This marina is a real haven for children and its family-friendly vibe is a large reason we live in the BVI. On any given evening you will find a host of children - both local and visiting - playing by the beach bar. There's a fabulous pool, a great little beach, and the ultimate climbing tree (complete with rope swings and all!) all right here. The "Beach Shack" has (almost) nightly dinner specials, the pizzas are delicious and homemade, and it's a great place for the whole family to hang out. You could easily spend a whole day here and kids often don't want to leave. Look for us if you're here!


The British Virgin Islands are fun for the whole family for sure, so if you are on the fence about bringing your kids - go for it! Put away the devices and tablets, pack up some sand toys and come for some good old-fashioned fun in the sun...You won't regret it! Happy island hopping!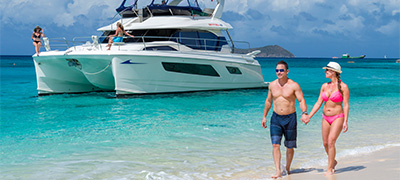 Request a Brochure
Explore the extraordinary charter options you have with MarineMax Vacations for your trip of a lifetime.
Get Your Brochure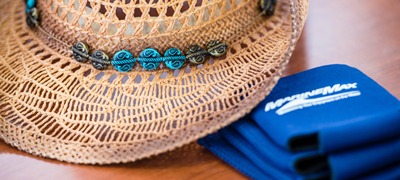 The British Virgin Islands Beckon
Everything you need to know about your island vacation.
Get the Answers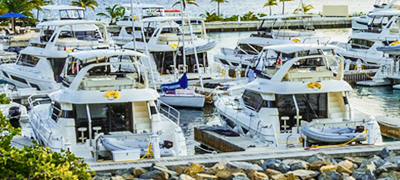 Our Fleet of Luxury Yachts
Meet our fleet of Aquila Power Catamarans designed to fit your boating lifestyle.
Meet the Fleet