Five Favorite BVI Snorkel Spots
The British Virgin Islands are back and the snorkeling is better than ever. We recommend not missing these great spots during your sail or power catamaran charter with us.
1. The Indians
A well-known favorite, make sure to take a dip at The Indians found off of Pelican Island and near Norman Islands. A daytime spot with moorings balls, The Indians are part of the National Parks Trust and is protected, leading to amazing reef snorkeling. Four rocks rise our of the sea from a depth of about 40 feet to 30 feet above the surface. We recommend arriving early so you have plenty of time to explore. In addition to the spectacular sight these rocks make as they jut out of the ocean, expect to see almost every variety of fish! Enjoy lunch on board before heading to your next stop or head over to Pirate's Bight on Norman's Island for lunch on the beach.
2. The Caves
While at The Indians, make sure to also stop at The Caves at Norman Island, especially if you are a fan of Treasure Island. Here you will find several shallow caves leading into Norman Island, believed by many to have once housed treasure. Entering The Caves you'll see schools of colorful fish and make sure to bring your flashlight (waterproof, of course) so you can light up the coral and sponges. Be careful of sea urchins.
3. The Baths
Probably almost everyone's favorite, The Baths on Virgin Gorda are known for their fantastic snorkeling as well as the amazing sight of the boulder formations. Snorkel into the beach and then follow the trail through these behemoth rocks and explore the pools of water. Tropical fish live in the tunnels and crevices formed by these enormous boulders as they meet the sea. National Park moorings are available and you can take your dinghy into the dingy line but you'll have to swim in. Lunch can be enjoyed at the Top of The Baths Restaurant along with a dip in the pool. Make sure to bring a dry bag or some way of keeping your needed items dry while swimming in.
4. Monkey Point
At the southern tip of Guana Island you'll find a rocky outcrop known as Monkey Point. National Park moorings are available. As you slide into the water, you'll see bluestriped grunt and yellowtail snapper. Sea turtles are known to be seen here so keep your eyes open for them to gently glide back. Also watch for the schools of Cuttlefish that swim in formation.
5. Diamond Reef
Located across from Scrub Island and easy to miss to the untrained eye is Diamond Reef. A dinghy line and mooring balls are available. This is one of our favorite spots because of the incredible variety of fish you'll see. It's like an aquarium. This is another spot where you may be lucky enough to see a sea turtle swim by.
The British Virgin Islands is full of beautiful sea life and crystal clear water. Almost everywhere you go, you'll find incredible snorkeling.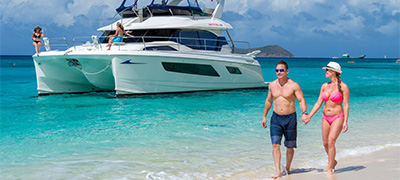 Request a Brochure
Explore the extraordinary charter options you have with MarineMax Vacations for your trip of a lifetime.
Get Your Brochure
Power Yacht Charters
Boating through the Caribbean on your own power yacht is the ultimate vacation. Now's the time to make it a reality.
Full Steam Ahead
The British Virgin Islands Beckon
Everything you need to know about your island vacation.
Get the Answers