Cooking on Board your Bareboat Charter
One of the delights of a charter vacation is enjoying dinner with an amazing view, all from the comfort of your own boat. Every chartered MarineMax Vacations Power Catamaran comes equipped with a Kenyon Electric Grill – the ideal grill for cooking while at sea.

If you're in need of boat-friendly recipe ideas, we've got you covered for everything from drinks to desserts with these 5 delicious recipes.
1. Painkiller (A BVI Favorite!)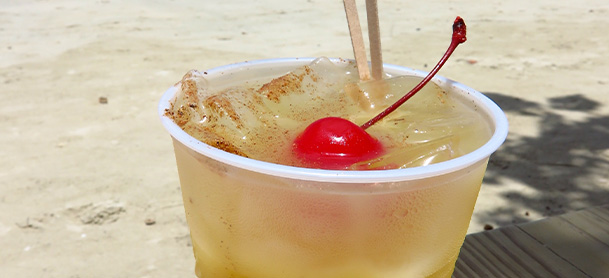 Ingredients
2 oz. Rum
1 oz. Orange Juice
4 oz. Pineapple Juice
1 oz. Cream of Coconut
Grated Nutmeg
Directions
Add Rum, Orange Juice, Pineapple Juice, and Cream of Coconut to a shaker with ice. Shake vigorously, strain into a hurricane glass over crushed ice. Garnish with freshly grated nutmeg and a pineapple wedge.
2. Strawberry Basil Margarita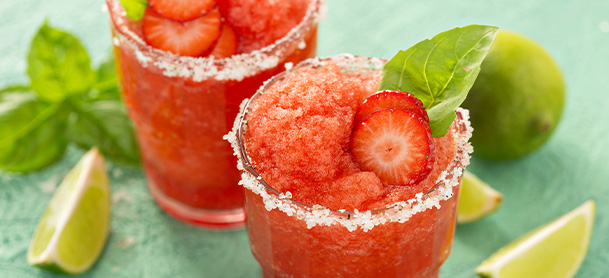 Ingredients
6 Fluid ounces tequila
2 Fluid ounces orange liqueur
8 Ounces frozen strawberries
4 Fluid ounces frozen limeade concentrate
6 Cups ice
4 Large fresh basil leaves
Directions
Combine the strawberries, tequila, orange-flavored liqueur, frozen limeade, and basil leaves in a blender; mix on low until smooth. Add the ice and puree until the ice is crushed, 30 to 60 seconds.
Serve with a sugar rim, garnish with basil leaf, lime wedge, and strawberry slices.
3. Fiesta Quinoa Salad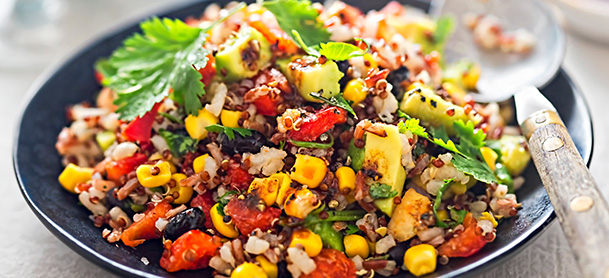 Ingredients
2 Cups quinoa
1 Can black beans, rinsed and drained
1 Can whole kernel corn
1 Red onion, chopped
1 Cup cooked brown rice
1 Red bell pepper, chopped
1/4 Cup chopped fresh cilantro
Dressing
3/4 Cup olive oil
1/3 Cup red wine vinegar
1 Tablespoon chili powder, or to taste
2 Cloves garlic, mashed
1/2 Teaspoon ground black pepper
1/4 Teaspoon cayenne pepper
Directions
Mix quinoa, black beans, corn, red onion, brown rice, red bell pepper, and cilantro together in a glass or plastic container with a lid.
Whisk olive oil, vinegar, chili powder, garlic, salt, black pepper, and cayenne pepper together in a bowl; pour over quinoa mixture and toss to coat. Cover bowl with a lid and refrigerate until flavors blend, at least 2 hours. Stir again before serving.
4. Garlic and Herb Shrimp Skewers
Ingredients
1 1/2 Teaspoons kosher salt
1/2 Teaspoon lime zest
3 Garlic cloves, thinly sliced
3 Tablespoons chopped fresh basil
3 Tablespoons chopped fresh parsley
1 Tablespoon chopped fresh oregano
1 Tablespoon chopped fresh lemon thyme
4 Tablespoons olive oil
2 Pounds extra large shrimp
Sauce
1 Tablespoon olive oil
1/2 Lime, juiced
1/2 Teaspoon red pepper flakes
1 Pinch cayenne pepper
1 Lime, cut into wedges
Salt and pepper to taste
Directions
Place salt, lime zest, and 3 cloves of garlic in a mortar and pestle. Pound with the pestle until mixture begins to form a paste. Add chopped basil, parsley, oregano, and thyme and pound with pestle.
Drizzle 1 tablespoon of the olive oil into herb mixture. Grind together until mixtures begin to form a sauce for marinating, about 1 minute. Add in the remaining 3 tablespoons olive oil. Stir mixture with a spoon until mixture is thoroughly combined, adding additional olive oil as needed.
Place shrimp in a large bowl and mix in about 2/3 of the sauce, reserving 1/3 for serving. Stir until shrimp are evenly coated with the sauce, about 2 minutes. Transfer shrimp to a resealable plastic bag. Refrigerate 2 to 3 hours. Cover and refrigerate remaining sauce. Preheat grill for high heat and lightly oil the grate.
Thread shrimp onto skewers and place on hot grill. Cook on each side until shrimp are bright pink and opaque and exterior is beginning to caramelize, 2 to 3 minutes per side. Transfer skewers to serving platter.
Pour remaining sauce into mixing bowl. Whisk in 1 tablespoon olive oil, lime juice, red pepper flakes, cayenne pepper, salt, and black pepper. Spoon sauce over shrimp. Serve with lime wedges.
5. Mini Cheesecakes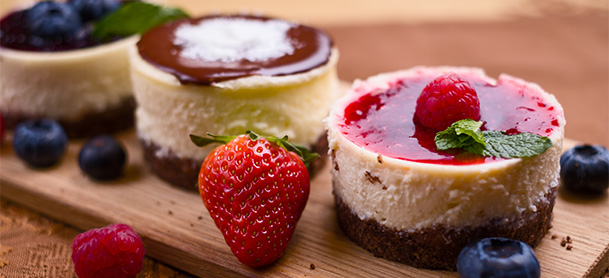 Ingredients
1/3 Cup graham cracker crumbs
1 Tablespoon white sugar
1 Tablespoon margarine, melted
Filling
1 Package cream cheese, softened
1/4 Cup white sugar
1 1/2 Teaspoons lemon juice
1/2 Teaspoon grated lemon zest
1/4 Teaspoon vanilla extract
1 Egg
Directions
Preheat oven to 325 degrees F. Grease a 6-cup muffin pan.
In a medium bowl, mix together the graham cracker crumbs, sugar, and margarine with a fork until combined. Measure a rounded tablespoon of the mixture into the bottom of each muffin cup, pressing firmly. Bake in the pre-heated oven for 5 minutes, then remove to cool. Keep the oven on.
Beat together the cream cheese, sugar, lemon juice, lemon zest, and vanilla until fluffy. Mix in the egg.
Pour the cream cheese mixture into the muffin cups, filling each until 3/4 full. Bake at 325 degrees F for 25 minutes. Cool completely in pan before removing. Refrigerate until ready to serve.
Serve with your favorite toppings!
"Our best memories are from spending an extended amount of time with our children and their loved ones in beautiful locations while enjoying lots of water activities."
We Love Questions!
Ready to know more? Some of your questions may be answered here.
Get the Answers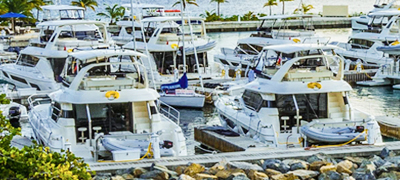 Our Fleet of Luxury Yachts
Meet our fleet of Aquila Power Catamarans designed to fit your boating lifestyle as well as the other sailing and power options we can arrange for you.
Meet the Fleet