A Delicious Reason to Go to Anegada
If the British Virgin Islands are "Nature's Little Secrets" then our pure coral island of Anegada is the BVI's little secret. As the northernmost island of our archipelago, and fifteen miles from it's closest neighbor, Virgin Gorda, this island gets left off of the itineraries of the less-discerning, less-experienced or time-challenged travelers and boaters.
Written By Guest Writer: Brittany Meyers who lives aboard her sailboat in Tortola, BVI with her husband and three little girls. She is passionate about all things "tropical" and blogs about her adventures in paradise and parenting over at www.windtraveler.net.
I cannot recount how many emails I have received from people asking, "Should we really see Anegada or could we skip it?" Well, I am here to tell you that (if you can) you *must* experience the special magic that is our neighbor to the north. While this low-lying island's allure is captivating all year round, November 25th and 26th it plays host to the annual "Anegada Lobster Festival" which is a food fete not to be missed. But first, a little more about this lesser known British Virgin Island....

Rising only twenty-eight feet above sea level at it's highest point means this island is flat flat flat, locals often refer to it as the "drowned" island because, from a distance, it almost appears submerged (and due to this fact is home to many, many shipwrecks). While this fact alone makes Anegada unique to it's more voluptuous, volcanically-formed brothers and sisters of the BVI, it's not the only thing that sets her apart... Anegada is also home to sixteen miles of beautiful white sand beaches and is protected by Horsehoe Reef - which, at eighteen miles long is the fourth largest coral reef in the world - meaning Anegada is host to some of the most pristine diving and snorkeling of the BVI.

Reminiscent of the low-lying islands of the Bahamas because of it's coral and limestone base, Anegada feels like another world here in the BVI. It's remote geography combined with very small year-round population and indigenous culture all combine to offer travelers a truly unique and authentic island experience. It's famous Cow Wreck beach and Loblolly Bay will make any coastal enthusiast swoon - white sand that stretches for miles with unspoiled views of every turquoise color on the spectrum, gently lapping surf with inviting water, and sleepy little beach bars promising service with a smile will offer the "reset" most people look for when they come here. With wild orchids punctuating the landscape, the waters being a veritable haven for marine life, and (thanks to it's massive salt ponds) it's very own colony of pink flamingoes (yes! pink flamingoes!), Anegada promises to leave a special mark on your heart.
And let's not forget the mark she will make on your belly!
Anegada provides most of the fresh fish and lobster to our other islands, and is home to a bustling commercial fishing community. As such, this is also an island for the fishing enthusiast; both deep sea and fly fisherman alike will find plenty of bounty in these unspoiled waters. So it's no surprise that this is an island where we locals like to come to EAT! The restaurants are simple with signature Caribbean flare, but you will find no better seafood in the BVI than on Anegada. Humble, cozy and often family owned and operated, Anegada's little eateries dot the shore and are aplenty so be sure to come with an appetite, particularly for lobster, which is this island's specialty.

If you happen to book your trip toward the end of November, be sure to try to make it to the Annual Anegada Lobster fest on November 25th and 26th, which has grown to be an internationally acclaimed culinary event. Enjoy local art, live music, and delicious food from a variety of vendors. As the tourist board describes, "The event was created to entice our community, visitors, new travellers and the niche market of food connoisseurs to the shores of the British Virgin Islands to experience our versatile tourism product. The British Virgin Islands Tourist Board, together with the population of Anegada, will feature talented local chefs who will be on hand to prepare, cook, and serve plated sample lobster dishes at participating Anegada restaurants." If you love seafood, love lobster, and love Caribbean culture this event will fill your heart - and your belly!

While many charter companies used to prohibit boaters from traveling to this out-island, clear channel markers combined with better navigation software are opening up this sleepy little gem that has been skipped by so many. There is a rustic - almost primeval - charm to Anegada and if you are looking for a unique island experience with less crowds, less noise and a little more "un-plug" - this is this island for you. Happy boating and pleeeease eat some lobster for me!
Fill out the form below to start planning your adventure or call us at (813) 644-8071 to speak to a vacation planning expert.
Page Position for form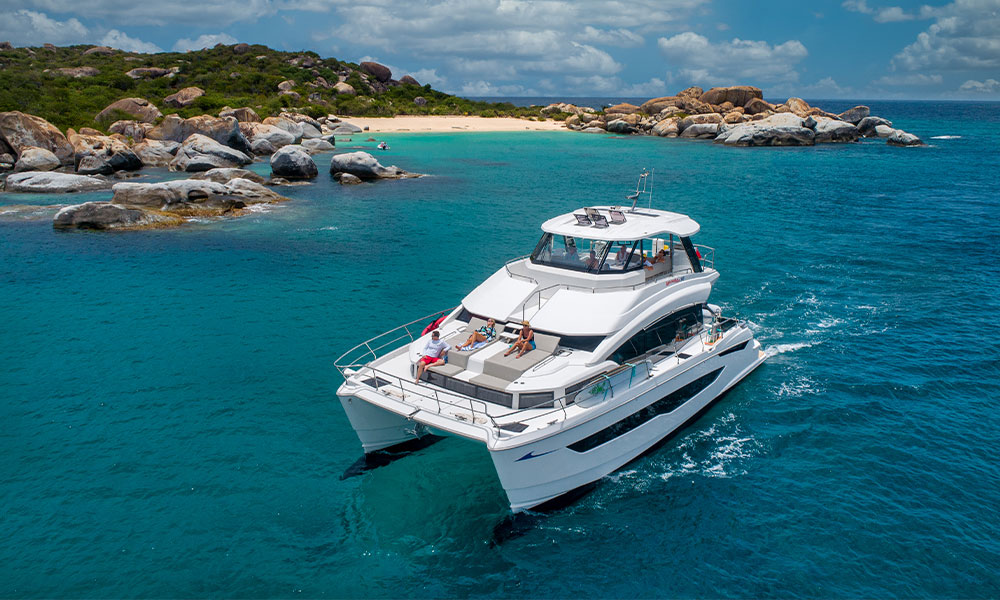 "Our best memories are from spending an extended amount of time with our children and their loved ones in beautiful locations while enjoying lots of water activities."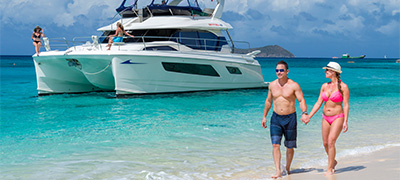 Request a Brochure
Explore the extraordinary charter options you have with MarineMax Vacations for your trip of a lifetime.
Get Your Brochure
Video Tours of the BVI
With more than 60 islands to explore, there's always something new in the British Virgin Islands.
See Our Favorite Spots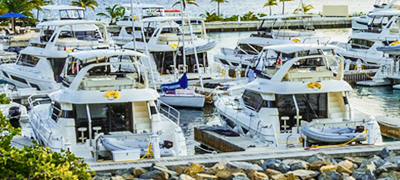 Our Fleet of Luxury Yachts
Meet our fleet of Aquila Power Catamarans designed to fit your boating lifestyle.
Meet the Fleet