5 Reasons to Love the BVI
With more than 60 islands, there's so much to love about the British Virgin Islands. Just to get started, this beautiful destination combines natural beauty with activities for everyone, from relaxing on secluded beaches to snorkeling among famous reefs and shipwrecks.
1. Do Something Different

Chartering a boat will undoubtedly be one of the best vacations you and your friends or family take together. Countless first-timers have said that their trip aboard was by far one of the best they ever had. To wake up surrounded by gin-colored water and enjoy sundowners on deck with a water-colored sky? To be able to jump off your boat for a morning paddle board session or swim? To be lulled to sleep by the gentle rolling of the boat? There's nothing else like it. To island hop and wake up in a new bay everyday is something truly unique.

2. There's Something for Everyone

Are you an outdoor enthusiast? Athlete? Spa lover? Beach comber? Bar hopper? Well, the British Virgin Islands have you covered. Whether you are hoping to chase the wind on your kiteboard or get pampered on the beach with a hot stone massage, we can deliver. Not to mention the British Virgin Islands are host to some of the most beautiful beaches and most famous beach bars in the world. No matter how varied your group's wants and needs are, the islands can keep them happy.

3. Unplug and Unwind

There's this phenomenon you might have heard about, it's called the "Blue Mind". It's the "surprising science that shows being in, on, near or under water can make you happier, healthier, more connected, and better at what you do." Water makes us happier and there's no better way to see it for yourself than to book a water-based vacation.

4. Get a Taste of a Different Culture

Seeing life from another perspective, interacting with people living completely different lives than you, and eating foods you might not have known about before are all experiences that will open your mind and enrich your life. Caribbean culture, the veritable melting pot that it is, is vibrant and wonderful, and you will thoroughly enjoy the people you meet and the food you eat along the way...definitely try the honey stung chicken, Anegada lobster, and a west Indian roti while you are in the islands!

5. We Make Chartering Easy

If this will be your first charter vacation, have no fear; this is what we are famous for! The BVI form a natural archipelago and navigating between them could not be easier, thanks to the modern technology provided on all boats. Furthermore, you will never have to travel more than an hour or two between islands, making island hopping fun and easy. If chartering a boat is something you have always been interested in and island hopping sounds appealing to you, well...there is no better place to get your feet wet than in the British Virgin Islands. And, if you are new to boating as well, captains are available on charters, and they'll even make your vacation more relaxing and can share their local knowledge.

So There You Have It!

There is a reason people come back to visit year after year after year, it's not only because of the jaw dropping beauty of every beach, cove and sunset...but also the fact that you will never have the same day twice. Each of the islands has something different to offer and you could visit for a month and not see it all. You can make your vacation as relaxing, wild, athletic, fun or chill as you want. So grab your kids, your friends, or your family,

book a charter boat

and come have some fun in the sun with us!
Page Position for form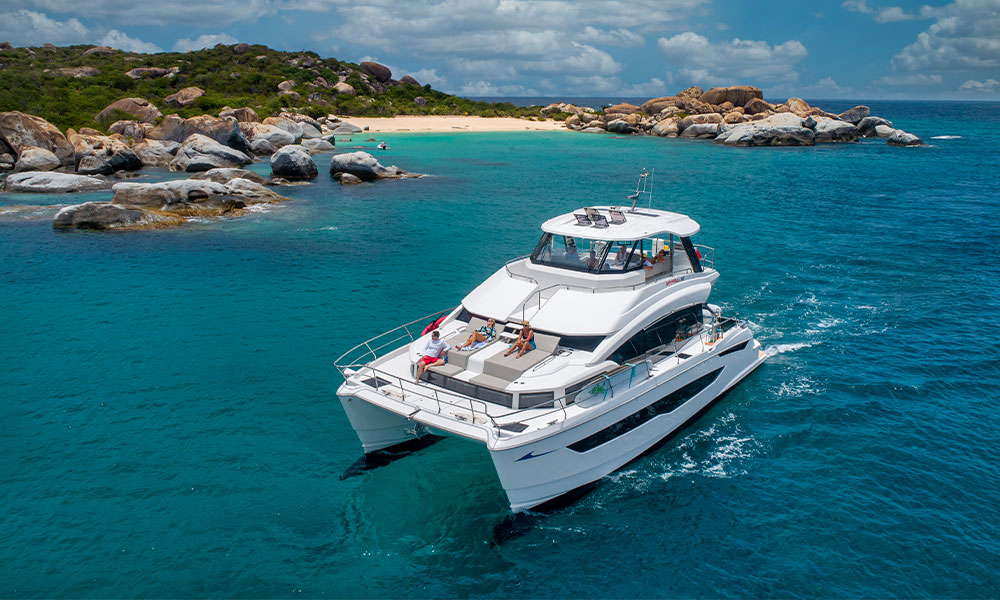 5 Reasons to Choose MarineMax Vacations
Expert planning team to help every step of the way so you can enjoy the trip of a lifetime
Our own custom amenity-packed power catamaran fleet in the British Virgin Islands with 3, 4, and 5 cabin options
Access to power boats of all types and sizes throughout the world in amazing destinations
Explore an extensive resource library of videos and articles to prepare for your trip
Our commitment is to exceed your expectations and provide an extraordinary experience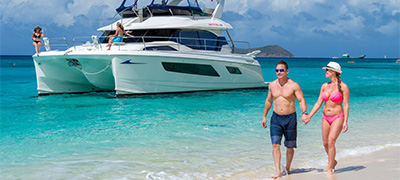 Request a Brochure
Explore the extraordinary charter options you have with MarineMax Vacations for your trip of a lifetime.
Get Your Brochure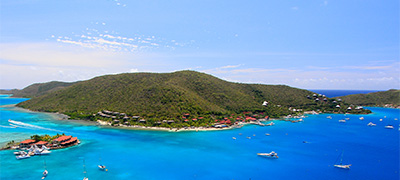 Video Tours of the BVI
With more than 60 islands to explore, there's always something new in the British Virgin Islands.
See Our Favorite Spots
Our Fleet of Luxury Yachts
Meet our fleet of Aquila Power Catamarans designed to fit your boating lifestyle as well as the other sailing and power options we can arrange for you.
Meet the Fleet