Bob Wall Travel Adventure
Owner of Boatyball, Bob Wall, takes us along with him on a Bahamas charter trip he took with MarineMax Vacations. Follow along with him and his family on our social channels this week to experience the trip of a lifetime!
Day 1

Getting to the Bahamas was a snap. Door to dock took less than 6 hours coming out of North Carolina. Despite the usual TSA hassles, having COVID paperwork, and one connection, the trip was a breeze. After Clearing customs, we had a 15-minute taxi ride to the Conch Inn & Marina.

A couple of things to note: The Bahamian government requires proof of a negative COVID test for entry into the Bahamas, a daily check-in via an emailed link, and the US requires a negative COVID test to re-enter the country.

Our MarineMax boat was in Marsh Harbor, within the Abaco Island chain. The staff at the Conch Inn and Marina were outstanding and they had us on our boat in a smooth and efficient manner. We were cruising on a 42' power cat and it had ample room for our party of 6. The size of this boat makes it easy to maneuver but also very roomy. The boat had all the amenities you could ask for: Water maker, awesome AC, ample storage, sizeable fridge and freezer, and nice suites for the crew. Once we had the gear stored it was off to get provisioning at Maxwells. We stayed the night dockside and enjoyed some food and drinks at Colors by the Sea, which is walking distance from the marina.

Day 2

We cruised out of Marsh Harbor and up to see the famous swimming pigs of No Name Cay. The pigs were there in force and the crew had fun feeding them. We enjoyed a great lunch at the Swimming Pigs Bar and Restaurant. We then boarded back up for the cruise to our overnight location at Great Guana Cay. We weathered out a quick storm on anchor and then headed in for a quick look around. We walked to the beach where Nippers Bar is located and enjoyed a quick swim. Nippers Bar was a staple of the area and was destroyed during the hurricane. They are rebuilding and are hopeful for a 2022 opening. We finished the day off with a meal and drinks at Grabbers.

Day 3

We cruised to Man-O-War Cay to check out the Famous Sail Shop. Note: The harbor entrance is extremely narrow. The Sail Shop is a great place to buy bags of all sorts made from old sails. After a bag purchase, we cruised over to Hope Town Harbor for a 2 day stay with friends. We meet up with some friends and went to On Da Beach Bar for drinks and dinner.

Day 4

Was spent relaxing poolside at Hope Town Inn & Marina. We enjoyed the food so much we ate both lunch and dinner at this awesome place. We said goodbye to friends and enjoyed one more relaxing night aboard the boat before we headed for home.

Day 5

We had an easy cruise back to Marsh Harbor from Hope Town. The staff at Marsh Harbor were very helpful and had us squared away in no time. We jumped in a taxi for the quick trip to a COVID testing site. This was remarkably quick given the number of people who get tested there. We were in and out in 45 minutes and had the required paperwork to re-enter the US. Once back at Conch Inn & Marina, we collected our bags and headed off to the airport. Customs was a breeze and soon enough we headed home.
Overall impression:
To the person, we found that the Bahamian people were so warm and openly friendly, that it leaves you with the impression that they truly appreciate sharing all their islands have to offer with visitors. It is one of the easiest places to get in and out of logistically that you can go to, and we will definitely be back.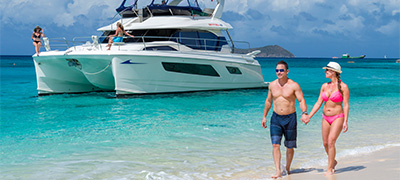 Request a Brochure
Explore the extraordinary charter options you have with MarineMax Vacations for your trip of a lifetime.
Get Your Brochure
MarineMax Vacations Bahamas
Your vacation begins when we welcome you to our base on Great Abaco Island.
Explore the Base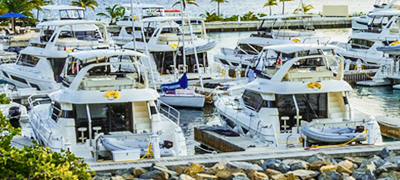 Our Fleet of Luxury Yachts
Meet our fleet of Aquila Power Catamarans designed to fit your boating lifestyle.
Meet the Fleet