Join Us on a Bahamas Adventure
MarineMax Vacations Planner, Danielle, is taking us on a Bahamas charter trip from our base at Conch Inn Marina in Marsh Harbour. Follow along on our social channels this week to experience the trip of a lifetime!
Day 1

Today is Danielle's first day! Check-in through customs went super quick, and now, she is headed to Conch Inn Marina (@theconchinn) to get settled on the boat and get her brief. Next, off to Maxwells to load up for provisions, and on to No Name for a late lunch. Don't forget to feed the pigs and take a dip in the pool!

Day 2

Today, Danielle is at the Green Turtle Cay, Bahamas. Stop and see Miyoshi at the Tranquil Turtle for a mean drink and food, where the beaches are beautiful!⁠ If you need to pick up any extras, there's a great one-stop-shop called Sid's Provisions. Danielle has also snagged some drinks from Plymouth Liquors. Next stop is Brendal's for water toys and a golf cart.⁠ Don't forget to grab some squid to feed the stingrays at Manjack Cay!

Day 3

Who's ready to join me in the Bahamas? Danielle started today from Grabbers Bar & Grill, Guana Cay, where you can take a dip in the pool or sit at the bar with your toes in the sand. If you're looking for some of the best white sand beaches, they can be found here. Oh, and don't forget to enjoy one of the best hot dog stands in the Bahamas!

Day 4

Today Daniella is headed south to stop in at Hope Town and do a little exploring. Plenty of mooring balls! Hope Town is known for its beautiful, iconic lighthouse. Be sure to check out the marina and grab a bite to eat! Later, she is off south to Little Harbor for dinner at Pete's Pub with her toes in the sand. They've got a different dinner menu each day, so always worth revisiting!

Day 5

Danielle checking back in on day 5! This morning she dropped her friends off at Conch Inn Marina for an early departure back home. Then it was time to head back north to Turtle Cay for the day. Danielle stopped at No Name Cay for lunch but more importantly to visit the pigs! Can you find the cute baby pig? Name suggestions welcomed, "Captain Piggy" just didn't sound right. She made it just in time to watch a beautiful sunset at Tranquil Turtle. Don't forget to visit Green Turtle Club and resort for an evening cocktail and dinner. You're more than welcome to hang a burgee or a dollar bill as per tradition!

Day 6

As Danielle's MarineMax vacation comes to an end, she wanted to share one of her favorite locations and one of the most beautiful spots in the Abaco's: Tahiti Beach. This location offers a floating bar called Thirsty Cuda and some of the prettiest aqua blue water. After spending the day on the island, Danielle is headed to Hope Town Marina, where she rented a boat slip for the night. They offer a full menu and drinks. Bridget's Punch is a must try!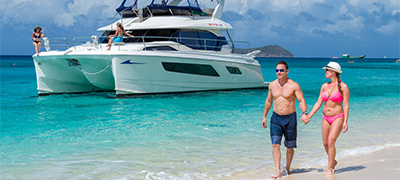 Request a Brochure
Explore the extraordinary charter options you have with MarineMax Vacations for your trip of a lifetime.
Get Your Brochure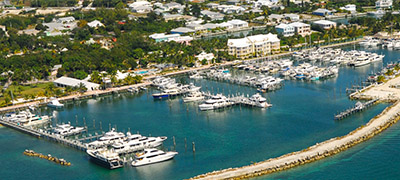 MarineMax Vacations Bahamas
Your vacation begins when we welcome you to our base on Great Abaco Island.
Explore the Base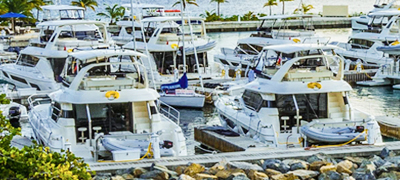 Our Fleet of Luxury Yachts
Meet our fleet of Aquila Power Catamarans designed to fit your boating lifestyle as well as the other sailing and power options we can arrange for you.
Meet the Fleet