Meet the New Crew
We have recently announced that MarineMax Vacations will be offering crewed charters. We would now like to welcome to you our newest crews! Introducing Guy and Caroline with "Pick Me Too" and Paul and Daniela with "Go Team." Both crews are excited to deliver you first-class service on the MarineMax 545.
Pick Me Too — MarineMax 545
It's not often you come across a couple as "yachty" as Guy and Caroline. They met at sailing school as teens and have sailed together ever since. Years of competitive racing has enabled them to create systems for seamless charters under their collective belt, they know the BVI like the back of their hands as well as tips and tricks to create a "vacation of a lifetime."
Captain: Guy Redmile

Guy has been around boats since his late teens; sailing, racing, building, and teaching. He is exceptional at fine-tuning a boat for optimum performance and is a strong technician, winning national regattas in 10 different classes over a number of years. Prior to their chartering career, Guy and Caroline owned and ran a large dynamic farm in Africa, growing multiple crops with a large workforce. The experience developed skills in project management, team management, engineering, mechanics, electrics, and business.

Chef/Mate: Caroline Redmile

Caroline creates "exceptional culinary feasts," happily accommodating dietary requirements within her vast and well-loved charter menu. Caroline presents beautiful, fresh, delicious food that upgrades the whole charter experience. Caroline also loves the ocean and her impressive knowledge of marine life. Her knowledge and uncanny ability to spot camouflaged creatures hidden in reefs results in her dramatically enriching a dive experience with all sorts of interesting facts about critters most divers don't see.
Go Team — MarineMax 545
Introducing a power crew for your power catamaran experience. Paul and Daniela have vast expertise on and off the water. This team is motivated to deliver the vacation of your dream by combining their abilities in service and operation. Curate an adventure with "Go Team."
Captain: Paul Jordan

Paul has experience on the water all over the globe, from Belize to Sumba, the Maldives, and more. With over 11 years of experience as a Captain as well as a dive instructor, he excels in the charter industry and wants to deliver 5-star service to both owners and customers. Paul enjoys tackling new and difficult challenges and has a great understanding of both boating and diving.

Chef/Mate: Dani Trevisol

Daniela is very much a hands-on first mate and employs a large range of skillsets to deliver the perfect charter experience. She is a multilingual and well-traveled chef with recipes from across the globe. Daniela is an all-in-one chef, navigator, and bartender and can provide you best pleasure boating experience you can imagine.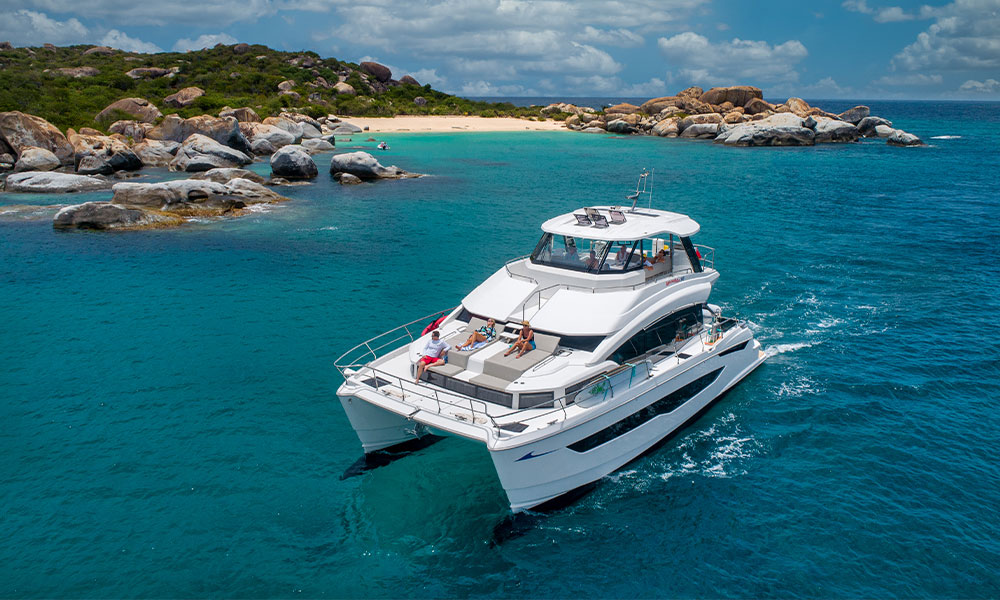 "Our best memories are from spending an extended amount of time with our children and their loved ones in beautiful locations while enjoying lots of water activities."