Get Started Planning Your Trip of Lifetime with the Leading Charter Company in the British Virgin Islands and Bahamas
5 Reasons to Choose MarineMax Vacations
Our team will help every step of the way so you can enjoy the trip of a lifetime
Our own custom amenity-packed power catamaran fleet in the British Virgin Islands with 3, 4, and 5 cabin options
Access to power and sail boats of all types and sizes throughout the world in amazing destinations
Explore an extensive resource library of videos and articles to prepare for your trip
Our commitment is to exceed your expectations and provide an extraordinary experience
5 Reasons to Choose MarineMax Vacations
✔ Expert Planning - yep
Our team will help every step of the way so you can enjoy the trip of a lifetime
✔ Custom Amenities
Our own custom amenity-packed power catamaran fleet in the British Virgin Islands with 3, 4, and 5 cabin options
✔ Amazing Destinations
Access to power and sail boats of all types and sizes throughout the world in amazing destinations
✔ Resource Library
Explore an extensive resource library of videos and articles to prepare for your trip
✔ Extraordinary Experience
Our commitment is to exceed your expectations and provide an extraordinary experience
Page Position for form
"Our best memories are from spending an extended amount of time with our children and their loved ones in beautiful locations while enjoying lots of water activities."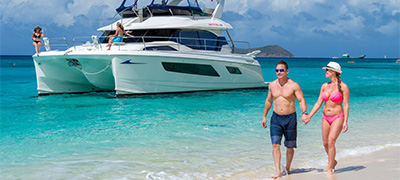 Request a Brochure
Explore the extraordinary charter options you have with MarineMax Vacations for your trip of a lifetime.
Get Your Brochure
We Love Questions!
Ready to know more? Some of your questions may be answered here.
Get the Answers
Page Position for email-signup