Best Summer Camp Ever
No matter how many times you go, it always feels new.
By Liz Pasch for MarineMax Vacations
As children become adults, parents sometimes struggle to find gifts that are appreciated and meaningful. In 2022, Brad and Tricia Serres of Texas decided to give their grown children a Christmas gift that would provide lifetime memories—a MarineMax family
vacation in the British Virgin Islands
.
"My husband Connor and I did this trip four years ago," says Haylee Serres, who has lived on St. Croix in the U.S. Virgin Islands with her husband since 2017. They were delighted when Connor's parents surprised them with the family vacation they'd share with them along with Connor's sister Morgan from California.
The Serres family began their travel in April 2023, initially to the island of St. John to celebrate an uncle's birthday. "During COVID, the BVI restricted travelers arriving on Tortola from St. John, but that was no longer the case," Haylee explained. The family was able to get a shuttle directly from St. John to Tortola and clear customs and then dropped off at their MarineMax 443 power catamaran at the MarineMax Vacations base on Nanny Cay. "We had pre-arranged for provisions, so all the food was already on the boat. That made it really easy for us to just unpack and relax on the boat that first night."
The next morning, the Serres' boat was the first released from the base for their cruise to the outermost island of Anegada. They anticipated the trip to be rough, but the water was flat and smooth. "We kept calling it a lake, and the trip only took us a little more than two hours," recalled Haylee, who recommends renting an island-authentic Moke to tour Anegada, including Cow Wreck Beach and Tipsy Beach Bar, where they had the best conch fritters of the trip and a lobster dinner. "The way they prepare and serve the food is a slowed-down pace that brings you back to the way food should be prepared and eaten, not in mass quantity with a lot of waste that ends up in a bisque because people don't show up," Haylee describes. "Everyone who makes the required reservations in advance shows up."
Reserving a mooring ball in advance with the BoatyBall app was made easy with the excellent Wi-Fi on board the MarineMax 443. "Using the BoatyBall app requires you to have Wi-Fi turned on at the boat so you can reserve. You have to prebook and get the reservation in on time, but it's worth the hassle to not have to worry about all the moorings being taken if you want to take your time cruising," says Haylee, and especially recommends using it on Anegada and Jost Van Dyke.
One of the Serres' main memories of their time in the BVI is how every single island has so much history and its own story. And since they arrived on Virgin Gorda before the crowd came, their experience exploring the enormous boulders felt intimate. The Baths at Virgin Gorda are considered the Eighth Wonder of the World, with their unique caves and structure providing a once-in-a-lifetime experience. "We crawled through these rocks and appreciated the beauty there, but knowing the price people paid in history made it deeply personal for my husband and I," Haylee recalls.
Haylee recommends spending at least a full day at Scrub Island, especially if you get a slip in the marina. "The slide in the swimming pool is really fun, and the bouncy floating trampoline looked like the best summer camp ever! It made me think of this whimsical book I read about living in this insane dream, but it was real. You just feel secluded from the real world," says Haylee.
Haylee is hard-pressed to pick her favorite island or memory since they're all so special. "Jost Van Dyke is a favorite island for many because it has the most beautiful beach in the world," says Haylee, which is why it's sometimes crowded with passengers from cruise ship excursions. The Serres group looked at the cruise ship dates in advance to avoid the crowd and were glad they did. "It was our first wedding anniversary that day, and we have great memories," Haylee said. The couple had previously donated a palm tree to the island to share in rebuilding the island after the hurricanes. Finding that palm tree on the island was a special moment.
Haylee describes the experiences she has on this trip are core memories that will last a lifetime, but no matter how many times you go, it will always feel new. "I live in the Caribbean, but snorkeling at the Indians was the most beautiful I've seen," Haylee says. "When do you just get to pull up to a dinghy parking lot and have the best snorkel experience?" It's unforgettable.
Unforgettable is also how Haylee describes their last night on the Willy T. Enough said.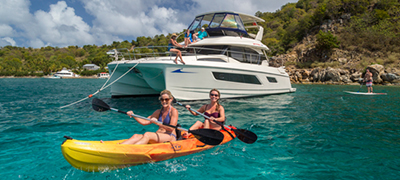 Live Your Caribbean Dreams
Imagine spending a week with family and friends aboard a power catamaran in the British Virgin Islands. MarineMax Vacations can make this dream a reality.
Plan Your Vacation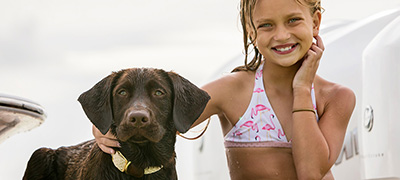 The Boating Lifestyles Blog
Browse hundreds of articles on customer stories, tips, trends, gear, amazing boating locations and more found in our Blog.
Explore Boating Articles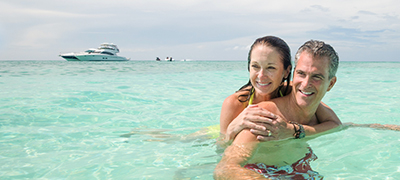 Discover New Places
Some last a day, others a weekend or longer. Either way, our Getaways!® will have you enjoying the boating lifestyle in no time.
It's time for fun