Skiers Rejoice
TRADITION. INNOVATION. PERFORMANCE. CRAFTSMANSHIP.
ALL-NEW 2019 SKI NAUTIQUE IS THE BEST WATERSKI BOAT EVER CREATED
In an era when wake and multi-sport boats seemingly rule the roost, the all-new 2019 Ski Nautique takes aim squarely at those who prefer to carve morning glass on a slalom ski, perfect their trick runs, or launch themselves off the jump in search of maximum hang time.
The simply named Ski Nautique replaces the Ski Nautique 200 (a boat that pulled no less than 25 world records over its lifespan), and aims to improve upon that craft's legendary ability to produce soft, flat ski wakes and unmatched trick wakes. A new running surface incorporates spray diffusers at the bow to create lift for that perfect running attitude, as well as to knock down spray in chop or a headwind. Reverse chines further contain that spray and keep it from spoiling a skier's water conditions. Midship lifting pads create less displacement for slalom and jump enthusiasts. Trick aficionados benefit from an optional 400-pound ballast tank to substantially beef up the wake when desired.
The coolest new tech, however, is arguably the patented Micro Tuners. Small, arrow-like tabs that automatically deploy off the transom, Micro Tuners disrupt water flow to fill in the wake troughs and provide the skier a smoother transition across the wakes. In addition to Micro Tuners, Nautique's transom-mounted HydroGate can also be lowered to one of 10 positions to give the hull some temporary hook, providing lift that will further dial in the ride for each skiing discipline, or retracted to allow the hull to sit lower in the water and further increase the wake for trick enthusiasts.
In a first for Nautique, carbon fiber has been incorporated into the hull layup along with fiberglass to reduce weight while maintaining strength. The fuel tank has also been repositioned closer to the boat's center of gravity so that the ride isn't adversely affected as fuel is consumed.
Style and innovation continue above the waterline. The wide, enclosed bow incorporates a walkthru windshield and convenient Sea-Dek covered pathway to ease passengers on and off the boat. The grippy Sea-Dek traction material also tops the entire perimeter of the cockpit gunwales, and is prominently featured throughout the cockpit and storage areas to protect contents without the dampness or mildew potential of carpet. Freeboard is increased through the boat's midsection to increase the passenger's sense of security, but lowered at the transom to ease access to and from the swim platform. Massive storage is incorporated below the enclosed bow, observer love seat, as well as two clever "saddle bag" compartments contained within both port and starboard gunwale.
While designed to enhance action behind the boat, Nautique hasn't forgotten to pamper those within the cockpit. At the helm, the driver enjoys a recessed dashboard for maximum forward visibility, offset 12.4" touchscreen display, and convenient holder for the ever-present smartphone. A welcome rest supports the throttle arm; just forward, a rotary mouse quickly toggles through all the screens on the touchscreen display. Adjacent to the driver, the starboard gunwale is notched several inches to facilitate conversation with a downed rider or grab a dockline. Overhead, the optional Bimini top is neatly integrated into the windshield end caps, structures that also seamlessly contain navigation and docking lights.
Passengers? The observer love seat and aft bench offer plenty of space to find a comfortable perch. For those that prefer an empty cockpit, bench cushions remove to reveal a level platform covered in yet more Sea-Dek traction. Even the engine box gets special treatment. It's upholstered to allow a coach a leaning post, features Sea-Dek on top for those that need to do a pre-ride tuneup of their skis, and coupled with an extended deck f lange, lifts to offer full, uninterrupted access to the engine for service.
As to power, low-end grunt has long been integral to record-setting towboats and the Ski Nautique is no different, offering a trio of engines from longtime partner Pleasurecraft Marine Engines (PCM). The base ZR4 engine packs 400hp and produces 400 foot-pounds of torque to muscle almost any rider quickly atop the water. Options extend to 450hp and a whopping 465 foot-pounds of torque, all covered by PCM's comprehensive five-year warranty.
WRITTEN BY JEFF HEMMEL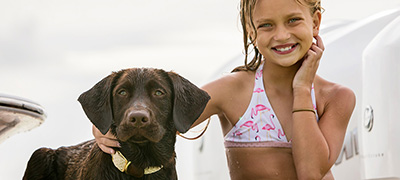 The Boating Lifestyles Blog
Browse hundreds of articles on customer stories, tips, trends, gear, amazing boating locations and more found in our Blog.
Explore Boating Articles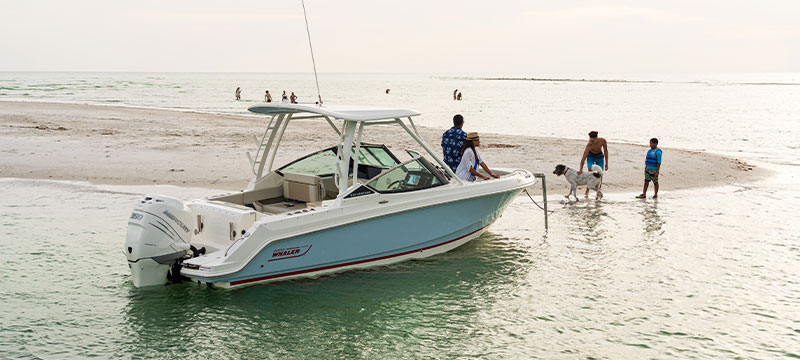 Find Your Perfect Boat Today
Start your search for the boat that has it all for your lifestyle! Explore premium new, used, and brokerage boats.
Search Boats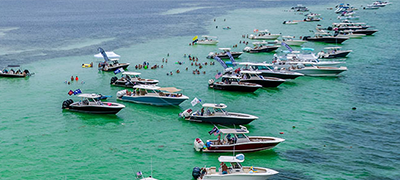 Find an Event
All this fun is exhausting – NOT! We love creating entertaining and exciting customer events. Each is designed to make boating the most remarkable leisure activity in your life.
Find an Event