Fly Girl
The
Galeon 680 Fly
delivers exceptional performance coupled with laudable volume and design.
Galeon

is a Polish boatbuilder headquartered in Gdansk that is sold exclusively through MarineMax in the United States. The brand is known for offering innovative design details matched with hulls that keep their owners comfortable and safe. The latest offering from the company is the 680 Fly, a yacht that recently took the

Fort Lauderdale International Boat Show

by storm, and which looks to finish out the rest of the show circuit in similar fashion. Put simply, this vessel has a lot to like.

One of the most immediate things that jumps out on this boat once you step aboard is the amount of natural light it has—and that's no mistake. Says Bob Burke, Galeon Yachts brand manager at MarineMax, "What Galeon was really attempting to do was evolve the range for natural light and openness. Some people have said it feels almost like a giant dayboat—it's not, it's a motoryacht, but I can understand why people see it that way. The rest of the interior has lots of flowing lines—there are not a lot of right angles—and we think that really helps give this boat in particular a very modern feel on the inside."

Galeon places a large amount of importance on maximizing the indoor and outdoor spaces on its yachts, blending them together seamlessly. One area where that maximization of space can really be felt is the flying bridge. Burke says that Galeon wanted to make the bridge deck feel like it belonged on a much larger yacht. "Obviously getting the bridge area as large as possible was a big consideration for us. There's a table up there that can seat 15 people for dinner. That's a big table!" says Burke. "We used advanced materials—carbon fiber, basically—to achieve that effect."

In fact, the entire superstructure and hardtop is all carbon fiber. This construction choice not only allows for more exterior and interior volume, it also helps lower the yacht's center of gravity by keeping her upper sections light, which helps keep her stable in a seaway.
Of that carbon fiber construction, Burke also adds, "Galeon is one of the only

factories

in the world, I think, that can build a carbon-fiber structure of that size. The facilities and the expertise just aren't in many places. Galeon is post-curing the parts. Essentially they're heating them, making sure that while the parts are in the mold they won't change shape." And that makes for tighter construction and a quiet, sturdy ride. The 680 Fly can do 30 knots with the hammer down and twin 1,200 hp MANs thrumming in her belly, and can also cruise at a zippy 25 knots. Of her speed numbers, Burke opines with a satisfied laugh, "She's a beast."

The yacht also has a Seakeeper 16 that can pin her in place in rocky seas—a boon for anyone who is prone to

mal de mer

. And as if all these features and state-of-the-art construction techniques weren't enough, the 680 Fly is also backed by the

MarineMax team

, which offers a full array of support

all across the country

, for just about anything:

maintenance

, operating aid, even a safe place to dock in a pinch.

MarineMax also works closely with Galeon to ensure that the boats are built just as customers prefer them. "There are a lot of synergies," says Burke. "We work closely together. They put in a lot of features that are good for the U.S. market and that's directly because of the feedback they get from us. And in return they support us. They're good at being on time with delivery which is so important, and they also help us with product knowledge, parts etc. These guys are second to none on how willing they are to work with us."

That willingness to work with one another is a huge component in the part of the boating business that you, the reader, are probably most interested in, customer satisfaction. And happily for you, customer satisfaction is what MarineMax and Galeon are all about.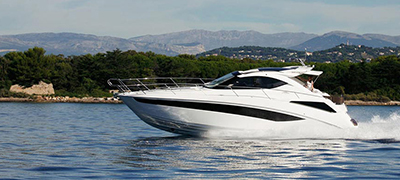 Handcrafted Excellence
Galeon designs assure unparalleled modern styling and convenience. Leading technology and design, makes each yacht exceptional.
Get on the Water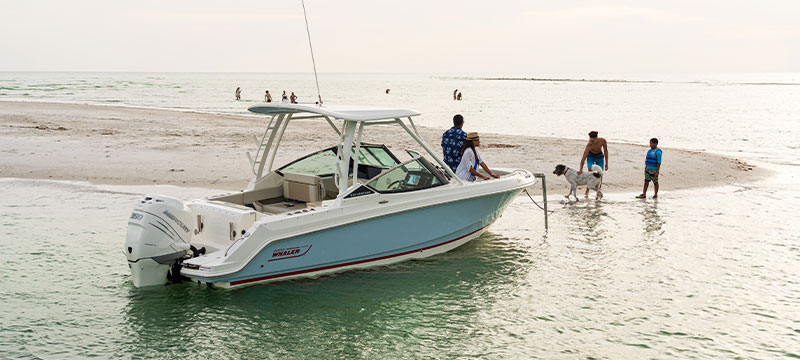 Find Your Perfect Boat Today
Start your search for the boat that has it all for your lifestyle! Explore premium new, used, and brokerage boats.
Search Boats
Luxury. Convenience. Ease.
Owning a yacht is the definition of luxury. Owning a yacht from MarineMax means so much more.
Receive VIP Service