12 Boat Types & Comparisons
Most boats are purpose-built by design to fulfill a particular mission. Whether it's for offshore fishing or making the perfect wake while towing a water skier, manufacturers today build boats that meet a boater's desired need while also providing exciting features that will appeal to family and friends. And if you're wondering which vessels are the most popular for recreational use, we have those details covered in the list below!
Center Console Boats

Center consoles are versatile boats and are equally fun as fishing platforms or simply spending time on the water with family and friends. Designed with helm consoles in the middle, joined by side decks that provide 360° fishing capabilities, these boats have seating that ranges from leaning posts to adjustable seats with armrests and bolsters. Boat sizes can measure from 17 to 65 feet and vary in price. Center console boats are generally designed with characteristics to create a smoother and dryer ride when traveling offshore. These boats are made to run at 30-knots or more and can offer comfort and many features, making them more enjoyable when simply cruising around.

Dual Console Boats

Now regaining popularity, dual console boats have a helm console, usually on the starboard side, and a companion console on the other side. This type of boat is family-friendly, comfortable, and can come with a wide range of fishing features. Most have the same hull design as their center console counterpart to help promote a smooth, dry ride. Many dual console boat manufacturers include cushioned seating, stereo systems, USB ports, cup holders, and more. Larger dual console boats can have cabin space under each console, complete with a berth, galley, entertainment centers, air conditioning, and dinette.
Center Console vs. Dual Console
If the goal is to fish offshore, a deep-V hull is essential to cut through the chop on the way to the bite. Center consoles have been the choice of serious offshore fishing enthusiasts due to their ability to fight pelagic predators from basically everywhere on the boat. Most center console boats feature a head within the console, and some larger models may even have a cabin like Boston Whaler's 420 Outrage models. In contrast, dual console offshore fishing boats are becoming increasingly popular. The seating and windshield keep the operator and those seated more comfortable and drier. Dual console boats tend to have more features to accommodate your pets. When available, heads are usually offered below the companion side console. Models such as Grady-White's Freedom 375 have a cabin with a berth under one console and a head under the other. Boston Whaler has their Outrage center console models ranging from 23 feet to 42 feet and their Vantage dual console line of boats from 24 feet to 32 feet. Scout, Grady-White, and Sailfish all offer both center console models as well as dual console models.
Deck Boats

Deck boats can be some of the best for day cruising and having fun with family and friends on the water. These boats are designed with a sport boat layout that widens the bow seating area offering lots of space and comfort for passengers to enjoy an adventure out on the water.

Pontoon Boats

There are different types of pontoon boats, and boaters recognize that these boats are stable platforms that can offer multiple-use packages. These packages can feature fishing amenities such as rod-holders, special seating, fish-finders, and live bait wells. Pontoon boats can also double as a stable platform for many different adventures with amenities such as lighting upgrades, entertainment systems, summer kitchens, wet bars, upper decks, and even water slides. A pontoon boat can be an ideal all-around boat that the whole family can enjoy.
Deck Boats vs. Pontoons
Deck boats and Pontoon boats have evolved tremendously in the last few decades. What a deck boat is, varies by manufacturer. Traditional deck boats still offer a flat platform with gates and upholstered furniture like a traditional pontoon boat. In a deck boat, the hull is made from molded fiberglass and typically has sponsors on each side for stability. Pontoon boats have also evolved with companies like Harris, incorporating a myriad of comfort features, including fiberglass superstructures on their pontoon and tri-toon models. Deck boats tend to provide a sportier and more traditional ride, whereas a pontoon boat can accommodate more passengers and offer a stable platform to play on the water.
Jet Boats

Get ready. Get a jet boat. Go! These action-packed boats have similar builds to sterndrive runabouts, except they carry their propulsion within the hull and are full-sized. Additionally, these boats are perfect for all types of watersport activities, anchoring for a swim or getting where you need to go fast. With impeller propulsion found below and within the boat, navigating jet boats through shallow water is entirely possible!

Ski Boats

Ski boats, also known as wake boats, are some of the most specialized crafts on the market. These inboard shaft-driven vessels have many systems which allow them to produce different sized and shaped wakes. The increasing popularity of wake-surfing has driven manufacturers to develop wave-shaping capabilities that create variable waves. Today's wake boats have electronic control systems that can be preset for specific speeds and wave shapes for all types of tow sports, and some even offer controls for the surfer to carry that allow them to control the wave size and shape.
Ski Boat vs. Jet Boat
Ski boats are purpose-built with one goal in mind: making waves for water sports. Loud colors, loud music, and producing waves of all shapes and sizes are what these vessels are all about. A jet boat is mainly for going fast and cruising, and while some models are designed specifically for watersports like skiing or tubing, this subset of vessels doesn't have the specialization that ski boats do. Both are great for fun on the water, but one has a specialty, while the other is capable in numerous areas.
Lake Boats

If you are looking for a lake boat to make memories and enjoy adventures on the water, there are plenty of choices. A boat for a lake can range from all-purpose freshwater fishing vessels to center consoles, pontoons, dual consoles, and more. To determine which model is best for you and your crew, consider where and how you plan to use your boat, including the type of features you desire and the size of the lake you would like to boat on. If you still can't decide, a MarineMax consultant will gladly assist!
Inshore Boats vs. Lake Boats
There can be a lot of cross-over in these two types of watercraft. For example, pontoon boats do well in waters close to shore and also make great lake boats. Perhaps you want to fish in an inshore waterway such as Tampa Bay or the Chesapeake Bay; however, enjoy fishing in lakes, then a center console may be best. The primary distinction between these two vessels is less about the boats themselves and more about the location where they are being used. So, in the debate of which is best for you, it's less about the boats themselves and more about what you plan to do on the water. If you still have questions, your local MarineMax store will help you to find the right boat for your on-the-water pursuits.
Trawler

Trawlers were best associated with commercial fishing in the past, but private fishermen and recreational boaters alike have come to appreciate the trawler's robust design. These motor yachts are rugged and built to be adept at long-distance voyages. They commonly feature spacious pilothouses and protected walkways behind the foredeck for a more comfortable ride with less exposure to the elements. Many luxury boaters seek out trawlers to live on for extended ocean voyages to exciting destinations.

Cabin Cruiser

Cabin cruisers land between the sport boat category and yacht category. They offer the most comfortable platform with below-deck accommodations, including cabins, heads, galley, and other amenities designed for those who like to travel for an extended length of time via boat. Many cabin cruiser owners and guests enjoy the lifestyle of spending days and nights on the water while traveling to exciting destinations.
Trawler vs. Cruiser
Classic trawlers have displacement hulls that are designed not to exceed 10 knots. They typically are designed to be liveaboard models—equipped for long-distance journeying. Cruisers are built generally on planning hulls and frequently are most efficient at mid-range speeds of around 25 knots and can reach 40-plus knots. They also tend to be more stylishly appointed with contemporary features and finishes. They may also be furnished for stays aboard for a week or more. The choice would be between classic styling or contemporary styling and the time needed to get to the destination.
Saltwater Fishing Boats

Coastal fishing for saltwater species has been around since the beginning of time. Saltwater fishing boats open up opportunities to explore more fishing spots, essentially endless places you and your boat can pursue looking for the day's catch. Saltwater fishing boats offer various options, so the one you choose should depend on a number of variables: what type of fish you intend to pursue, where you will primarily be fishing, and what else you'd like to do with your boat.

Freshwater Fishing Boats

There are as many different freshwater fishing boats as there are reasons to go fishing. Before purchasing a freshwater fishing boat, take stock of where and how you plan to do most of your fishing and your needs including considering; whether will you be navigating rivers or traveling on large bodies of water with family and friends. Do you plan on only fishing on your boat, or will you be using it for other water recreation? Once you have thoroughly considered what you want from a freshwater fishing boat always test out the boat before deciding to buy.
Saltwater Fishing Boats vs. Freshwater Fishing Boats
A saltwater fishing boat can perform well in freshwater applications; however, the same cannot be said of a freshwater fishing boat in saltwater conditions. Saltwater is one of the harshest environments on Earth, and you will see major corrosion issues on your vessel if you try to take your freshwater boat into saltwater. Most saltwater fishing boats can handle much greater chop and waves than their freshwater counterparts (sans the Great Lakes), which is another reason a saltwater vessel will typically perform well in freshwater environments, but not the other way around. Feature-wise, you will find mostly the same in both vessel types: rod holders, livewells, and similar electronics.
Want to learn more about boats? MarineMax is your go-to resource for all things boating. With many types and styles of boats, yachts, accessories, events, classes, exclusive Getaways!®, marinas, insurance and finance options, and more, your overall experience matters! Build your own
MarineMax Experience
today aboard a new boat. See our entire
inventory
, contact your local MarineMax store, or fill out the form below for more details. Additionally, for Boating Made Easy™,
download the MarineMax App
and effortlessly manage all your boating needs.
Didn't Find What You are Looking for?
Core Confidence
Few boat brands match the pedigree of Boston Whaler with its rich heritage of quality craftsmanship, safety, and innovation.
Get on the Water
Launch Into Living
A Sea Ray is more than a boat—it's a craft of unparalleled comfort and performance, technology, and technique. It's decades of expertise building the most sophisticated sport boats, cruisers, and yachts on the water. It's an unwavering dedication to customer service and community. And it's the belief that happiness is best enjoyed with the wind in your hair, loved ones at your side and a beautiful boat beneath you.
Get on the Water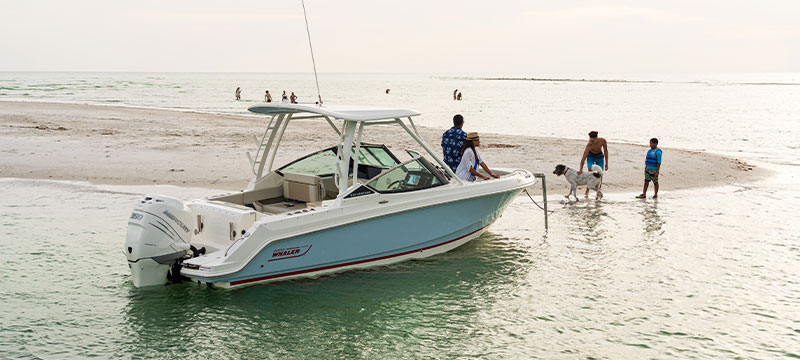 Find Your Perfect Boat Today
Start your search for the boat that has it all for your lifestyle! Explore premium new, used, and brokerage boats.
Search Boats