Different Types of Boats
There is a compromise in every important decision and that is no different when buying a boat. Today's boat builders have worked diligently to build in features that make their boat models compatible with a variety of activities. But there are still important decisions to be made. There are those that have the ability to own a variety of boats; however, most of us must decide which is best for what we want to do on the water. Here are some comparisons that many boaters will have to make when choosing a boat that is right for their family.
Center Console vs Dual Console
If the goal is to fish offshore, a deep-V hull is essential to cut through chop on the way to the bite. Center consoles have been the choice of serious offshore fishing enthusiasts due to the ability to fight pelagic predators from basically everywhere on the boat. Most center console boats feature a head within the console and some larger models may even have a cabin like Boston Whaler's 370 and 420 Outrage models. In contrast, dual console offshore fishing boats are becoming increasingly more popular.

The seating and windshield keep the operator and those seated more comfortable and dry. Dual console boats tend to have more features to accommodate your pets. When available, heads are usually offered below the companion side console. Models such as Grady-White's Freedom 375 have a cabin with a berth under one console and a head under the other. Boston Whaler has their Outrage center console models of that range from 19-feet to 42-feet as well as their Vantage dual console line of boats from 23-feet to 32-feet. Scout, Grady-White, and Sailfish all offer both center console models as well as dual console models.
A convertible or an open offshore fishing vessel? In general, the open concept, such as a Boston Whaler 345 Conquest or the Hatteras GT45X tend to be more spartan and nimble sportfishing machines. Many serious offshore fishing enthusiasts outfit their opens with tuna towers and upper control stations for sight fishing. Of course, these open fishing platforms have cabins below and can be campaigned offshore for days at a time.

However, convertible sportfishing boats are designed to provide the ultimate luxury inside while being serious sportfishing platforms. Like the Hatteras GT70, many come with enclosed air-conditioned flybridges and towers. Many convertible owners actually campaign their boats over a season and use them as their mobile office and home away from home. Which is just another perk of the convertible boats.
Deck boats and Pontoon boats have evolved tremendously in the last few decades. What a deck boat is, varies by manufacturer. There are traditional deck boats that still offer a flat platform with gates and upholstered furniture like a traditional pontoon boat. The difference being the hull is made from molded fiberglass, typically with sponsons on each side for stability.

Other manufacturers, such as Sea Ray have evolved their Sundeck models to essentially runabouts with the beam carried forward to a wide squared off bow. Pontoon boats have also evolved with companies like Harris incorporating myriad comfort features including fiberglass superstructures on their pontoon and tri-toon models. Deck boats tend to provide a sportier and more traditional ride whereas a pontoon boat can accommodate more passengers and offer an especially stable platform to play on the water.
The choice of a flybridge or a sport coupe yacht is a matter of style and usage. Most yacht builders offer both. For example, Sea Ray offers several sport coupes and flybridge yachts such as its Sundancer L350 coupe as well as the L590 Fly with a flybridge. Azimut has a wide variety of yachts including their Atlantis line of sport coupes and the Azimut Flybridge collection. Sport coupe yachts have stylish hardtops, often with skylights that open.

Sport coupe yachts have stylish hardtops, often with skylights that open. They have swim platforms, many of which lower to have better access to the water for activities like swimming. The platform steps lead up to an alfresco cockpit which leads to the main deck interior. The flybridge is usually another area for entertaining often having a summer kitchen and a dining area. The upper station on the flybridge offers better views when close in maneuvering or docking.
Classic trawlers have displacement hulls which by design will not exceed 10 knots. They are frequently designed to be live-aboard equipped for long distance journeying. Cruisers are generally built on planning hulls and frequently are most efficient at mid-range speeds of around 25-knots and can reach 40 plus knots.
Traditional runabouts have been a staple of lake boating for decades. Most are set up as dual console boats with a walkthrough windshield to access the forward seating. Through the 1960s runabouts evolved to be mainly inboard outboard (I/O) boats with stern drives. With the advent of high-powered, quiet four-stroke engines, manufacturers like Sea Ray have once again embraced outboard propulsion in their lineup.

Most runabout models can be used to tow a skier, wakeboarder, or for tube riding and can be significantly less costly. Tow sport boats, tend to have inboard propulsion with the prop tucked under the hull. With the increasing popularity of wake surfing, these boats have been advancing to include sophisticated ballast systems, digital controls and transom dams to shape the wake to form an ultimately ridable wave. Tow sport boats can be highly specialized and expensive.

Although many models can cross over to be used for a variety of purposes, not one boat is big enough, small enough, fast enough, or efficient enough to do every waterborne activity well.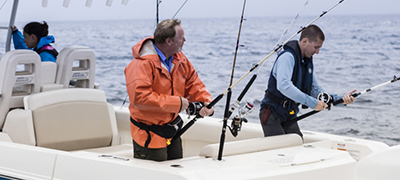 Core Confidence
Few boat brands match the pedigree of Boston Whaler with its rich heritage of quality craftsmanship, safety, and innovation.
Get on the Water
Launch Into Living
A Sea Ray is more than a boat—it's a craft of unparalleled comfort and performance, technology, and technique. It's decades of expertise building the most sophisticated sport boats, cruisers, and yachts on the water. It's an unwavering dedication to customer service and community. And it's the belief that happiness is best enjoyed with the wind in your hair, loved ones at your side and a beautiful boat beneath you.
Get on the Water
A New Breed
Hatteras yachts are the standard to which all others are judged - above and below the waterline.
Get on the Water