Ski Boats - Fun and Power
Although most boats can tow a tube or water-skier, there are a variety of boats designed specifically for waterskiing and tow sports. These boats have evolved from specialized ski boats from the 50's and 60's designed to create a minimum wake, the advent of the knee-boarding craze of the 70's with larger wakes for jumps and tricks, to the mid-80's that started the wakeboarding phenomenon with even more focus on wake types.
Wake and Control Systems

To accommodate the demand for a controlled wake many ski boats are designed to enhance the shape of the wakes their boats create. Various approaches and devices help affect a larger wake from a boat with most wake boats today carrying inboard propulsion engines that keep the propeller under the boat, away from the rider.

Ski boat manufacturers offer various options to create propulsion, hull forms and wake shaping control systems that allow for all types of tow sports, waterskiing, knee boarding, wakeboarding and wake surfing. Today's sophisticated control systems with multifunction displays allow the operator to set speeds and wake shapes for individual rider's preferences. Some even have remote controllers that allow the rider to manipulate aspects of the wake while riding.
Page Position for lifestyle
How to Enjoy the Wakesports Lifestyle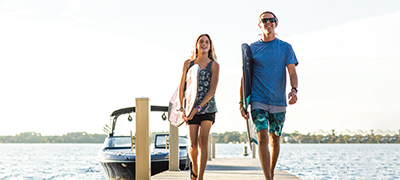 5 Watersports to Try
Looking for something fun to do on the water? Our fans on social media give their recommendations for the top watersports that everyone should attempt.
Get the Big Catch
Read Our Watersports Blog
MarineMax has numerous blogs with everything for the avid wake sports enthusiast.
Read Ski Stories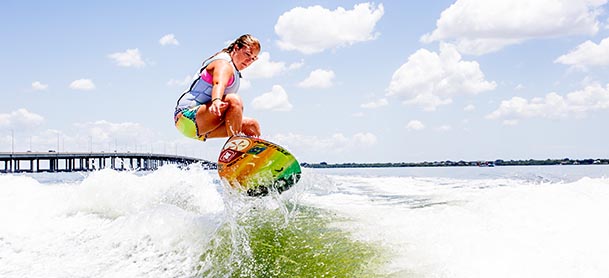 How to Master Boostin Air
Boostin air on your wakesurf board is sure to impress a boat full of spectators.
How to Master Boostin Air
Shop Popular Ski Boat Brands
Resources for New Boaters
Want to Learn More about Ski Boats?