The Aviara Difference
Stunning. Progressive. Unique. Powerful. These are just some words that describe Aviara, the brand inspired by European design and made in America. Aboard an Aviara, expect only the best experience on their family of luxury day boats 30 feet and above.
Let Luxury Encompass You
On an Aviara, feel the difference where entertainment, comfort, and power take center stage. Guests will enjoy hours on the water with Aviara's open layout, custom materials, and a refined smooth and stable ride. Elevate Your Escape with Aviara's four product pillars: Progressive Style, Elevated Control, Modern Comfort, and Quality Details. And with the backing of MasterCraft's legacy of 55 years on the water, the quality of an Aviara itself will turn the heads of forward-thinkers who command excellence with all models available with both inboard and outboard propulsion below:
AV32

Let luxury take its course on a model that commands excellence. The Aviara AV32 has a clean, striking design with a triple-display dash, joystick piloting, a handcrafted Italian steering wheel, CoolFeel upholstery, full size head with electric toilet, and more. Choose from additional enhancements such as heated seats, a power sun-shade system, full color spectrum mood lighting, and bar stool seating, to curate your personal experience.

AV36

Enjoy many sunrises and sunsets aboard the larger Aviara AV36, that's driven to entertain. Let onlookers be intrigued by the sleek design while passengers enjoy the additional amenities of this model under the hardtop. In addition to Aviara's standard luxury features, equip the AV36 with up to 2 grills and 2 refrigerators in the cockpit. In the cabin below, you will find an l-shaped lounger, table and full functioning head standard. Select liveaboard features including a generator, air conditioning and a TV and soundbar to provide a perfect escape to extend your days on the water.

AV40

Escape in good company and slice through the water with confidence, power, and style. Aboard the Aviara AV40, an adventure awaits with twin fold-down terraces that allow additional deck space to create your personal oasis on the water. Extend the day with everything needed to host a gathering with a well-equipped gourmet kitchen area top side or rest up in the cabin below for four where you will find a 43" TV, soundbar, queen size sleeper, microwave and refrigerator standard. See why the largest model in the collection is 'Born to Breakaway.'
Other boat brands don't offer the same comforts infused with the European style an Aviara does, especially the fine quality and attention to detail, as with the Aviara boat manufacturing process. Discover the in-depth details of how an Aviara is made from start to finish inside their award-winning facility. Additionally, Aviara boat reviews such as videos and 360° virtual tours can be accessed at any time, and models immediately available can be found online and at MarineMax locations across the nation. Are you ready to see an Aviara in person? Find your Local MarineMax!
Want to Learn More About Aviara?
Elevated Open Water Experience
Aviara is the first brand to fuse progressive style and effortless comfort in a modern luxury boat that's born to break away from it all.
Get on the Water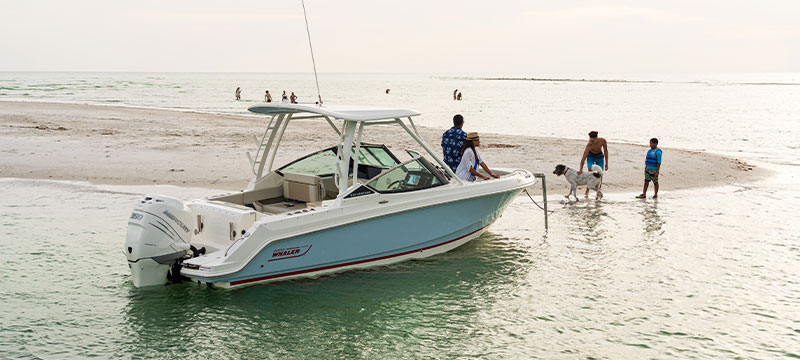 Find Your Perfect Boat Today
Start your search for the boat that has it all for your lifestyle! Explore premium new, used, and brokerage boats.
Search Boats
Finance Your Boat
When it comes to financing the boat you've always wanted, our team has you covered.
Explore Finance Options