Power Your Adventures with Aquila
Power your dreams so you can go anywhere, do anything. Aboard an Aquila Power Catamaran you'll experience quality, innovation, and comfort to inspire your adventures.
Where Would You Go? What Would You Do?

Dinner lit by the setting sun with good friends and conversations as the stars come out…

Bright afternoons with sunlight streaking through the water as you snorkel the Bahamas for the first time with a quick break for a lunch that never tasted so good…

New York, Canada, Chicago, the great Mississippi River, the Gulf of Mexico, all the way back to the east coast. Finally the Great Loop is checked off your bucket list and oh the places you've seen…
About Aquila

Aquila represents the next generation of power catamarans. Go anywhere. Do anything. Luxury that goes the distance. Their models are designed to provide the maximum comfort, space and efficiency, every detail is handcrafted to perfection. Versatile Aquila models, including the 44, 48 and all-new 36, set the new standard in quality and innovation.

Aquila 36

The Aquila 36 has been designed to be the pinnacle of versatile boating. The perfect blend of space for entertaining, water sports and cruising, her features parallel those of larger yachts. Open water cruising capability, two private en-suite cabins and spirited performance easily make her a boater's dream.

Aquila 44

The Aquila 44 has been designed with the luxuries found on the 48 yet is a smaller version with 3 en-suite cabins. On the Aquila 44 you will enjoy the 360˚ view from the spacious salon and galley. The large staterooms each feature ample headroom and large windows for excellent views. Additional features include an oversized flybridge complete with our revolutionary bridge to bow direct access.the Aquila 44 is a fresh revolution of classic boating traditions.

Aquila 48

Custom built to significantly elevate the boating experience aboard a power catamaran under 50', the Aquila 48 has been developed to set a new standard as the state-of-the-art, purebred power catamaran with a perfect balance between luxurious comfort and performance. The Aquila 48 was designed in collaboration with leading experts in the power boating industry including world class designers, engineers and builders as well as the industry's leading yacht retailer.
Experience Your Favorite Models
Step aboard to explore boats of all shapes and sizes including the latest models. With one place to come for everything boating, you'll find the boat of your dreams!
Find a Boat Show Near You
Go Anywhere. Do Anything.
Aquila power catamarans are designed to provide comfort, space, and efficiency. Every detail is handcrafted to perfection.
Get on the Water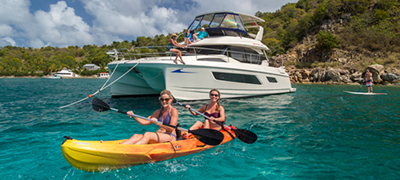 Live Your Caribbean Dreams
Imagine spending a week with family and friends aboard a power catamaran in the British Virgin Islands. MarineMax Vacations can make this dream a reality.
Plan Your Vacation