Fishing Boats - Where do you want to fish?
Fishing boats can be found in several kinds of purpose-built designs ranging from simple bay boats to larger class offshore vessels. These boats are designed, engineered and built for different categories of fishing; freshwater fishing, saltwater fishing, inshore, near shore and offshore. The type of fishing boat you end up deciding on should be determined by the type of fishing you choose to do, your location, and other necessities when you're out on the water enjoying your time.
Looking to spend time out on the lake? Learn more about different Lake Boat categories and what they have to offer.
Freshwater Fishing Boats

There are as many different freshwater fishing boats as there are reasons to go fishing. Before purchasing a freshwater fishing boat, take stock of where and how you plan to do most of your fishing and your needs including considering; will you be navigating streams and rivers or traveling on large bodies of water with family and friends? Do you plan on only fishing on your boat, or will you be using it for other water recreation? Once you have thoroughly considered what you want from a freshwater fishing boat always test out the boat before deciding to buy.

Saltwater Fishing Boats

Coastal fishing for saltwater species has been around since the beginning of time. Saltwater sportfishing boats open up opportunities to explore more fishing spots, essentially endless places you and your boat can pursue looking for the day's catch. What type of saltwater sportfishing boat you choose depends on a number of variables, what type of species of fish do you intend to pursue, where will you primarily be fishing, and what else you'd like to do with your boat.

Pontoon Fishing

Recognized for their stable platforms, pontoon boats are excellent vessels for fishing. These boats can often feature fishing rod-holders, special seating, fish-finders and live bait wells. A pontoon boat can also be a great choice for all types of waterborne adventures that the whole family can enjoy including tubing, waterskiing, or simply cruising around.
How to Enjoy the Fishing Lifestyle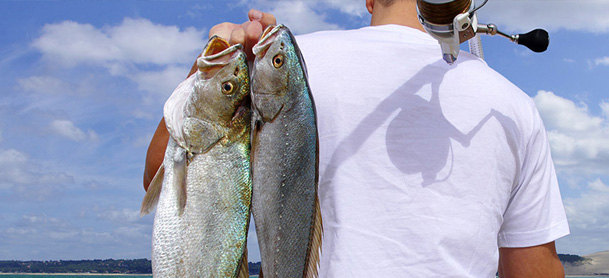 Best Fish to Catch in the Summer
Summer is upon us, and it's important to know which fish are the best to target in your area during the summer season.
Get the Big Catch
Read Our Fishing Blog
MarineMax has numerous blogs with everything for the avid fisherman.
Read Fishing Stories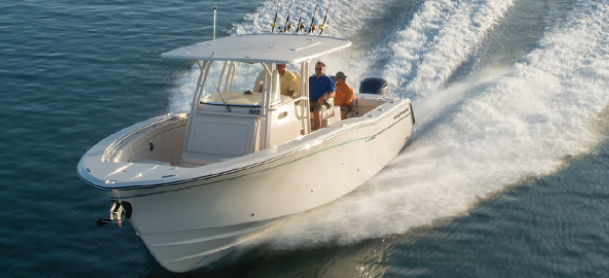 Best Apps for Boaters
Check out some of our favorite boating apps to make life easier and more fun on the water.
Get the Apps