A Boat for Every Lifestyle? Oh Yeah!
Finding the perfect boat starts with how you want to have fun. Is fishing your top priority, or is it wake surfing and tubing? Explore these videos that make it easy to figure out which boat types will best meet your needs.
Page Position for fishing
Looking for the best fishing boat for you?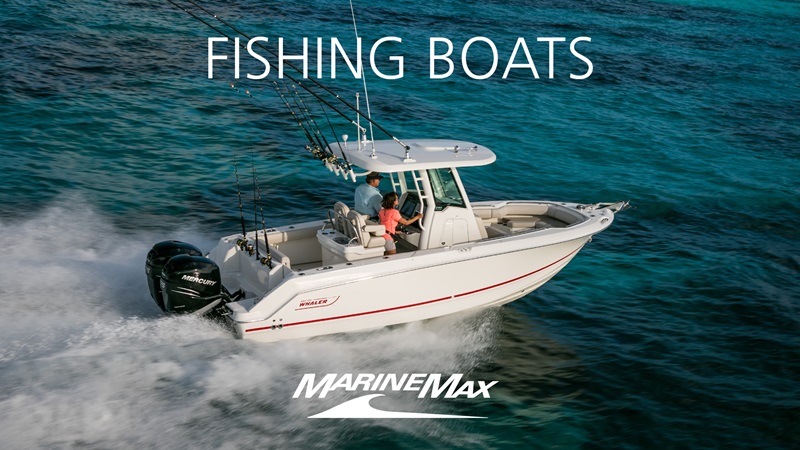 Play video for Where Do You Want to Fish?
Fishing Boats
Fishing boats can be found in several kinds of purpose-built designs ranging from simple bay boats to larger class offshore vessels. These boats are designed, engineered and built for different categories of fishing; freshwater fishing, saltwater fishing, inshore, near shore and offshore. The type of fishing boat you end up deciding on should be determined by the type of fishing you choose to do, your location, and other necessities when you're out on the water enjoying your time.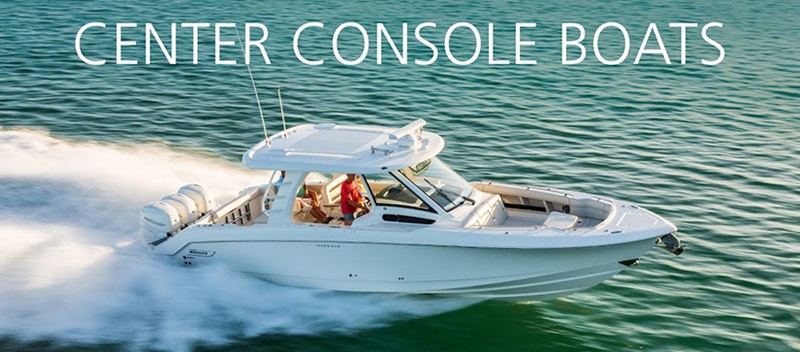 Play video for Versatile Boats for Fishing and Families
Center Console Boats
These versatile boats are equally fun as fishing platforms or for simply spending time on the water with family and friends. Designed with helm consoles in the middle of the boat, joined by side decks that provide all-around fishing capabilities these boats have seating that ranges from leaning posts to adjustable seats with armrests and bolsters. The trend in offshore center console boats is for larger space with boat sizes ranging from 17-feet to 65-feet and an equally wide range of pricing.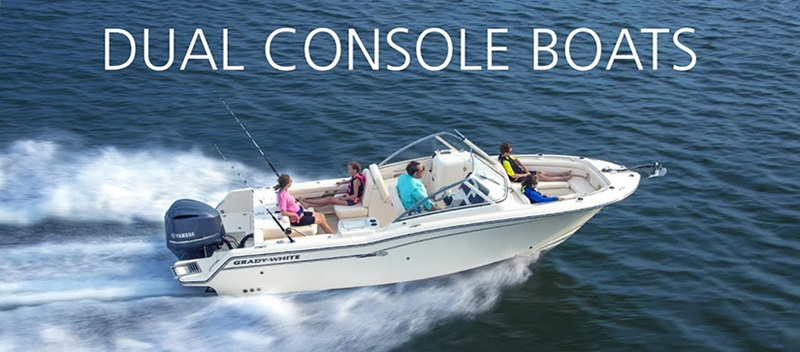 Play video for Versatility and Comfort
Dual Console Boats
Dual console boats are some of the most popular types of boats you'll see out on the water identifiable by the helm along the right side with an additional helm along the left and open space in between. Dual console boats provide functionality and comfort for boaters looking to spend their time on the water. The dual console boat design ranges across different boat categories in a variety of sizes and uses showing that these boats are incredibly versatile for a wide range of activities.
Page Position for cruising
Looking for a boat for lazy days with family and friends?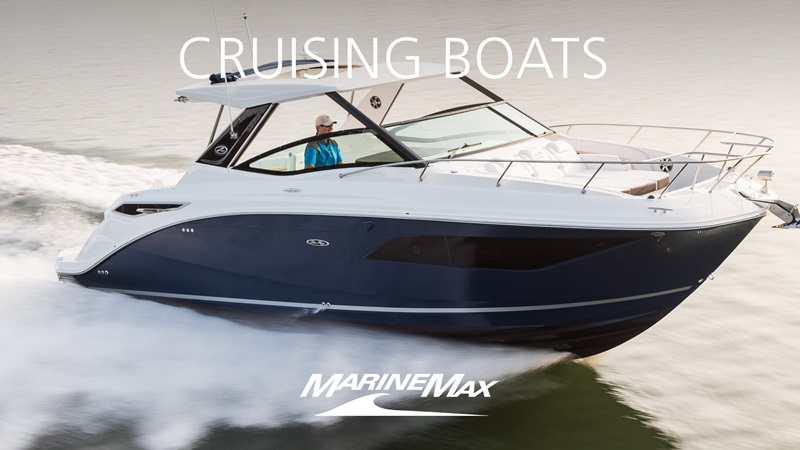 Play video for Fun with Family and Friends
Cruising Boats
The boating lifestyle can span many water activities from tow sports to offshore sport fishing and everything in between. Simply being on a boat and cruising around with family, pets and friends is one of the activities most boaters enjoy the most.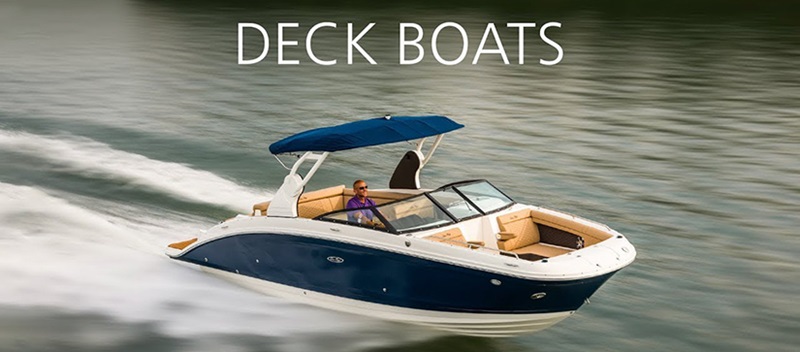 Play video for The Best Boats for Day Cruising Fun in the Sun
Deck Boats
Deck boats can be some of the best boats for day cruising and having fun on the water with family and friends. These boats are designed with a sport boat layout that widens the bow seating area offering lots of space and comfort for passengers to enjoy an adventure out on the water.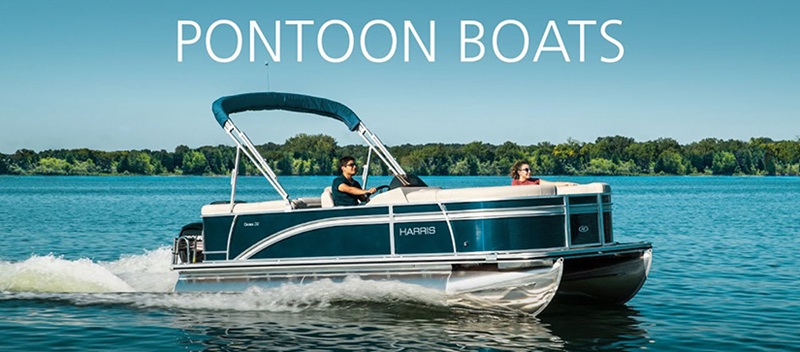 Play video for The Ultimate Multipurpose Fun Boat
Pontoon Boats
Gaining enormous popularity, pontoon boats have evolved from a basic platform attached to two floats to luxurious feature laden boats designed for a comfortable day on the water. These boats can have two-pontoons (floats) or three known as "tri-toons." generally designed for higher horsepower exceeding 50-knots.
Page Position for ski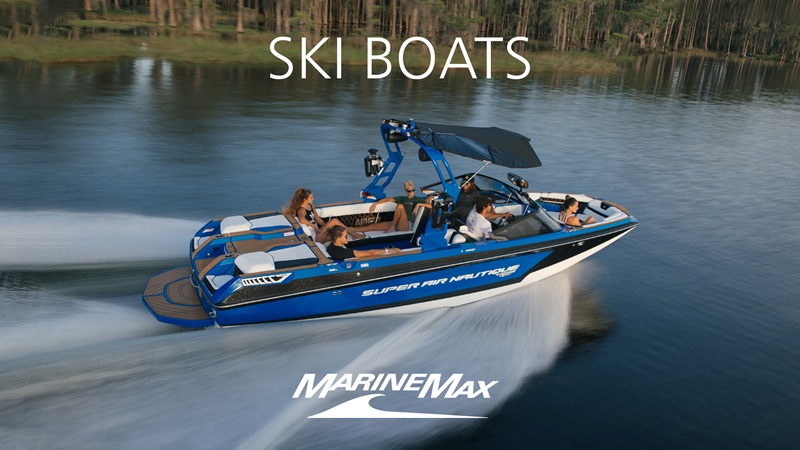 Play video for Fun and Power
Ski Boats
Although most boats can tow a tube or skier, there are a variety of boats designed specifically for waterskiing, wakeboarding, and other tow sports.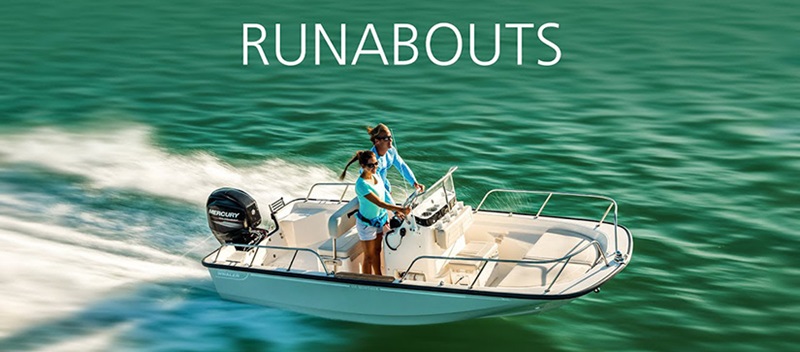 Play video for Collective Fun for the Whole Family
Runabout Boats
Consider the runabout a small, speedy, and fun family boat with multiple levels of usage from going out to fish, doing some water towing sports, or cruising around to local water accessible locations. These boats can offer surprising maneuverability and power depending on the engine its outfitted with. You can identify a runabout boat compared to other similar boats, like a deck boat, by their open bow design with seating, as well as having a walk-through windshield that adds even more seating. These versatile boats offering attractive comfort, simplicity, and affordability can be a highly entertaining entry into the boating lifestyle for you and your family.
Page Position for offshore
Looking for overnight adventures?
Play video for Day or Night the Water is Yours
Cabin Cruisers
The beauty of cabin cruiser boats is that families and friends can enjoy being on the water both during the day and at night. The boating lifestyle can span many water activities with these boats from tow sports to offshore sportfishing and everything in between.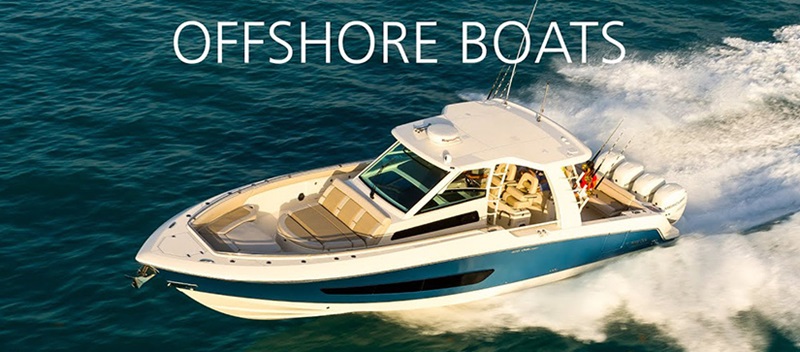 Play video for Handle the Open Water
Offshore Fishing Boats
Offshore fishing boats are designed to safely endure the severity of the open ocean while providing a platform for searching out larger fish. Many of these boats come with towers with upper control stations for sight-fishing. Generally, offshore fishing boats have at least one live baitwell, tackle centers, bait prep centers, fish boxes for safely storing the day's catch, rod holders both for storage and strategically placed for trolling, and higher gunwales to keep passengers safely on board. Most will have extensive electronics for fish finding, navigation, marking hot spots, and monitoring systems including propulsion systems.
Page Position for beginner
Just getting started?
Learn about the best boats for beginning boaters, then visit
beginner boats
for more information.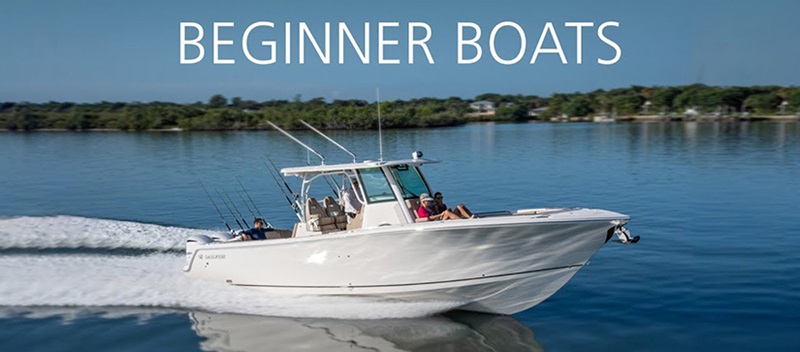 Play video for Getting Your Feet Wet
Best Boats for Beginners
The best boat for beginners varies by what water activities you and your family intend to participate in, the body of water you'll be on, and your budget. In addition to purchasing the boat, new boaters should also consider the registration fees, storage costs, and maintenance costs.