Sample 8-Day Charter Menu
Having a chef aboard your charters in the British Virgin Islands is a true delight and allows you to truly relax. Should you choose to request a chef on your power catamaran charter he or she will work you and your guests to plan and personalize fabulous and delicious meals during your charter. Below is a sample eight-day charter menu to give you a taste of the delectable fair you will enjoy.
Day 1
Breakfast: spinach, mushroom, goat cheese frittata served with breakfast potatoes
Lunch: Makerel escabeche, warm potato, shallot and bacon salad with dressed salad leaves
Appetizer: stilton and leek tarts served with dressed salad
Dinner: apricot glazed duck a l'orange, steamed vegetables, dauphinoise potatoes
Dessert: chocolate fondant with raspberry sorbet
Day 2
Breakfast: french toast with apple cinnamon compote
Lunch: confit duck ravioli in sage hazelnut butter with fresh focaccia bread
Appetizer: salmon spinach roulade on a bed of dressed rocket
Dinner: herb mustard crusted lamb, Mediterranean veg stack, rosemary dauphine potatoes with tomato and olive jus
Dessert: Panna cotta with orange glazed roasted figs
Day 3
Breakfast: smoked salmon on fresh toasted bagels with rocket, red onion, capers and a herb cream cheese
Lunch: mahi mahi tacos with Pamela's lemon coleslaw, pink chili mayo, confetti rice
Appetizer: chilled avocado soup with fresh white bread rolls
Dinner: Teriyaki marinated tuna steaks with a wasabi sauce, cream mashed potatoes, red cabbage
Dessert: elder flower fruit jelly with rose water ice cream
Day 4
Breakfast: traditional English breakfast
Lunch: roasted vegetable and goat cheese quiche, fennel coleslaw, dressed salad
Appetizer: place goujons with tartar sauce
Dinner: saute of pork tenderloin brandy, Dijon cream, sweet potato mash, asparagus
Dessert: warm mango, pineapple, and banana sieved in filo baskets with mascarpone cream
Day 5
Breakfast: classic egg Benedict or Florentine
Lunch: moules marinere with homemade granary bread
Appetizer: mango coasted chicken strips
Dinner: saute of pork tenderloin brandy, Dijon cream, sweet potato mash, asparagus
Dessert: apple tart tatin with vanilla custard
Day 6
Breakfast: raspberry crepes with cream
Lunch: homemade Italian pizza with hot German potato salad, baby rocket and Parmesan salad
Appetizer: crab cakes topped with spicy mango and black bean salsa
Dinner: beef tenderloin steaks with portobello mushrooms and port sauce, roasted butternut and steamed broccol
Day 7:
Breakfast: baked ham and cheese souffle omelette
Lunch: pulled pork sandwiches, red cabbage, apple caraway coleslaw and sweet potato salad
Appetizer: sea bass carpaccio with capers, gherkins and cress
Dinner: Baked salmon with Parmesan parsley crust, steamed vegetables, sauteed potatoes
Dessert: chocolate bread pudding with whiskey sauce
Day 8
Breakfast: homemade granola yogurt parfait with fruit compote
Lunch: coronation chicken with avocado walnut salad, cucumber salad
Appetizer: gazpacho soup serviced with fresh bread rolls
Dinner: lamb rogan josh with cumin basmati, smoked aubergine dip, tarka dhal, served with homemade roti
Dessert: fresh fruit sabayon with shortcrust biscuits
Page Position for form
5 Reasons to Choose MarineMax Vacations
Expert planning team to help every step of the way so you can enjoy the trip of a lifetime
Our own custom amenity-packed power catamaran fleet in the British Virgin Islands with 3, 4, and 5 cabin options
Access to power boats of all types and sizes throughout the world in amazing destinations
Explore an extensive resource library of videos and articles to prepare for your trip
Our commitment is to exceed your expectations and provide an extraordinary experience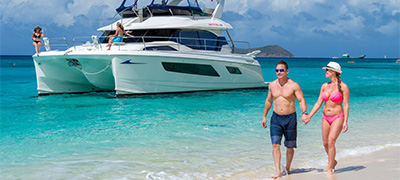 Request a Brochure
Explore the extraordinary charter options you have with MarineMax Vacations for your trip of a lifetime.
Get Your Brochure
Our Fleet of Luxury Yachts
Meet our fleet of Aquila Power Catamarans designed to fit your boating lifestyle as well as the other sailing and power options we can arrange for you.
Meet the Fleet
BVI Destinations
Experience a personally planned charter vacation with boating options that range from an intimate trip for two to an adventure with family and friends.
Explore Our Favorite Spots