Anchor Your Heart at Saba Rock
Saba Rock was introduced to the British Virgin Islands map back in the 1960s. Diving pioneer, Herbert "Bert" Kilbride, founded the destination while searching for a "resort course" for scuba diving. Originally, he launched the legendary Pirates' Pub, known for being one of the best oceanfront bars in the Caribbean. Since then, visitors from both land and sea have flocked to Saba Rock for a taste of the "old" Caribbean, from on-the-water adventures and breathtaking scenery to fresh-from-the-sea cuisine and lively happy hours.

After damage from hurricane Irma in the late summer of 2017, Saba Rock rebuilt the destination to create "Saba Rock 2.0." The infamous location came back better and stronger than ever before—welcoming back old friends and inviting newcomers to enjoy their legacy-with-a-twist. They tapped into their nautical roots and fun-loving reputation to bring visitors a small-island experience infused with barefoot luxury. And to honor the flavor of its past, Saba Rock keeps its heritage in mind with rescued artifacts and salvaged materials from the original structure while transforming the resort into an upscale destination.
Now you can find effortless personal service, where the staff is trained in the art of saying "yes." Whether you'd like to book a diving tour, schedule a massage, grab a bite to eat, or create bespoke experiences, they will make it happen.

Tap into your fun-loving side with aquatic-themed activities for both thrill-seekers and soft adventurers. The concierge-level service at Saba Rock will go the extra mile to ensure you enjoy fun-drenched days—no matter your speed, to live out the vacation of your dreams.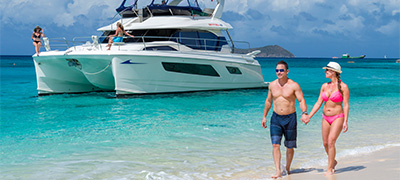 Request a Brochure
Explore the extraordinary charter options you have with MarineMax Vacations for your trip of a lifetime.
Get Your Brochure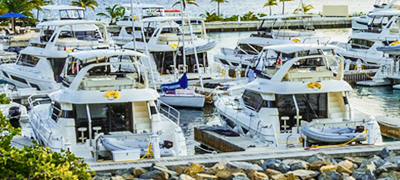 Our Fleet of Luxury Yachts
Meet our fleet of Aquila Power Catamarans designed to fit your boating lifestyle.
Meet the Fleet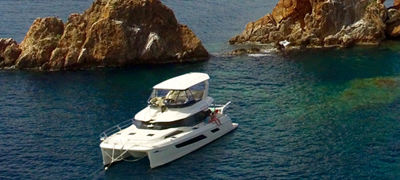 Imagine your Trip of a Lifetime
With more than 60 islands, the British Virgin Islands offers something for everyone. Review our sample itinerary to get a peek of what it's like.
Take a Peek