PassageMaker Features MarineMax 382
We are pleased to be featured on the cover of the September issue of PassageMaker Magazine with an image of the MarineMax 382 anchored at Peter Island in the BVI.
September 2013 Cover Feature
We are proud to be chosen for the cover of this well respected magazine, truly a power cruising authority in the boating world. We thank AIM Media for their selection and their partnership.
The September issue is their annual charter issue that includes numerous informative articles on charter vacations from logistics and planning to boats and destinations. Also included is a great article on Anegada and the journey there aboard the MarineMax 382. Enjoy the excerpt below of the story as seen in the pages of PassageMaker.
The Last Virgin: Once BVI's Forbidden Fruit, Anegada Is A Charter Destination Worth The Detour
Story by Peter Swanson on August 1st, 2013
If some future billionaire idea-man in the mold of Richard Branson set his mind to creating a perfect venue for bareboat charters using 24th-century terra-forming technology, the results would look pretty much like the British Virgin Islands today. Rated like hotels, the BVIs are a perfect five for chartering.
That being the case, I've chartered several times in these waters and have spent a great deal of time thereabouts in my own boat and in boats of friends. So the challenge for a writer is how to render something so familiar in a way that is fresh.
I had a plan with two components. One, we would invite a non-seafaring, stay-at-home couple and gauge their reactions to life in Paradise aboard a state-of-the-art luxury power cat. Brilliant idea, but doomed for reasons that must remain unsaid. My second notion, however, would turn out to be a complete success.
We would go to Anegada.
......To continue reading, please click here....
Power Yacht Charters
Boating through the Caribbean on your own power yacht is the ultimate vacation. Now's the time to make it a reality.
Full Steam Ahead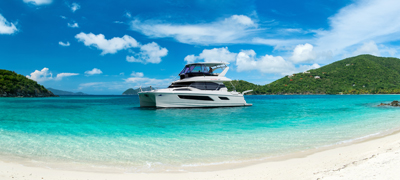 Our Experience and Commitment
Learn how we combine an extraordinary boating experience with customer service that exceeds expectations.
We're Dedicated to Serving You
Our Fleet of Luxury Yachts
Meet our fleet of Aquila Power Catamarans designed to fit your boating lifestyle as well as the other sailing and power options we can arrange for you.
Meet the Fleet