Chartering with Kids
"What my husband and I learned during this incredible traveling period was two fold: first, traveling with kids is 100% do-able. And second, traveling with kids, for us, made traveling that much more enjoyable."
Bring them to the BVI!
Written By Guest Writer: Brittany Meyers who lives aboard her sailboat in Tortola, BVI with her husband and three little girls. She is passionate about all things "tropical" and blogs about her adventures in paradise and parenting over at www.windtraveler.net.
As someone who lives on a boat here in the British Virgin Islands with three girls ages 6 and 4 (twins), I know a thing or two about island hopping with babies in tow. When my husband and I became pregnant with our first while we were cruising the Caribbean, many people advised us to move back to land. "Too unsafe!" they said. "So limiting!" they cried. A few were so bold as to tell us flat out: "It can't be done". As a couple who has paved our own "off the beaten track" way since we got together, we opted to not listen to they naysayers. After much thought and preparation, we went ahead and cruised with our daughter, Isla, starting at 6 months old. In her first year and a half of life she traveled 5,000 nautical miles with us aboard our sailboat.
What my husband and I learned during this incredible traveling period was two fold: first, traveling with kids is 100% do-able. And second, traveling with kids, for us, made traveling that much more enjoyable. Concessions and adjustments need to be made, of course, but it's no where near as impossible as people might lead you to believe. Bringing your kids on charter is a fantastic way to travel with them here in the BVI, and here are some tips from me that will make your trip that much more smooth and enjoyable:
Choose Your Location Wisely
Rough seas and overnight passages can be very tough with little kids, so avoidance is key. As such, there is truly no better place to charter with kids than here in the British Virgin Islands. Passages between the various islands are anywhere from 30 minutes to 3 hours. Weather is usually wonderful and regardless of the sea state, there is usually an island to head to that will be calm and protected.
Be Flexible
While you might have a dream itinerary planned out, be open to changing it up. You never know when or where you might meet up with another family with kids your kids' ages, and you might want to stick together for an extra day. Or maybe the kids have found a beach they particularly enjoy or love? Be open to slowing down and settling in. Nap times might also be something you have to contend with, so try to keep it simple. You're going to be on "island time" after all! Kick back and let the chips fall where they may! Happy kids make the WORLD of difference on family vacation.
Safety
Being that you will be chartering a boat, safety is imperative. The most essential piece of gear for your little one(s) will be their personal floatation device (PFD) or life jacket. Your charter company might be able to provide you with this but it might be worth investing in one that your child is comfortable in and will wear (the neoprene ones are quite comfortable). Before you leave on your trip, prep your child about having to wear their life jacket anytime the boat is underway and they are on deck. Have discussions about water safety and responsible boating. For example, our kids were raised with the following philosophy on our boat: When moving around on deck ALWAYS have "one hand for you, one hand for the boat". Some charter companies will even install lifeline netting around the perimeter of your boat for very small children, it's worth looking into if this will help you sleep better at night.
Essential Gear
Depending on the age of your child, some things to consider might be practical gear. A small, zipper-close travel cot can be very useful (and much less bulky than a pack-n-play). These have really evolved over the years and are fantastic, lightweight, and easy to travel with. You can rest easy knowing your small child/baby will be safe and secure, and won't wander out. They are also useful for nap time on the beach! Another piece of gear you might consider for a little one is a portable clip-on high chair. These chairs clamp on to the side of a table and aside from making meal time a bit easier, it doubles as way to keep baby contained and safe from moving about the boat when you might be busy with something else. Ways to keep your little one safe and secure while underway is something you will want to look into, and these are two great solutions.
Packing
It's almost a guarantee that you will overpack for your trip, we all do it! You will find that you wear the same pair of flip flops, the same beach cover, and the same hat every day here. You will need and use less than you think, and the same goes for what you bring for the kids. When we travel with ours we bring a few special travel toys; coloring books, coloring pencils, a sketch book to draw about their vacation, some magnetic travel games, sticker activities and a small selection of books. You will be surprised how little your children need to keep entertained here! It might be worth bringing some sand toys, as the beach will be your play area of choice. Other packing items that shouldn't be forgotten: a good pair of sunglasses, wide brimmed hat, rash guard swimming suit, puddle jumper swim float or similar (if child cannot swim), swim goggles, and a broad spectrum SPF.
Engage Them
Kids are natural sponges and by preparing for your trip in advance by watching an area-specific DVD, or learning more about the sea life they will encounter, or reading up on the history of a place will get them more engaged and excited about your upcoming charter. A simple Google search of the "British Virgin Islands" will give you a multitude of beautiful images to explore, as well as various topics that can be used as learning material. Depending on the age of your child, a scrap book of your vacation where they can keep drawings, collected items, napkins or other memorabilia might be fun as well.
Kids are naturally inquisitive and you will find that traveling with them will open your eyes to things you might not otherwise have noticed. Another bonus of traveling with your children is the simple fact that they are natural ambassadors; you will find your kids open doors for you that might not have opened if they weren't with you. The best part of traveling with your kids, however, is spending quality time together while showing them a world different than their own. To travel with your children is truly an enjoyable gift, so book that charter and come on down!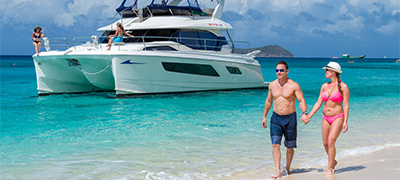 Request a Brochure
Explore the extraordinary charter options you have with MarineMax Vacations for your trip of a lifetime.
Get Your Brochure
We Love Questions!
Ready to know more? Some of your questions may be answered here.
Get the Answers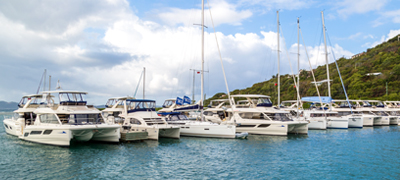 Our Experience and Commitment
Learn how we combine an extraordinary boating experience with customer service that exceeds expectations.
We're Dedicated to Serving You