10 Romantic BVI Getaway Ideas
Few things spell romance like a tropical getaway in a remote, beautiful location. The combination of sun, sand, sparkling gin-colored water, and spectacular sunsets set the recipe for love. The beautiful BVI are precisely such a place and are making their mark as a destination to enjoy with that special someone in your life. The BVI retain a certain charm, ruggedness, and remoteness that are hard to find in tropical locations these days, and there are loads of places here where you can feel pampered, have fun as a couple, or retreat like the only two people in the world. With Valentine's Day just around the corner, find out some of the most romantic spots and ideas that are sure to turn up the heat for you and your special someone....
Written By Guest Writer: Brittany Meyers who lives aboard her sailboat in Tortola, BVI with her husband and three little girls. She is passionate about all things "tropical" and blogs about her adventures in paradise and parenting over at www.windtraveler.net.
So with no further ado...I give you 10 romantic destinations and activities in the BVI.
1) Sunset Dinner at Bananakeet Cafe, Tortola

Few places give as great and unobstructed a sunset show like Bananakeet. The vibe is relaxed and casual, the scenery is superb, and the food is delicious. Just be sure not to be late - the sun sets around 6pm here!

2) Romantic Picnic in Trunk Bay, Tortola

Tortola is home to a whole host of beautiful and very remote beaches that few tourists get the pleasure to enjoy because they are a bit off the beaten path. You can explore them for yourself, and most likely you will find yourselves alone on many of these beaches. Trunk Bay is one such example of a breathtaking and isolated beach. Pack a picnic, a chilled bottle of Prosecco, a luci lantern and you will be in for a treat.

3) Sundowners in Cane Garden Bay, Tortola

This bay and beach is arguably the most famous in the BVI and you will most likely not be alone, but that doesn't mean you can't cozy up and enjoy the sunset show. Pull up a couple of beach loungers, order your favorite tropical slushy rum drink from one of the beachfront bars, and watch the sun put on its nightly spectacle as it melts into the water in a brilliant show of color.

4) Couples massage at the Ocean Spa in White Bay, Jost Van Dyke

This new and one-of-a-kind spa is actually a house boat made mostly of lumber salvaged around the BVI post-Irma. Ocean Spa is anchored off White Bay and features several romantic offerings for couples; perhaps a sunset couples massage is your style, or maybe a moonlight couples massage paired with champagne. Whatever your pleasure, this special little place will be an unforgettable - and very romantic - experience. A massage afloat while treated to an underwater view of the ocean below? Doesn't get much more relaxing than that!

5) Dinner at Brandywine Estate Restaurant, Tortola

If delicious food and a wonderful ambient atmosphere is what you are after, this place will not disappoint. French owner and chef Regis puts out amazing food and offers an extensive wine list that is sure to please the most discernible palette. There's something extra romantic about dining al fresco, so pull up a table, gaze at your lover in the dusky evening light and watch your hearts (and bellies) soar.

6) Spend an evening at CocoMaya, Virgin Gorda

This relatively new spot in BVI has quickly become a local favorite. The atmosphere, scenery, and vibe is decidedly 'beach chic', fusing elegance with a white sand beach on one of Tortola's most beautiful islands. The open air bar combined with the eclectic cuisine is sure to make any couple happy.

7) Private Surf Lessons in Josiah's Bay with Surf School BVI, Tortola

For the more active and adventurous out there, how about a private surf lesson? Learning something new as a couple is a great way to create lasting memories and a tighter bond, and let's be honest, is there a sexier sport than surfing? Not to mention, the natural high that you will get from riding your first wave will have you hooked for life!

8) A night of "glamping" at Anegada Beach Club, Anegada

The "ABC" as it's called for short is a fabulous destination for a couple and if you like camping, kick it up a notch with their amazing Palapa Retreats. Ocean views, trade wind breeze, the sound of surf crashing at your doorstep, and utter seclusion will be sure to set the mood. These beautiful "tents" are the pinnacle of beachy-chic romance. Unplug, unwind, and let the the ocean's magic take you and your lover away.

9) Body Shots at Willy T, Peter Island

Okay, this might be a little on the wild side for most, but for those of you who like to get 'freaky' the Willy T is surely the place to let go. With the motto "what happens on the Willy T, stays on the Willy T", you can be sure some craziness will ensue if you are so inclined. Regardless, the liquor's always flowing and the dance floor always hopping, so it's a fun night if partying is on your agenda.

10) Renew your vows on a boat, Caribbean Sea:

I've actually seen this done quite a few times here in the BVI. Getting a friend or relative ordained beforehand is as easy as a simple online application, and with that, you can renew your vows afloat. Create a life-long memory here for yourselves and a few close friends with a backdrop that would make anyone swoon. Shoes are never required at an island wedding, and you and your family are sure to have a ton of fun celebrating your love.

Wrapup

So there you have it! Just of few of the ways our beautiful islands can amp up the romance vibe. But let's be honest, isn't sitting with your love, gazing at the beautiful water, with salt on your skin and sand under your toes enough? Yeah, we think so too.

Come on down

and spread the love!
5 Reasons to Choose MarineMax Vacations
Expert planning team to help every step of the way so you can enjoy the trip of a lifetime
Our own custom amenity-packed power catamaran fleet in the British Virgin Islands with 2, 3, 4, and 5 cabin options
Access to power and sail boats of all types and sizes throughout the world in amazing destinations
Explore an extensive resource library of videos and articles to prepare for your trip
Our commitment is to exceed your expectations and provide an extraordinary experience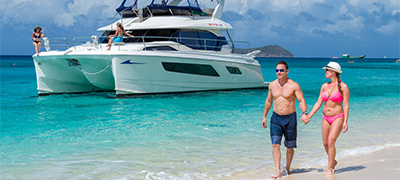 Request a Brochure
Explore the extraordinary charter options you have with MarineMax Vacations for your trip of a lifetime.
Get Your Brochure
Video Tours of the BVI
With more than 60 islands to explore, there's always something new in the British Virgin Islands.
See Our Favorite Spots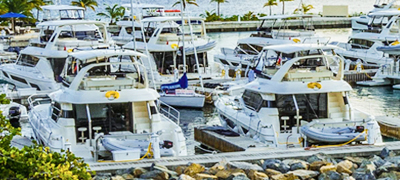 Our Fleet of Luxury Yachts
Meet our fleet of Aquila Power Catamarans designed to fit your boating lifestyle as well as the other sailing and power options we can arrange for you.
Meet the Fleet